Voice of Experience: Kim Youngberg, General Counsel of Screenvision Media
Kim Youngberg says that one of the professional achievements she's most proud of is that, having served as a guide through digital revolutions in the entertainment industry, she no longer fears change or the unknown.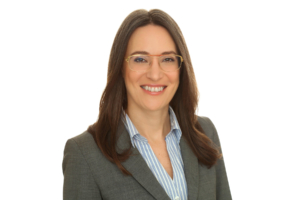 But as impressive as that is, she can't help but note another, possibly more fascinating, professional achievement—the cultural impact she made by getting her husband's band, Lotion, on "Buffy The Vampire Slayer" for a pivotal episode in which Seth Green first turns into a werewolf.
Blending Her Love of Law With Entertainment
While she began her career in international litigation, an early layoff showed Youngberg that you never know what other, better opportunities are around the corner. "In retrospect, it was the best thing that could have happened to me," she says.
At the time, she was living in the East Village among a creative group of musicians and managers who had lots of legal questions for her. Her interest in the music industry sparked, she joined noted music law firm Davis Shapiro. For just over six years, she worked with artists, publishers, managers, mixers, engineers and more, while also working for record labels, which allowed her to see both sides of the industry and learn more about different techniques and negotiations.
Eventually, she decided she needed more responsibility and moved to Wind-Up Records, an independent record label distributed by Sony, where she worked with bands such as Creed, Evanescence and Seether. She started in 2002 when the industry was on the cusp of the music technology revolution—MP3s and Napster were just coming along—and she rode out the transition from analog to digital during this exciting and interesting time.
Next came iTunes, Google Play Music, Spotify and more, and while they were fascinating, pioneering concepts, it became harder to make money in the field as album sales diminished. She then joined Screenvision Media, a leading cinema advertising company, as general counsel overseeing all legal matters for the company.
Youngberg has thrived at Screenvision Media, due to the targeted nature of the product and the creativity that clients are afforded. They know that advertising at movie theatres is a safe, stable option, compared with the TV broadcast and online content worlds, and they know that moviegoers are there to be entertained and engaged. Once again, she has been able to help an industry transform from analog to digital, witnessing and participating in the transition as movie studios have stopped releasing movies on film and theaters have pivoted to broadband delivery.
Savvy Advice Propels Her Career—And Others
Youngberg has been fortunate to work with incredibly big personalities, all of whom made their mark on her and imparted advice she uses to this day. For example, she learned early on that "you catch more flies with honey than vinegar"—in other words, no one will do you any favors if you're being a jerk. She also realized that earlier in her career, she was too focused on making sure she got everything exactly right, eventually realizing that not everything is going to come to fruition and it's best to prioritize needs and wants.
Youngberg has also found networking to be invaluable to her career growth; looking back, she wishes she had nurtured her own network earlier, long before she needed it. Now she finds many opportunities to meet other professionals and build those connections, whether it is through continuing legal education events at the New York In-House Counsel Meetup Group or through groups like ChIPs, Women in Music and The Fourth Floor.
Over the years, she's found that it's easy for women to be characterized as "worker bees" rather than "rain-makers," which can hold them back and inhibit the chance to advance. Because the entertainment industry can feel so male-dominated, Youngberg is active in women's networking groups like the Women's General Counsel Network, where people can give referrals and recommendations. She is also active in She Runs It, an advertising-related women's networking group. As part of her mentoring and networking efforts, she encourages women to ask for more money and ensure they are being fairly compensated for the value they bring to their workplace. "I tell my daughters that if you don't ask, you don't get," she says, noting that women in particular need to maximize their salaries during peak earning years.
With two girls in middle school, Youngberg has plenty of opportunity to serve as a role model. He girls are extremely athletic—they play volleyball and lacrosse and enjoy trapeze. The family is also part of the first class in a brand-new public middle school where, as founding co-secretary of the PTA, she helped the school get their lacrosse program up and running, establishing the second lacrosse program ever in Manhattan public schools.
These many avenues help Youngberg find the work/life balance she needs to keep all facets of her life running smoothly and to continue finding joy and meeting challenges in her professional and personal life.