Voice of Experience: Margie Archer, Financial Advisor, Wells Fargo Advisors
When Margie Archer attended the Wells Fargo Advisors Women's Summit the first year she joined the firm, she watched in delight as the Spirit Award winner Marcia Tillotson, a branch manager in Charlotte, brought out her family, including her female partner.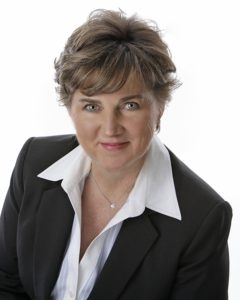 "That just reinforced to me that I was in the right place," Archer says. "I met her later, and she instilled in me the importance of being authentic."
Building a Career on Advice—And Finding a Niche Serving LGBTQ+ Needs
Archer began her career at a regional firm and then moved to Smith Barney for 18 years. At that point she decided to move into a firm that she believed was more focused on planning, and found Wells Fargo Advisors to be a good fit, both professionally and personally. "I've been here 10 years and hope to stay here for many more," she says.
A problem solver by nature, Archer joined the business to help people, but she's learned that her financial background is not enough; it's also crucial to be a good listener and know the right questions to ask.
"It comes down to knowing your clients and helping them achieve their goals and dreams," Archer says. For example, with a quarter of her high-net-worth clients identifying as LGBTQ+, she focuses on creating strategies customized to the financial challenges of this underserved segment.
On that note, she worked with Wells Fargo Advisors to develop a certification called Accredited Domestic Partnership Advisor℠ (ADPA®). The firm partnered with the College of Financial Planning® to launch the program, which certified advisors who wanted to work with the community of LGBTQ+ clients to offer advice on topics such as beneficiary designations, trusts and more. While the marriage equality act helped level the playing field, Margie has continued her commitment to offering special guidance to LGBTQ+ clients as many issues specific to this segment persist.
Among the outreach and support, Wells Fargo Advisors offers regional roundtables and summits that allow its financial advisors to connect and share best practices, as well as bring in speakers to update advisors on the legal landscape, family planning or any issue that's on an LGBTQ+ client's mind.
"The firm does so much research on this topic, which I am fortunate to have access to, and while I work to understand needs across the board with all my clients, I am in a unique position for this segment, based on this commitment Wells Fargo Advisors has," Archer says.
She uses her experience to speak at conferences and publish on the issue and has helped create a seminar about what to consider before you say "I do." And she is passionate about helping financial advisors learn how to better communicate with LGBTQ+ clients.
Promoting Diversity in All Ways
Helping LGBTQ+ clients is not the only area where Archer is involved in diversity. She is excited about what the firm is doing to show that solving for this issue is not a "nice to have," but a "must have." And that is true for clients, too; as women are inheriting money in a huge wave, it's important to see more women in the industry, given that the numbers haven't changed significantly over two decades. Wells Fargo Advisors has been devoted to being a leader with its NextGen Talent program, which has strong diversity in age, gender and ethnicity. "This speaks volumes to the firm's commitment," Archer notes.
She wants young women to understand what an excellent career it can be, and says she wishes she had been more confident early on that women could excel as advisors. "Women want career paths that can be more autonomous, so it's important to create a way for them to see the way forward," she says. "There is so much opportunity, and while a financial background can be important, what this job entails is listening, and women shine at that. It also allows you to reap the benefits of flexibility as you juggle other responsibilities," she notes.
Archer particularly sees doors opening for women as advisors as the field shifts from investment management to investment planning, which she believes makes excellent use of women's skillsets.
Finding Time for Herself
A former college tennis player, Archer still loves a good match and also plays golf. With two dogs of her own, she says she will rescue any animal on the planet, but believes they rescued her with their unconditional love. She also loves to travel and has a big map in her office where she marks each new destination with a pin. She has an upcoming trip planned to Africa to help build wells which will provide clean water for towns without, which she predicts will be life-changing for herself as well.
Closer to home, Archer finds she gets some of her best ideas from visiting the mountains, hiking and recharging. "The business is rewarding but can be tough, and you're always on, so you have to take care of yourself."