Mover & Shaker: Helen Campbell, Management Consultant, Implement Consulting Group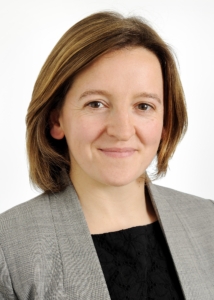 by Cathie Ericson
A career that allowed Helen Campbell to live and work in multiple countries gave her a unique view into culture and the way it should impact your working life.
For example she had always assumed that it was important to fit in and adhere to the company values, which was reinforced with her first professional role in Japan, where the culture was still then very much about dedicating yourself to a company for life.
"I realize now that especially in consulting, it should not be about signing up to a company's way of working, but rather that by joining a company you should change and add to it and bring your own uniqueness to it," she says.
A Career Spanning Multiple Countries and Roles
Campbell studied electrical engineering at Queen's University of Belfast, as well as Japanese as she hoped to visit Japan. Her chance came at a career fair at the university, where she learned about an Irish government program that supported Irish graduates finding a job in Japan with companies that had a link with Ireland. She got a job with Fujikin, a Japanese manufacturing company, and flew to Japan with 16 other Irish graduates.
As the first female and non-Japanese engineer the company had hired, there was quite a bit of adjustment on both sides, but Campbell worked for them for six years—two in Japan, one in Dusseldorf in Germany and three in London, in a variety of roles that included engineer, key account manager and project manager. Realizing that was the role she enjoyed the most, she decided to look for another position where she could develop these skills and joined QinetiQ, a UK defense company, where she managed a range of defense and commercial projects and travelled to countries like Jordan and Brunei.
It was there that Campbell interacted with several consultants and became interested in the opportunity that consultancy provides to be part of transformational projects. She joined PwC in London in their Portfolio and Programme Management consulting practice and worked there for eight years, including transferring to Stockholm with them in December 2016.
Last year she decided it was time to try something new and left PwC to join Implement Consulting Group, a Nordic consultancy, as a senior consultant.
The company is growing rapidly and thus feels very entrepreneurial even with around 900 employees, Campbell notes. As it's not as well-known in Sweden as Denmark, she is excited about growing the business, especially around supporting clients with the delivery of their largest and most complex transformations.
Starting an LGBT Network, Which Started a Movement
While her career has held an impressive mix of managing large efforts like a merger of two airlines' finance functions and large-scale IT implementations, what Campbell is most proud of is the feedback she gets from junior consultants with whom she has worked. "I really enjoy teaching others and encouraging them to stretch themselves on projects, and because of that I've helped many consultants achieve promotions, which is extremely rewarding," she says.
While working for PwC, Campbell co-founded the LGBT network for the UK; along with a small team she built a strong network—called GLEE@PwC (Gays, Lesbians and Everyone Else)—and developed a brand around it. That included hosting high-profile client events, where they got a majority of the UK employees wearing rainbow lanyards. Through running the network, she sat on several panel events and spoke at conferences about the value of being your true self at work.
In fact it was only when she joined PwC that she came truly out at work, and at that point there was a lack of LGBT role models and especially women. A turning point she remembers is when EY won the Stonewall LGBT Workplace of the Year Award, and Liz Bingham made a speech about her career at EY before and after she came out at work. "This was the first time I had heard a senior lesbian woman speak about the value of being herself at work," Campbell says.
Developing GLEE generated a lot of attention internally in PwC with poster campaigns, a designated Twitter account, internal news articles and more, which meant that many on the committee were contacted by LGBT people across the country about coming out or about becoming more of an activist. Through those efforts, Campbell was able to mentor several LGBT men and women. "I have loved supporting them in their personal journey, both in and out of work," she says.
Campbell believes there is still a big journey in the corporate world and in society around acceptance and normalizing trans-gender people. "Even in Sweden, which is fairly progressive, I am not sure I have seen any trans-supportive policies," she says, although she notes that gender-neutral bathrooms are the norm.
For those reasons, it's important to continue to be open and transparent—as a way to bring attention to LGBT issues and change hearts and minds.