OP-ED: Why Corporations have a role in America's STEM Pipeline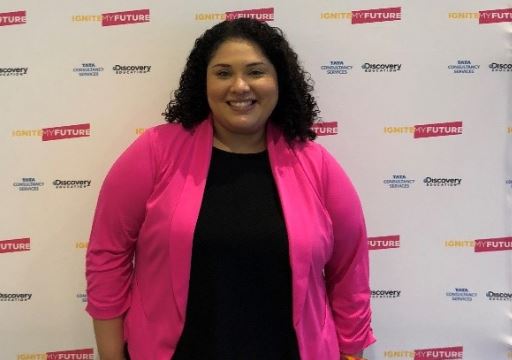 By Serene Gallegos
According to the U.S. Bureau of Labor, by 2020 there will be more than one million more computer science-related job openings in the U.S. than graduating college students qualified to fill them.
And it's not just computer science careers that are changing; at the same time, automation is reshaping the way we work across professions. So, what does that mean as we try to prepare today's students for tomorrow's jobs – many that don't even exist quite yet?
As a former elementary teacher, I know firsthand that teachers face a unique challenge to build lessons that are engaging and relevant for the future. Plus, it's easy to become overwhelmed with the resources that may or may not be available – particularly around STEM and computer science. These subjects used to be relegated to math and science, but in today's digital-first environment, technology permeates throughout everything we do, and therefore everything we teach.
To successfully navigate this new era of technology, students must be problem-solvers armed with skills to compose a successful workforce in the future. To achieve this, we need to implement a new way of thinking – namely, computational thinking – into the classroom. That's part of the reason why I made the move to the private sector. Today, I work at Tata Consultancy Services (TCS) to lead a program equipping teachers with relevant lesson plans and experiential learning activities that help bring computational thinking to life.
So, what exactly is computational thinking? It's a higher-level problem solving process whereby students learn to decipher information and form innovative solutions. What sets computational thinking apart from traditional critical thinking is that it considers how 21st century technology overlaps with key strategies to solve any given challenge. Computational thinking goes far beyond computer science to encompass all subject areas across all industries – from social studies to physical education, or simple tasks like packing a suitcase, learning to dance, or cooking a meal.
According to a recent report released by The World Economic Forum, by 2022 more than 54 percent of employees will require re-skilling because of new and emerging technology. Computational thinking is a foundational skill for the success of the future workforce and is how we future-proof students with skills that will be relevant to any career they choose.
In general, organizations are increasingly recognizing the value of building a diverse workforce. With STEM jobs growing 50% higher than the national growth average, it's important to engage diverse backgrounds and different problem solving perspectives in order to maximize innovation. In addition, we know that the economic impact of stable, salaried STEM jobs for women and people of color will strengthen our economy. Yet for resource-strapped school districts, it's difficult to single-handedly retrain teachers or implement costly new technologies in the classroom that engage all students.
Additionally, women's underrepresentation in STEM is widely reported. Surprisingly, the number of female computer science college grads is trending downward – at just 18 percent according to the latest figures. Yet, women bring a highly valuable perspective to business operations today; just look at Lyft, a company that's built a reputation for driving gender-inclusive policies that evens the playing field between drivers and passengers. Lyft partially attributes their app design to input from female leadership. This is just one example of why critical, computational thinking is an essential tool for women that can be applied in many different ways in today's digital-first workforce.
That's why education-focused corporate partnerships can truly make an impact to broaden the reach of STEM skill-building. TCS unveiled Ignite My Future In School in partnership with Discovery Education to provide free, easy-to-implement lesson plans and resources for teachers that can jump-start their ability to bring computational thinking to the forefront, across subjects, and for all students.
The value of corporate-led initiatives like TCS' Ignite My Future in School are unique in that they are designed to meet teachers where they are, regardless of experience. Whether you are a new art teacher just starting out your career, or a tenured teacher with more than twenty years under your belt, curriculum that is digestible to all is less daunting to implement, and is also the most well-received by students. In many cases, schools cannot achieve this on their own – at least, not without a costly investment that may or may not be realistic. That's why corporations are key to help fill a void, so long as they work in tandem with school needs.
Also, corporations must be realistic that they also can't do this alone. When building out a successful education-focused CSR initiative, it's crucial to bring in the right partners who can successfully integrate technology into resources that will resonate well with teachers. At TCS, we chose to partner with Discovery Education, a well-established leader in teacher resources and professional development, which only strengthens awareness and the educational components of our program.
When you're a teacher, particularly in elementary education, you must become adept at many things – not just your subject area. You gain an understanding of how to incorporate different activities to bring your classroom teaching to life. Having an arsenal of resources with a curriculum that explores all subject areas and includes lesson plans on everything from building drones to deliver pizzas, to how to spur activism as it relates to an ecological crisis, is so powerful. That is why looking to corporations who are willing to step up to the plate, take accountability and address building a teacher's capacity to the best of their ability is so critical in 2018.
My experience as a teacher has proved very valuable in helping TCS consider ways that our CSR program can positively influence the STEM pipeline in our country. I would stress then, that for other corporations' programs to be just as successful, they should look to diversify the minds behind it and ensure that they are employing those from all walks of life who can bring unique perspectives to the table. When businesses take the first step, but also work in tandem with experts and thought leaders that can help guide their efforts to make a difference, they have the power to shape and propel us towards a prosperous future.