Voice of Experience: Denise Wyllie, Partner; Goldman Sachs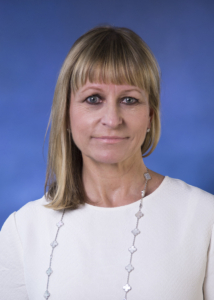 By Cathie Ericson
When Denise Wyllie joined the financial services industry, it was even more heavily male-dominated, but she believes progress has been made.
"When I initially joined the sector, there were very few women in leadership positions," she says, but notes this did not hold her back from achieving her goals.
"As women strive to become more senior, they need to embrace their career and remember they would not be in their current role if they were not good at their job, and they also need to trust the process." She adds that success in many ways is more an attitude than a skill. "You have to embrace your role with 100 percent energy, passion and commitment – take risks and if they don't pan out then try something new."
Wyllie also notes, "You also have to accept that you can't have it all, all of the time, therefore at points in your career something may have to give – that's ok but make sure it's your decision."
Advancing Her Career by Approaching Challenges Head On
As a "STEM student" before it became a common acronym, Wyllie studied biochemistry at university. While she initially considered a career in the sciences, she decided eventually to pursue a business career. Her first role was as a graduate trainee at the largest brewing company in the UK – the first female ever hired to train as a brewer and production engineer. In this role, she was able to leverage her biochemical degree and received fantastic managerial training, overseeing an all-male team on the brewing production line.
After nearly three years in this role, Wyllie decided she wanted to pursue a new challenge. She scoured the Sunday Times' career section and was intrigued by an ad for Citibank in London, searching for people with engineering or manufacturing backgrounds to work in their Foreign Exchange & Treasury Division. Wyllie went on to work at Citi in a number of management and project roles across Europe for four years. She ultimately joined Goldman Sachs after she was recruited by a former coworker.
Wyllie spent the majority of the past 24 years in operational roles in commodities, derivatives, and as co-COO of the global Operations Division, with specific responsibility for Europe, India and Asia Pacific. In 2016, she transferred to Hong Kong, where she now serves as head of the Federation for Asia Pacific, operating as the COO for the region. In this role, she supports all of the firm's business activities across the region, which she calls "massively exciting," due to daily challenges and curveballs.
However, what she finds most thrilling is the opportunity for Goldman Sachs and the broader finance industry to potentially expand in China in the coming years. "Although it can be frustrating that markets aren't opening up more quickly, we are on the cusp, and long after I'm retired I'll look back and see the impact my team and I had to help move the firm forward," she says.
In fact, building her team is one of the professional achievements Wyllie is most proud of – along with becoming one of Goldman Sachs' female partners.
She notes that observing the number of people she's hired and mentored, who have grown from analyst to Managing Director and even Partner, is extremely rewarding. "When I see my team flourish personally and professionally, it is very gratifying to think that I may have had a bit of an impact on them along the way."
Balancing Outside Interests: 72 Countries & Counting
Wyllie is proud to be involved with Goldman Sachs' affinity networks, including those serving women, military members and the LGBT community. She also is currently working with colleagues in London on "Music in Mind," a charity that uses music to help promote wellbeing in people with Alzheimer's as well as provide support for family members taking care of those with the disease. She has also worked closely with Opportunity International, which provides small loans predominantly to entrepreneurs in Africa, with the aim of pulling them out of poverty.
Wyllie is a firm believer in the importance of taking every vacation day you're given to maintain both mental and physical health, as it will allow you to enjoy your job more as well as give you sustainability and longevity to your career. "As much as we love our careers, we all need a break!" She encourages others to "take advantage of down time to reflect on your career and your business. Often, it's only when you have some time off that you really have 'space' to think."
She also loves to travel, having visited an impressive 72 countries. Her favorite sojourns include going on safari – either Africa or India – to see wildlife. She also visits the UK frequently to see friends and family, and she stays active by going to the gym regularly and loves weight lifting as well as skiing, scuba diving and horse riding.