Voice of Experience: Beth Brooke-Marciniak, Global Vice Chair of EY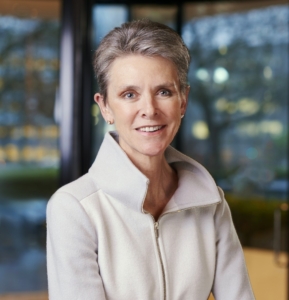 By Cathie Ericson
When Beth Brooke-Marciniak first started her career, she found she was intensely focused on the job at hand, rather than paying special attention to building relationships along the way.
But she soon learned the importance of building those by giving to others. "If your relationships are built based on what you can do for the other person, it's like putting pennies in the bank, and there will be a cumulative effect later in your career," she says.
Finding an Intersection between Business and Public Service
Beth always urges young women to find a place where they can experience an entrepreneurial culture and have the chance to advance on their own merits. "In a firm like mine, you can take as much responsibility as you can handle, which is an environment that is particularly suited for women who can take control and go all in with good sponsors and mentors. The key is figuring out life as it comes, rather than anticipating issues and standing back waiting to be tapped."
Brooke-Marciniak has spent nearly four decades at EY, except for a brief stint in public service during the Clinton administration. She started her career in the Indianapolis office in the auditing department, but soon segued to the tax practice. She relocated to D.C. to run the insurance tax practice, and it was in that capacity that she was known to the Clinton administration. They were interested in the unique blend of experience she had gained working on healthcare clients since managed care was new at the time and the tax policy was confusing.
She said she would give two years which she says were a fascinating journey "on the front lines of the legislative experience in a great administration that was trying to change the world."
During that time, she found there was often a disconnect in how business and government worked together. She realized that the world needed someone with the patience and diplomatic skills to figure out where CEOs were coming from on issues and what society needed — and join them.
It was with that vision that Brooke-Marciniak sat down with EY executives and told them that she didn't want to go back to the tax practice. The chairman invited her to come back to be part of the senior team, even though her role and title weren't yet clearly defined. She trusted his word and was soon immersed in strategy work, until the Enron situation happened, shaking public trust and confidence in the industry's work. She knew that the field needed to build a long-term effort to restore credibility, and she took on the task of leading the profession through those changes.
"I'm proud of how far we've come and how we pulled together after Enron and worked cooperatively with our competitors on matters of public policy to restore the industry," she says.
Beth continues to see society looking to business to fill the gaps being left by government, yet noticing there remains some reticence to trusting business fully. And, business has to work hand in hand with government incentives that must be in place. "Business will do what's in its self-interest, and we can't solve everything, but by working together diplomatically all of society will benefit," she says.
Embracing Differences Publicly
As proud as she is of her professional achievements, not much can match the impact of her coming out, which was far from ordinary. She had been asked as an ally to help with a video designed to reach teens who were contemplating suicide. But when she started filming it, she realized she didn't want to stay in her role of "straight ally," but wanted to be honest about who she was. "It just poured out of me: I wanted to tell these teens they are valuable because they're different, not in spite of it," she says.
And Brooke-Marciniak knows how it feels to be different. First, she was one of few women in a profession where her politics were different than most of her colleagues, Furthermore, she was an introvert in a sea of extroverts. "Although these qualities all made me feel very different, EY embraced me. I never felt unwelcome or excluded, and I realized that I was very lucky to work for this organization where I was valued for my differences. That was my 'aha moment' — that everyone is different and feels different."
At that moment, when she came out, she says that her world went from black and white to life in full color. Once you are living an authentic life, colleagues can now engage you as a whole person, and you can be a whole leader, she says. And she adds, it's even more challenging to be a closeted introvert because it feels dangerous to engage people one on one. "I was seen more as a loner and aloof which wasn't true at all," she says.
At EY, she has been instrumental in starting a global LGBT partner group and she works behind the scenes with the World Economic Forum on the LGBT agenda. "Social bias is an intractable process, but we are making headway," she says.
However, these ongoing challenges underscore why Brooke-Marciniak shares with younger professionals that her best advice is to pay attention to the culture you are joining. "Anyone can learn what you need to learn, but if the culture doesn't work, you'll self-select out or they'll kick you out," she says, noting that cultures are not created equally. For her part, EY has been the perfect fit since all ideas are welcome and challenging the status quo is encouraged. "Our culture appreciates that better decisions are made through different ideas," she says.
Brooke-Marciniak first knew her wife as a business colleague – neither of them knew one another was gay at the time they met. When the Wall Street Journal ran a story about the lack of gay CEOs and profiled Beth, her now-wife came to her and said she was closeted and wanted to discuss the struggle and risks. They had dinner to talk it through and the rest, as they say, is history — they now live happily ever after with two cats and two dogs.