Voice of Experience: Rupa Briggs, Counsel, Capital Markets, Shearman & Sterling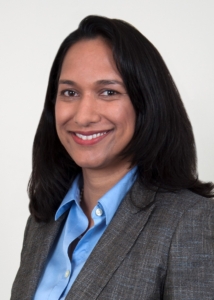 By Cathie Ericson
If you're interested in doing something, be proactive and ask for it, recommends Rupa Briggs, who was just promoted to counsel as of March 1.
She notes that when you first start out you should work on as many different projects as possible to figure out what you like, and focus on building a strong reputation because competence begets more work. "Sometimes we tend to be 'good girls,' and don't necessarily ask for opportunities, but you can't be passive about your career. You must be in the driver's seat," she says. Because while people may have good intentions and want to be helpful, only you can plan the road map to get to your next steps.
Growing Her Career at Shearman & Sterling
After starting her legal career at a different firm, Briggs joined Shearman & Sterling in 2016, impressed with its capital markets platform and seeing vast opportunities for advancement and growth.
Over the years, she has become a trusted advisor to her clients, the professional achievement she is most proud of so far. "As a junior associate, you spend most of your time learning the deal process and how you fit into the larger picture, but as you continue to develop as an attorney and your knowledge of the substance of your practice grows, your interactions and client relationships begin to change," she says. "It was so satisfying and rewarding when clients were directing questions to me in the first instance, instead of to a partner or senior associate," she says, adding that it was very confidence building.
Currently Briggs is working on a couple of healthcare-related IPOs, which she finds exciting and interesting since it's such an important milestone in these companies' evolution to help them reach the next step in commercializing their drug or product. The space she is working in is cutting-edge and includes smaller biotechs focusing on, in some cases, rare diseases and medtech companies with innovative products for large patient populations.
"For me it's tremendously satisfying because you see the impact these drugs or products will have on individuals, and you know that even in the context of an IPO, you are making a difference by helping the company raise the capital they need to get to the next level."
Other exciting areas that will impact the world of business and financial markets are blockchain and artificial intelligence. Briggs sees that regulatory issues related to these emerging technologies will continue to evolve, and she watches with interest to see how clients will integrate these technologies into their own businesses and how Shearman & Sterling can help them navigate the challenges from a regulatory standpoint.
Women Need To Advocate Together
Briggs has found that it can be more challenging for women to develop the informal networks that men generally have. Because law partnerships tend to be male-dominated, many women face a dearth of role models. She encourages women to focus on building their own informal networks. "We put our heads down and work hard, but there are other skills and elements that are necessary to become successful that we don't always know about."
One ally is the firm's WISER (Women's Initiative for Success, Excellence and Retention) group, which she co-chairs, that offers both the opportunity to network and to learn more about these informal norms, while also building the professional development skills that women don't as easily pick up, from building your brand to establishing and maintaining trusted relationships with clients.
She believes that men might naturally have more avenues to learn these skills and market them – so it's important for women to support one another in creating those paths if they are not emerging.
On that note, she recommends building networks with both senior and junior women and urges senior professionals to pay it forward and serve as a mentor that a junior person can turn to for advice. "Being available and engaged with other women is the key to retention," she says. She looks forward to helping further build the WISER program as it continues to focus on providing women at the firm with the tools to build their careers and professional relationships.
As mom to an active preschooler, Briggs says she focuses less on achieving work/life balance than just making sure she's doing her best. "It's easier to manage what's going on and integrating work and life when you are engaged. The personal and intellectual satisfaction I receive from the practice spills over nicely to make all the parts of my life blend successfully."