Mover and Shaker: Yin Seo, Technical Product Manager, Laserfiche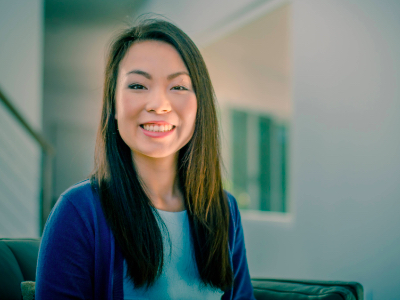 By Cathie Ericson
Work is much different than school, Yin Seo realized early on.
"At school, everything is laid out and you know the success metric you are working toward, but in the professional world, there's no answer key," she says. "Everything you are doing is brand new and something that no one else has done, so what separates good employees from exceptional employees is that the exceptional ones are able to decide for themselves what is best for the team and the organization. You will never be given an assignment where someone else knows the answers."
Advancing New Ways of Working
Seo started as a software automation engineer right out of UCLA but transitioned from coding to a subject matter expert role, where she worked more closely with clients. Soon she was overseeing an entire development team as well as the designers for a software division, which she found to be her true calling — managing the project development life cycle. There she made several impactful changes, including transitioning the development process to a "scrum" format, which she found to be superior as a way to emphasize the team mentality while implementing quicker turnarounds.
She remains passionate about project and product management and has since become certified as a Scrum Master and Project Management Professional. While the "agile" way of doing things has been successful for some time with software companies, it is moving into other industries as a best practice, validating that the technique will work for any type of project management.
She then moved to Laserfiche, a leading global provider of enterprise content management software, where she has spent the past seven months as a technical product manager, learning a new industry and new software.
Currently Seo oversees two teams working on advancing the company's business process automation product suite. "My teams have been working really hard, and it's exciting to see the fruits of their labor," she says, adding that as a product manager, the most important aspect is making sure that what they're building delivers value to customers.
One major accomplishment she has already achieved was being asked to give the keynote address at the annual Laserfiche Empower Conference, attended by more than 3,000 people. She had only been with the company for less than three months when she was invited to speak, which was a huge vote of confidence, but the other reason the accomplishment feels so significant is because previously she had been terrified to speak in public. "This was validation that I had moved out of my comfort zone to where I could handle it," she says.
Using Strengths to Navigate Challenges
While there is a well-known dearth of women in software development, Seo sees that a major barrier for women to succeed lies in confidence. She believes that when young women see those numbers, they start to create a narrative about why there is a lack of women, which can create doubts: Are we not good enough? Is it too hard?
She urges young women to look past the statistics. "We want to be judged by our work, based on merit, and so we need to do the same for ourselves. We need to help the numbers grow, but not let them define us."
And, she also reminds professionals at every level that they have to keep growing their skills. "If you are not improving, then you are technically losing ground since everyone else is focused on getting better." As she points out, these skills might not always tie directly to your career; for example, for her it was improving her public speaking acumen.
An avid rock climber, Seo sees the sport as a perfect metaphor for the tech industry and pursuing goals. In rock climbing, climbers refer to every route as a "problem," each with a grade, and as you get more experienced and stronger you can conquer higher grades – just as in business. "I've been learning that a lot of success comes from technique, and every problem has different solutions that you can solve in different ways," she says.
Rock climbing also comes with its own set of stereotypes; for example that you have to be tall and have significant upper body strength, but Seo has found that you don't have to be a certain body type to climb well. "My husband and I climb together, and he's a little better, but there are some problems I can solve that he can't. I am shorter but have less weight to pull up and am more flexible so you always have to use your strengths to your advantage."
Just like in the business world.