Voice of Experience: Rachel Frye, Aviation Finance Advisory Leader at PwC Ireland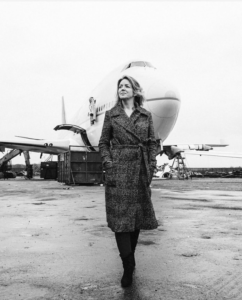 By Cathie Ericson
"When I was just starting out, I didn't realize where my journey would take me, but I have realized that it's ok when the destination you start out with changes," says PwC's Rachel Frye.
"Start with a viewpoint, but know you might end up somewhere else, and that's where you're supposed to be.
An Unexpected Flight Pattern
Those statements might be considered world-class understatements when considering Frye's path.
The best advisors are those who have learned the industry from the ground up, or in the case of Frye, from the air down. That's because she started in the aviation finance industry in an unconventional way – as a pilot. While a flight student at the University of Oregon, she ended up working as an engineer at the airport, her first foray into adopting the attitude of "Sure, I'll give it a go!" She found it to be a wonderful complement to her flight training to become immersed in aviation and learn the day-to-day operations, while building contacts with operations people and other engineers.
As she learned more about the private flying industry, she parlayed what she calls the "novelty factor" of being a woman into landing some private jet work.
But her ambition had always been to be a commercial pilot, following in the family footsteps of her dad who was a pilot, so she moved back to the U.K. to earn some additional licenses while working for an airline on the engineering side.
She was due to join KLM just prior to 9/11, when the job vanished as airlines stopped recruiting junior pilots. In the meantime, she received a phone call from an engineering contact of hers who had a client in the financial industry who needed some technical advice. Not knowing what to expect, she attended the meeting and was surprised to discover it was with members of the French, German and British governments, as well as representatives from huge international banks.
It turns out that it was the first time that the airlines had gone into bankruptcy on such a large scale, and the banks were in a quandary as to how to locate and bring back the myriad aircraft. It was uncharted territory, but Frye stepped in and developed a team, and for the next three years acted as a technical director repossessing the aircraft. "I could have felt like a fraud but since this had never done before, I didn't know any less than anyone else – there was no right or wrong way to go about solving the problem."
Once they had located and retrieved the aircraft, there was a new dilemma – how to sell or lease them. In an industry that is primarily relationship-driven, Frye stepped into this new role marketing aircraft and working with the law firms. When they had difficulty finding buyers, they turned to leasing and converted others from passenger to freight use. With some creativity, eventually every single bank got their money back.
While the work was a huge achievement in retrospect, she also knows that it was a terrible time in the industry and for her clients, and she found it fulfilling to help these companies who were in desperate need.
As word spread, she became known as the expert and found herself managing other airlines' distressed assets. Then a leasing company asked her to run their marketing in the Middle East, which seemed like a good fit. While managing their portfolio, she spent time with the CFO and learned about financial modeling and structuring. A bank in Germany asked if she would be the assistant head of the aviation finance practice and with that, she had gone full circle to experience literally every sector of the aviation industry: from flying to engineering to marketing to finance.
"Most people have one of these skillsets, but it's unusual for anyone's experience to be so broad-based," Frye says, emphasizing how useful it is to have the ability to walk into a meeting with an astute understating of the technical engineering side, even if they're discussing marketing, for example.
When most firms shuttered their aviation practices during the economic crisis in 2009 and 2010, Frye decided to become an independent consultant until the dust settled, a role she ended up holding for seven years, leasing aircraft to companies, advising airlines and various governments, high net worth individuals who were investing, and even the military for the inflight refuelling fleet. This consultancy work culminated in being named "Interim Head of Aerospace Risk" at UK Export Finance, part of HM Treasury in London, immediately prior to joining PwC.
"While it was incredibly varied, it was also a little isolating," she says. She wanted to step back into something more solid, but knew she could wait for the right role, which came when PwC asked her to head up their aviation sector in December. She finds it to be the perfect fit, because it's as if she has her own business as she builds out her team, but with the brand equity of PwC.
And she knows without a doubt that she never could have landed where she is if not for the accumulation of her experience to date — connecting the dots, so to speak.
Frye looks forward to building out the team: While she appreciates that PwC is so forward thinking and takes a long-term view, her group's challenge is to communicate to the industry that they can offer the broad range of skills and support that they do.
"I am excited to have such strong resources that will allow us to really build a center of excellence in aircraft finance," she says. "We don't just want to just advise the industry, but help evolve it and pull it forward."
While it has been a niche area for some time, it is now growing rapidly due to the emergence of markets like Asia and India that are seeing passenger numbers increasing exponentially, bringing with them record aircraft orders. "There is unprecedented growth, and our role is to help our clients navigate the huge amount of change and capitalize on the opportunity," she says, while also helping them harness new technologies to make the industry more efficient.
An Industry Where Women Can Take Flight
Frye has always seen her gender as a benefit, since she stands out and can quickly prove her expertise. But, she notes that the biggest barrier the industry faces is getting women to join at all. For example, when one of her fellow female classmates said she wanted to join cabin crew, Frye quickly asked why not flight deck, and was gratified when the friend subsequently became a pilot. The incident opened Frye's eyes that it wasn't an automatic choice or consideration for many women.
However, she doesn't feel that the industry needs equality just for equality's sake. "You need the best people in the role, and it should be irrelevant what gender they are," she says.
She urges other women who might want to join the industry to remember that they don't have to behave in a masculine way to get ahead. Women have an advantage with their high "EQ" and inquisitiveness, she finds.
Frye admits she is the first to say she doesn't understand something, but finds men might also wonder but wouldn't say it out loud. "That honesty comes across and works in your favor," she notes. "It's ok not to know everything and to ask questions. Being highly curious has informed my journey."
Using Aviation As a Way to Open Minds
It goes without saying that Frye has a love of travel, which she has tried to instill in her children, ages 11 and 19, primarily to show them that the rest of the world isn't like Western Europe. Her kids have a list and once a year she lets them choose a trip.
But she never forgets that these experiences are due to the magic of aviation. One highlight was a visit to Jerusalem which they found to be a melting pot of cultures. "We spent three hours learning history and cultures and having a delicious Arabic lunch with our host, and that evening we were back in London," she says.
"I feel very strongly that if the planet is going to get better for any of us, we have to understand each other, and aviation is critical to that. The more we travel, the more understanding we have and the better our world will become."