Men: It's Easy to Be a Workplace Ally – Here's How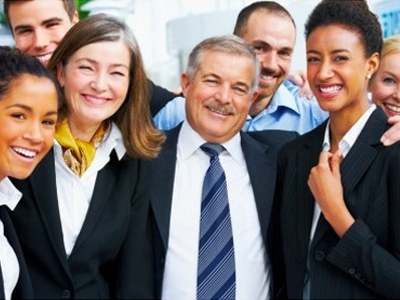 Guest contributed by Deborah Pine and Trish Foster
By now it's no surprise to read that, in 2017, women still face more workplace challenges than men.
According to McKinsey's 2016 Women in the Workplace report, more than 75 percent of CEOs include gender equality in their top ten business priorities, but progress is still frustratingly slow.
While women can and do make progress alone, more and more companies are discovering a secret weapon to achieve gender balance – male allies. Men, if you truly want to support women in the workplace, there are practical (and relatively easy) steps you can take immediately. Remember that even incremental changes in your behavior might help the women you work with. Here's how you can help.
Recruit women
In doing so, recognize that some of the best candidates might not come to you – you might need to seek them out. Why? Because while men apply for jobs when they meet 60 percent of the hiring criteria, women wait until they think they've met them all. So search for female candidates via LinkedIn, references, internships, and by making sure your hiring committees put women and other diverse candidates on the slate.
Actively promote women and raise their visibility
Encourage them to apply for jobs with more responsibility even if they haven't met all of the requirements. Why? Because women tend to get promoted based on their accomplishments, men more so based on potential. And a McKinsey/LeanIn.Org report shows that men get promoted at a greater rate than women in the first few years of their careers. Research suggests that women benefit by seeing strong female role models ahead of them in the pipeline. Help make that happen by raising the visibility of women in your organization.
Evaluate performance fairly
Start by being aware of gender bias in performance reviews, since research shows that male performance is often overestimated compared to female performance. In fact, gender-blind studies show that removing gender from performance-based evaluations improves women's chances of success. Provide constructive criticism and be honest and fair, just as you would with a man.
Be aware of unconscious bias
It's now well-established that all of us are biased. That's why so many companies use unconscious or implicit bias training as an essential step in developing men as allies programs. You can tap into plenty of online resources to learn more about implicit bias on your own.
Be a mentor, or better yet, a sponsor, to a woman
Data supports the notion that women who have both female and male mentors get more promotions and higher pay. In addition to mentoring, consider actively sponsoring a woman – remember that sponsors go beyond mentoring by creating tangible workplace opportunities for their protégés. For example, don't be afraid to take a female colleague to lunch or invite her to an outing, as you would with a male colleague. Professional opportunities often arise in such social settings.
If you have parental leave, take it
We can't achieve gender parity if women are the only ones taking child-care leave. As Liza Mundy writes in The Atlantic, "The true beneficiaries of paternity leave are women."
Establish accountability metrics
Set personal diversity and inclusion goals, and encourage your company to establish diversity and inclusion goals for all managers, tying them to reviews and compensation. Accountability produces results!
Don't 'manterrupt' when a woman is speaking
Research shows that men interrupt women far more than they interrupt other men. Actively work to listen more than you speak, and even better, visibly solicit and affirm input from women in meetings.
Be an advocate
Have your female co-worker's back when she's not in the room and call out unfairness and bias when you see it. Talk to other men to raise awareness about gender diversity and remember that silence can be misinterpreted as support for the status quo.
Share the housework at home and the office
For women to succeed, they need an equal division of labor at home and at work. Honestly evaluate whether you are sharing chores at home ranging from childcare to cleaning, and do the same at work, raising your hand for the tasks women so often assume, like organizing social events.
Your actions have the potential to make a major, positive difference not just in the lives of your female peers, but in your own life, your work environment, and your company's success.
Deborah Pine is executive director and Trish Foster is senior program director for the Center for Women and Business at Bentley University in Waltham, Mass.
Disclaimer: The opinions and views of guest contributors are not necessarily those of theglasshammer.com