Intrepid Woman: Marie Heron, Executive Director at On-Track Career and Employment Services
As part of disability awareness month, we are giving a platform to women to tell their stories.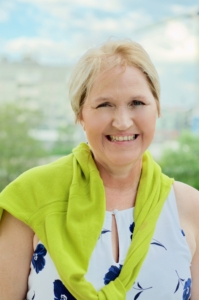 Successful, career oriented, and a visionary, Marie Heron has transformed her $100,000 funded agency into multiple delivery sites and more than 1.5 million dollars in funding. Over the years, she has been an adult educator, career counsellor and eventually an Executive Director. Heron's career path, however, was far from barrier free.
At the age of 24, Heron worked as a sales representative for an International Personnel Agency. A self described over achiever, Heron strived to climb the career ladder to become a site manager. Her life, however, was about to take an unexpected turn, beginning with an emergency visit to St. Michael's Hospital. After three days of testing, Heron was diagnosed as having the chronic illness Multiple Sclerosis.
Left with more questions than answers, Heron returned to work, where she quickly learned that life was not what it was before. "After the initial diagnosis, I had three successive relapses, which required time off of work," said Heron. "My employer had to let me go because I was taking so much time off work."
Taking a Step Back to Move Forward
Not wanting to repeat this experience, Heron made the decision to take on shorter-term contracts while she adapted to life with a chronic illness. Although, it was a choice that resulted in significantly less money, it was a necessary step to gain a better understanding of her illness and what she would need to do to adapt. Over time, Heron realized that she could either sit and wallow in self pity or proceed forward with her dreams. And so, she moved forward, determined to construct her own career path. "Physically I was having periodic episodes of vertigo, vision loss and falls, intermixed with periods of remission," said Heron. "I recognized that I was the only one responsible for my career, so I took control." The answer for Heron was to start her own business, the Art of Reception, a training company for receptionists.   The business started out small, with a few key staff members that she could trust to take the lead during periods of relapse.
After a few years, Heron recognized the company's potential for growth, but to do so she would require additional capital. "I went to a local politician's office, every week, for a year and half, with the hopes of obtaining federal funding," said Heron. Her perseverance paid off. "I was the youngest and first woman to get that much federal funding," said Heron. "But it was what my contact said when the funding was received that was both surprising and inspiring." The politician shared that he had helped to knock down the doors, but what Heron did beyond the doors was up to her.
And that is exactly what she did, continuing to break down barriers and expand her company. With the growth of the company, Heron became less forthcoming about her illness to her staff. "When people heard that I had multiple sclerosis, immediately they started to research and develop biases that impacted our interactions," said Heron. "And so, I made the decisions to not tell people about my illness, as it did not define who I was."
Strange Side Effects of the Illness
Navigating a career with a chronic illness, equipped Heron with both a positive attitude and perseverance that helped to both inspire and motivate her clients. Because she had such high expectations for herself, she, found herself expecting her staff to follow her example. "Because I had done so much myself, "said Heron. "I found that I had developed extremely high expectations for my employees." To help manage her expectations, Heron hired a human resources consultant to assist her with both management techniques and to develop policies and procedures for her company.
Over the years, Heron has learned a lot about growing her career and the importance of self-care, but this wasn't always the case. In her twenties and thirties, Heron, would often find herself working overtime, including weekends, to get in documents days before the deadline. Today, she's learned to take things a bit slower, still ensuring that the deadline is met, but also taking the time to rest and rejuvenate.
"I recently read an article by Jack Osborne, who shared that there is a silver lining with being diagnosed", said Heron. "He said, that if you can maintain your positivity, you can steer your progression. It resonated with me because I've always tried to be positive." Although, multiple sclerosis does not define Heron, there is no question that it has helped evolve her to the person that she is today.
About Marie-Heron
Marie Heron, Executive Director at On-Track Career & Employment Services, was diagnosed with M.S. at 24. She has created a new podcast, "Truth Be Told" so that young people living with M.S. can find a safe resource for hope, inspiration, and advocacy.