Voice of Experience: Lina Woods, Director, Global Digital Go-To-Market Leader, PwC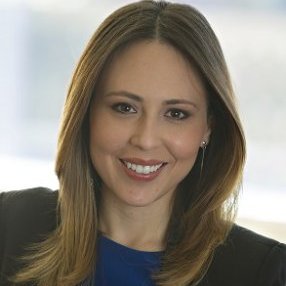 By Cathie Ericson
When you're just starting out, you're not an expert in anything and that's ok, says PwC's Lina Woods. "There were times of stress when I should have realized it was ok to learn along with everyone else, and I see now that I could have harnessed that perceived vulnerability and realized you should just dive in and do your best."
Using Her Expertise To Educate Up
Woods' career began in the agency world, where she worked for respected public relations firms, including Fleishman Hillard and Brunswick Group. When the opportunity arose to join PwC, she knew that the in-house experience would be the perfect complement to help her understand the full construct of communications programs pubic relations. Her agency skill set has been a major benefit in her role in public relations and social media for PwC's advisory consulting arm, as she has learned that client management is similar whether the clients are internal or external.
Given how large and diverse PwC is, Woods has found that her department is invaluable to creating a cohesive narrative within a multi-channel strategy. "My passion right now is digital tech and using the firm's current digital transformation to tell our story," she says. No longer is there one "silver bullet" or single approach to strategic communications, as the disciplines and available tools intersect. Whereas earned media used to be the main way that companies could tell their stories, now blogging and social media are powerful ways to cut through the clutter with strong visuals and messages, she notes, adding that it is an exciting time for communications professionals to truly add value.
As the communications function, marketing and PR continue to evolve, part of her role is educating leadership on what she does and why she does it. They might cling to tried-and-true PR tactics like press releases, but she is able to work with them to show how to reach audiences in a way that engages them, even though sometimes that means moving away from techniques and tactics that people are used to. "We are driving the line of service in a different way as we modernize it to better reach today's consumers," she says.
Part of Woods' role has been to help to rebuild the PR team as they work to stay ahead of trends and push people outside of their comfort zones by developing an integrated approach to telling the PwC story. Her leadership has helped create a team that is confident in sharing their expertise and counseling the senior leaders of PwC's largest line of service.
A Multicultural Background Helps Create Success
A native of Colombia, Woods says that growing up in a multicultural environment has helped boost her career because she has learned that people may understand the same message differently. "Effective communication has never been something I've taken for granted, and that is one of the reasons why I love working in this industry," she says.
In fact, she learned the importance of communication early on when her family fled Colombia when she was 12, leaving everything and coming to the United States for their safety. Woods says she "became her mother's voice, making use of the English I had picked up in my bilingual grade school to help navigate our new community," including enrolling herself in school, and negotiating with landlords. That early experience helped shape her ability to speak up in situations where others might feel uncomfortable, a skill that has proved useful throughout her career.
Working in agencies, for example, you are surrounded by diverse viewpoints but you have to show that you deserve to be at the table, even in situations where you might doubt yourself. "Sometimes that's easier for men but it's really important for women to be confident and find their voice," she says. "Trust your gut; you're there for a reason and you should add value and not be afraid to be loud and proud."
She also urges women to support one another and advocate for each other, becoming a community where as a leader you allow your team to be themselves and help them to thrive and grow in their roles. Woods says that within her PR advisory team she looks up to her leader, Caroline Nolan, who always makes sure everyone has the information they need and empowers her team members to improve every day.
An avid traveler, Woods particularly loves seeing new places and having unexpected experiences. Last October she visited India and hopes to go to Australia and Vietnam for her next adventures. She loves challenges and learning something new; whether it's a new culture or just putting together a puzzle.
A strong supporter of Save the Children, Woods notes that growing up with a mom who dedicated her life to help children as a psychologist has helped inspire her to do her part to educate women in the world.