Mover and Shaker: Anna Gorga Soderini, Vice President, Investment Management Division, Goldman Sachs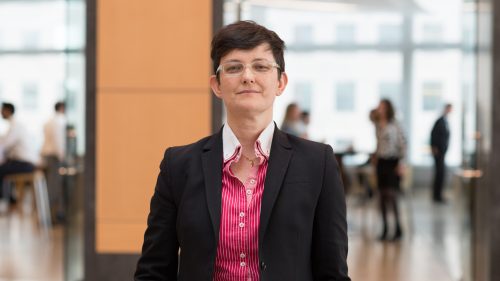 By Cathie Ericson
While it might be harder to find a role model who seems similar to you if you're LGBT+, a woman, a different race or any underrepresented minority, it's still very important to find mentors who can guide you in your career, notes Goldman Sachs' Anna Gorga Soderini.
"When seeking a role model, look beyond traditional 'diversity' and focus on individual challenges people might have faced where you can find points in common that might not be obvious," she says. "If you more broadly define 'role model,' you can find someone who also had to adapt to circumstances and conquered similar challenges, even if they might not represent your exact demographics," she says.
A Meandering Path, With a Destination of Authenticity
For Soderini, the professional journey has been just as important as the destination, and she took what she describes as a bit of a meandering path. She began with classical education – Latin, ancient Greek and philosophy – yet ended up in a finance career. While in London completing her Masters in economic development at the London School of Economics, she was exposed to financial markets for the first time, and to the role efficient asset allocation plays in enabling economic development.
She initially joined a private equity firm that invested in emerging markets before spending two years in Mozambique following that country's civil war, an incredible experience that made her keenly aware that opportunities emerge following significant periods of change. After her stint in Mozambique, Soderini enrolled at New York University's Stern School of Business to pursue her MBA and enhance her knowledge and understanding of finance.
After graduating with her MBA, she took a position in M&A, covering and advising financial institutions. Soderini joined Goldman Sachs Asset Management in 2007 to pursue a role on the buy side.
After making a conscious decision to not share with her former employer that she was gay, Soderini realized this was impeding her ability to form deep relationships with her colleagues and managers, and knew she needed to be open in her next role if she wanted to be successful. She came into the interview process at Goldman Sachs identifying openly as LGBT+, and she says she was blown away by the inclusiveness of the firm and her future colleagues.
When discussing professional achievements of which she is proud, Soderini immediately mentions her involvement with Goldman Sachs' LGBT Network. She cites her role on the Pride steering committee and subsequently being invited to co-lead the Americas LGBT network at the firm, as a significant moment in her career. Soderini notes that the position is one of great responsibility due to the advocacy and education element of the role, by ensuring the firm remains at the forefront of LGBT+ issues.
Shifting Industry Norms Provide Opportunities for Goldman
Currently, Soderini is excited about co-leading an effort to integrate new data sources into the investment process, as the industry comes to terms with the disruption brought about by technology. She believes the ability to capitalize on these changes will become increasingly critical to the investing process and thus consequential for GSAM's business.
"This is an inflection point for the whole industry, as data is being created at exploding speeds," she says. "The size and complexity will require new analytical tools, and we now have more processing power at our fingertips. Goldman's breadth of strategies, technological sophistication and depth of resources will allow us to harness technology to the benefit of our clients in a way that less capable competitors can't."
Also related and top of mind is the debate about active versus passive management, and how Goldman Sachs can weather the current outflows from active management.
"Technology has made fundamental investing harder since it has democratized information and analytical tools. Some of the challenges of active investing are cyclical and will fade under new market regimes, but others, such as the technological disruption, are secular: The firms willing and able to adapt to the new environment will be the ultimate winners. "Goldman Sachs is one of only a handful of asset managers that has the wherewithal to experiment and execute across strategies as we begin to understand these shifts."
Embracing the Corporate Paradigm
Soderini says she wishes someone had told her when she was starting out that doing a good job is a necessary but usually not sufficient condition to continue progressing in one's career. She understood the financial sector to be a meritocratic environment, but had not realized how critical it is for everyone around you to see you proactively contribute, understand your career goals and believe in your ultimate potential as a leader.
But while you have to express your views and telegraph your goals and passion, she notes that it can be tricky to get the right balance, particularly for women and those who come from cultures that don't promote assertiveness.
"At school you are used to being rewarded for executing well in a linear relationship with faculty, completing homework or passing a test," she notes. "But the work environment is more complex and there are multiple constituents. You don't work in isolation, and taking the initiative in engaging with your manager and colleagues, as well as championing your work is a necessity."
Sharing the Proud Culture of Goldman Sachs
In addition to her work with the LGBT Network, Soderini is active with the Pride Summit, a recruitment event where LGBT+ employees and Allies interact with sophomore and junior undergraduates who are looking to learn more about the firm. She finds that people vastly underestimate the leading role the financial industry plays in advancing LGBT+ causes, so it's incumbent upon the industry to conduct outreach and education.
She also appreciates the opportunity it provides for LGBT+ women to interact in an environment geared toward networking. "We can cast a wider net and create critical mass by bringing this group together at our office." She loves being able to attract talented individuals from many backgrounds to showcase the firm.
"I talk about it with such enthusiasm because I would have loved to have had something like this when I was in college," she says, noting that it really underscores the progress that has been made that these programs now exist.
In her spare time, Soderini loves traveling with her wife, primarily from the base they have established in Barcelona, a beautiful city and convenient location for exploring Spain and Europe.