Voice of Experience: Chinwe Esimai, Managing Director, Chief Anti-Bribery & Corruption Officer at Citigroup, Inc.
By Cathie Ericson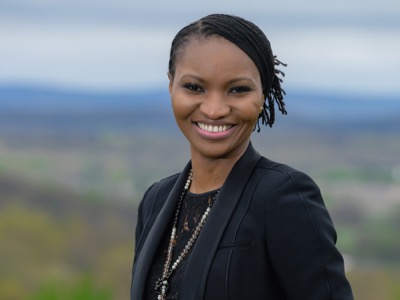 "Don't be afraid to experiment. Over time your definition of success will grow and change, which can be helpful to consider as you navigate your career," says Chinwe Esimai.
"No matter where we are in the professional journey, it's important to commit to ongoing improvement and not get too comfortable – both for ourselves and for women as a whole."
That philosophy has carried her throughout the various iterations of her career trajectory.
Innovating Throughout Her Career
After earning her Juris Doctor from Harvard Law School, Esimai began her legal career as a corporate associate at LeBoeuf, Lamb, Greene & MacRae, LLP, where she worked on mergers and acquisitions and capital markets transactions. She moved to the corporate world, doing compliance at MetLife, and worked for Axiom Legal, which provides contract in-house legal services to financial services clients. Her first assignment was at Goldman Sachs, which subsequently hired her in a full-time role covering regulatory audits and inquiries in relation to the firm's options and derivatives trading businesses.
She then served as assistant professor of law at the University of St. Thomas School of Law in Minneapolis before returning to Goldman in New York in 2011, helping build out its anti-bribery group. In 2012 she joined Citi in a similar role, which she deems a "perfect fit."
As Chief Anti-Bribery & Corruption Officer at Citi, Esimai oversees Citi's global anti-bribery program, which develops and maintains a framework for adherence to anti-bribery regulations in over 160 countries around the world where the bank does business. She notes that "beyond adhering to legal and regulatory requirements, it is about doing business ethically, maintaining an ethical culture, embedding that culture in the bank's processes, and giving employees the tools to mitigate potential bribery risk." Citi has over 200,000 employees globally.
Esimai is passionate about her work because it has a positive impact on how business is conducted around the world. She also notes that this is a particularly fascinating time to be involved in anti-bribery work at a global bank because of the rapidly changing regulatory environment.
Promoted from Senior Vice President to Director, and subsequently, Managing Director within three short years at Citi, Esimai has overseen global enhancements of the bank's anti-bribery compliance program from its early beginnings, to now leading a team of professionals managing anti-bribery controls across the enterprise. She also frequently participates as a thought leader in her industry, as well as at global fora, such as the United Nations.
Most recently, she has been involved in an initiative called the "Citi Tech for Integrity Challenge," a landmark global accelerator program to invite and encourage technology innovators from around the world to submit solutions to help the public sector promote transparency and fight corruption.
A World Economic Forum survey showed that 67 of 144 economies identified corruption as one of their top three challenges. An example of corruption is bribery, which totals an estimated $1 trillion a year.
"I am proud of our work bringing together allies, such as Facebook, Microsoft, IBM, and PwC, and then working with startups to find the best ideas and present them to public and private sector clients to tackle this global issue," she says, adding that Citi is showing leadership by using innovative technologies to move the anti-bribery and corruption conversation forward.
Supporting Women as a Business Imperative
While there are still very few women at the highest levels, Esimai believes the reasons vary based on the company and the industry. However, one solution remains across the board: Women must get the support they need to ensure they have sufficient development, through both formal and informal support, tailored to their level as they rise in the organization. "Women who have already come so far have to help bring others up," she notes. She says:
"Since it's harder to find role models, support helps women stay in their positions, but also underscores the company's commitment to diversity. As more industries recognize that diversity is a business imperative, support and resources will grow,"
 Diversity as a business imperative recognizes that diversity is not just a nice thing to do, but is an invaluable tool in identifying business opportunities and spotting risk.
Citi demonstrates that commitment on an ongoing basis; in particular Esimai cites the Citi Women's Leadership Development Program, delivered in partnership with the UCLA Anderson School of Management, as the ultimate in training. "I'm grateful Citi has invested in me and offered me these opportunities, but I also have played a role by taking ownership of my career."
In addition, Esimai participates as a mentor in the thriving Citi Women Emerging Leaders program as a way of giving back and lifting up other women. "I'm a firm believer in employee networks."
She adds that beyond on-the-job performance, setting aside time for professional development, while largely discretionary, is worth the commitment. In fact, she notes that these opportunities may be more important than the daily work and yield great fruit over the course of one's career.  At their very best, they help provide clarity on key strengths, offer tools to be more effective on the job, and expand one's professional network and vision of what's possible.
Inspiring Immigrant Women Leaders in the United States and Abroad
 Busy with her husband and three kids, two sons, ages 11 and five, and an eight-year-old daughter, she maintains time to share lessons about what it means to be an immigrant woman and leader. "I came to the United States from Nigeria as a teen and am passionate about helping other immigrant women," she says proudly. In 2015, Esimai was named the Trailblazer of the Year by the Nigerian Lawyers Association, an award honoring a distinguished attorney whose professional accomplishments and leadership abilities have been recognized in the legal profession (private or public service). She is also an Executive Council member of the Ellevate Network, a global network for professional women, providing opportunities for women to connect, learn, and invest in themselves.