Mover and Shaker: Yuko Ikeda, Vice President, Senior Human Resources Generalist, Voya Investment Management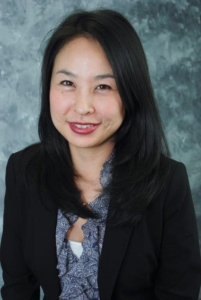 By Cathie Ericson
Yuko Ikeda carries with her the image of a young woman navigating the streets of New York, holding a tote bag emblazoned with the words "Carry yourself with the confidence of a man."
To her that is the epitome of what will help women succeed in the workplace. "I believe some women create their own barriers by underestimating their abilities and waiting too long to grab opportunities," she says. "Also, projecting confidence is a big part of advancing your career. Generally, men do this better than women."
This is why she advises young women to work hard, but effectively, and with a purpose. "Be smart by having a keen focus on the big picture," she says. "You have to understand your business and how your company makes money, and then develop a line of sight to how you connect to that and how you can contribute. Volunteer to fill gaps and look around to find ways to help the team succeed with the interests of the firm at heart."
She recalls the words of one of her sources of inspiration, General Electric's Jack Welch, who reminds people to "Control your destiny or someone else will."
"While hard work is only the ticket to entry, high performance will broaden your choices since people are watching and will offer you new opportunities," says Yuko.
Creating Her Own Success
Ikeda has seen that philosophy at work as she has created her own HR trajectory.
Born and raised in Japan, Ikeda started her career in the Tokyo human resource offices of American companies. Her first stint was with semiconductor firm General Instruments; since they didn't have an official HR department, she describes her three years there as a time of self-learning, where she attended seminars and read books to understand HR theories and best practices. She was fortunate to have a great mentor who guided her throughout her time there, which demonstrated the importance of having mentors in your life. After that valuable experience, she developed relationships with two other life mentors later in her career – one Japanese and one American – who became indispensable in her personal development which she cherishes to this day.
During her tenure, she built the infrastructure they needed, implementing various processes such as customized performance reviews, all without formal training. "It was like creating my own business school curriculum where I would apply theories and make them practical," she says.
Thanks to her active participation in one particular seminar she attended, she was noticed by GE Capital and recruited there, an important move considering GE is known as a luminary and trailblazer in the HR field. Their well-established HR function helped propel her to the next phase of her career. "It was like drinking from a fire hose," she says.
She was offered to be on GE's "HR Leadership Program (HRLP)", a program designed to help develop and nurture the leadership pipeline at GE . She rotated through stretch assignments and global seminars during the two-year program, giving her career an enormous boost. At the end of the program, she was assigned to be head of recruitment, leading a group of older team members, many of them male. She quickly found that not all of them felt comfortable being managed by a younger female, which ultimately offered another step in her growth.
When AIG acquired one of the units, Ikeda was chosen to be the head of Japan human resources for their asset management arm, AIG Global Investment Group. This opportunity constituted a major promotion which she held for four years. At the time she was reporting to the global head of human resources who asked her in 2008 if she would be interested in a newly created global HR Generalist role based out of the New York office. In this new role, Ikeda partnered with the equities, fixed income and business development teams on a global basis. A month later, the AIG meltdown occurred, which expanded her responsibilities to include leading the HR effort on the separation and divestiture activities. This gave her invaluable experience with change management and navigating through uncertainties.
Five years ago, she moved to Voya Investment Management, working with various investment platforms as a senior HR generalist. She is currently leading the talent review process, where the senior leadership team comes together for a full day to discuss succession planning as well as identifying emerging talent for Voya's future leadership pipeline and building bench strength. "We are entrusted with people's money, so it's vital to have a strong succession plan in place to ensure our clients remain our focus and their money we are entrusted with has the best talent overseeing it."
A key part of that is talent retention; she is proud that Voya Investment Management is routinely named one of the best places to work, which reflects well on its culture and provides an important differentiator in a saturated industry.
"Our focus on culture and talent development not only leads to better company performance but also provides a competitive edge," she notes. "When we are in the finals or part of a due diligence process, we may be competing against companies with similarly strong performance and competitive fees, so we believe that culture is increasingly becoming a key decision factor."
Being Mindful Can Help Reduce Unconscious Bias
Ikeda believes it's important to be mindful for two key reasons. "One, it helps you grow – the more conscious and focused you are on the moving parts, the more you see the connections between the tasks you are busy fulfilling, as opposed to being on auto pilot."
Secondly, she says that being mindful will allow professionals to see deeper into unconscious bias to help identify it and make an effort to explore with curiosity how to address it. "This concept has been increasingly a part of our conversation, and we have to deepen our understanding of why it happens, which is the only way we can work toward changing it."
She believes that it's important for professionals to choose a company that is consciously making an effort in diversity and inclusion initiatives, such as Voya is with the women's network and various other programs of which she is a part.
When not helping improve HR at Voya, Ikeda enjoys traveling with her life partner, particularly seeking out experiences where she can be in nature. "It gives me perspective in life and renews the energy I bring to my work," she says.