Voice of Experience: Marwa Elborai, Partner in the Capital Markets Group, London, Shearman & Sterling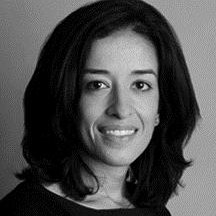 By Cathie Ericson
"Be confident in your own skills and experience and don't be shy about speaking up," Shearman & Sterling's Marwa Elborai advises.
She notes that it's a skill that comes with experience and adds that to advance your career it's important not to be intimidated, but rather to share your views on a matter in order to become the advisor that a client wants to turn to.
Proud of Her Tenure at Shearman
Elborai is what they call a "lifer," having started as a summer associate at Shearman and progressed up the ladder to become partner in January 2016 – an achievement she regards as a "pinnacle moment," given her tenure with the firm.
She began her career in New York in the capital markets practice and moved to the London office in 2011, where she took on a more specialized role in high yield debt and restructuring.
Elborai appreciated the challenge of adapting to something new and expanding her practice to become more involved with complex restructuring, working closely with clients who were doing capital market work for the first time as well as various internal teams, including finance.
Given that Shearman is one of the leading high yield practices in London, she is proud of being part of a team that's highly regarded in the industry and has touch points on most of the deals in the market. To that end, Elborai says it's vital to stay ahead of the latest developments in covenants as it allows her to offer clients the benefit of the most recent thinking and up-to-date best practices.
Mentors Can Help Ease the Path
In this demanding career, Elborai says that those who succeed definitely make investments with their time, but it's not specific to women. However, in a field still heavily dominated by men, it can be more challenging for women to stay true to the path because they don't have as many mentors who have previously reached the top goal of partner.
She says that while it's still common for women to walk into a room and find themselves in the minority, that dynamic is changing with time.
"If you can identify someone you can look up to as a female that's helpful, but don't limit yourself to female mentors," she notes.
One way that mentors helped Elborai along the way was in seeing the big picture: As a young lawyer, she finds you tend to be detail-oriented and don't always take a step back. "You have to realize that your role is not just to pore over documents, but to facilitate an objective and reach a conclusion to achieve a common goal," she says. "Working closely with mentors helped me develop the skills to look at and focus on the overall transaction and the main material issues."
Active in Shearman's WISER (Women's Initiative for Success, Excellence and Retention) program, she has appreciated the opportunities to mentor female associates, as well as acting as a mentor in a robust cross-mentorship program with a client company.
Finding Balance to Perform Better
Given the demands of the job, Elborai notes that it's vital to carve out time for yourself to be with friends and family, and find a diversion that appeals to you. For Elborai, a recent passion has become horseback riding, "It's a peaceful way to enjoy the outdoors, untethered from email," she says.