Voice of Experience: Carey Halio, Partner, Finance Division, Goldman Sachs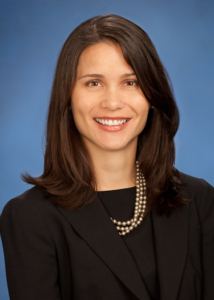 By Cathie Ericson
"Your career is a marathon, not a sprint," notes Goldman Sachs' Carey Halio, though she admits that while she received this advice early in her career, she didn't always take it to heart.
"Many of us are hard-driving individuals who want to make an immediate and constant impact, but it's vital to remember that your experiences, skills and network build upon each other throughout your career."
Even though she was recently named partner, Halio finds that she still needs to remind herself of this advice, and likens her career to training for a real marathon. "When I first started running, I could only handle one mile, then two, five, and so on, and your career builds in the same incremental way. But, it's hard to keep that in mind because you don't have the benefit of hindsight when you're in the moment," she says.
Helping the Firm Embrace New Challenges and Growth Opportunities
Before beginning her career in finance, Halio served as a member of the Peace Corps, where she learned the importance of resilience as she worked in Guatemala without access to basics, such as running water and telephones. That experience instilled within Halio the belief that she would be capable of "figuring it out" in any situation, and she was able to overcome her initial intimidation upon joining Goldman Sachs following business school.
"I now see how hugely beneficial my time in the Peace Corps was in teaching me to be resilient and confident to know that things will work out even if you don't have all the ideal tools readily available. This has been very important in my career and life," she says.
Halio spent the majority of her tenure in the Credit Risk Management & Advisory Group within the Securities Division before joining Goldman Sachs Bank USA as Chief Financial Officer in 2014.
She notes that her role in Goldman Sachs Bank USA is an exciting position, as the bank was formed relatively recently and now offers consumer lending and deposit products, an area of the financial sector that Goldman Sachs had not traditionally been involved in. "It is very exciting to be part of completely new activities within an institution that has been in business for 148 years."
Having been in the financial services industry through its ups and downs, she looks back on the tumult as a time of growth. "While the financial crisis was scary, I know that it helped me become a better risk manager, as I was running a team covering companies that failed," she says. "I grew professionally in multiple ways, learning how to maintain composure in the face of uncertain circumstances."
A Supportive Environment
In addition to her fulfilling day-to-day work, Halio enjoys the firm's culture, which encourages mentoring. New female partners are encouraged to pay it forward: She herself has reaped the benefits of a network of women who have been generous with career advice as well as thoughts on childcare and work/life balance. "We need to do the same to keep that spirit alive with our younger colleagues," she says.
While working at Goldman Sachs, Halio has been active in her division's Women's Network, appreciating the opportunity to hear from noteworthy speakers and develop supportive relationships with peers with whom she has "grown up."
Integrating Balance
While women continue to make major strides in the workforce, childcare and balance remain areas of challenge. As Halio says, with two young boys, no matter how much responsibility she has at work, when she's home, she's mom. "I love my work and am proud of what I've accomplished but I am still focused on creating a close, engaging family."
On that note, Halio cites the book "Wonder Women: Sex, Power, and the Quest for Perfection," by Debora Spar, the president of Barnard College and former Goldman Sachs board member.
Referencing the book, Halio cautions, "You can't have it all; you have to pick and choose what's important to you at certain times." She notes that there are a million things she would like to do, from spending more time with colleagues, to cooking more meals from scratch, but it's not practical to expect to be able to do everything. She adds that over time your priorities change and you have to make meaningful tradeoffs and have the confidence to make tough choices.
For Halio, that means carefully choosing her outside activities. One that she spends some of her time on is serving as an active board member of her alma mater, Whittier College in Southern California.
She, her husband and sons, ages 3 and 7, enjoy spending their weekends together and reinforcing the family dynamic that can be hard to achieve during the week. They deliberately chose to live outside the city and invest in their community. "I want to provide my sons with a stable, strong foundation and we enjoy hanging out and being part of our town."