Voice of Experience: Céline-Marie Mechain, Partner, Goldman Sachs, Paris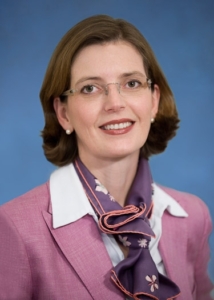 By Cathie Ericson
A champion of women's advancement throughout her tenure at Goldman Sachs, Céline-Marie Mechain urges senior women who have risen through the ranks to continue to stick together to attract more women and support those who want a career in investment banking.
Mechain pursued a classic academic path for French women: business school in France, followed by a graduate degree in the UK, where she polished her English-language skills. She began her career in Citibank's advisory team in 1993 in London before joining the leveraged finance team at Deutsche Bank. In 1998, she joined Goldman Sachs as an associate in leveraged finance, rising to vice president in 2001, managing director in 2006 and ultimately partner in 2016.
Early in her tenure, Mechain was tasked with an ambitious endeavor – to create a financial sponsor platform for French-speaking countries in London – a project that uniquely fit her skill set and one she describes as both a challenge and sign of confidence from the firm. In 2004, she was asked to relocate to Paris to be closer to clients and to build out the private equity coverage platform to support a variety of clients, including French corporates, pension funds, portfolio companies, family offices and entrepreneurs. Building a business that didn't previously exist at Goldman Sachs is the professional achievement of which she is most proud, as it allowed the firm to cover sponsors in a holistic way across products. In addition, while her team has typically covered classic sponsors, they have broadened and adapted to Asian, Canadian or US buyers, and large family offices, who are interested in investing in Europe. "I am very proud of what we built and the ability to scale the business with a universal advisory approach," she says.
As globalization continues, Mechain explains that the firm will strive to retain its leading banking role across regions, while simultaneously supporting buyers from emerging countries and providing access to capital markets on a worldwide scale. "We are always thinking about how we can address the trend of globalization and provide the quality of services that defines Goldman Sachs," she says, adding that the firm is considering how to invest in the midst of the current political climate, particularly in light of upcoming European elections.
Becoming a Role Model
Mechain recalls that when she was a junior associate 20 years ago, there were very few women in investment banking, which created a dearth of women applicants because it was so challenging for candidates to envision banking as a career. Understanding the challenges she faced, she strives to be a role model for junior women. "I wish I had been advised to not be afraid of this environment — you can absolutely succeed by believing in yourself, and in many ways it can be beneficial to be a woman," Mechain says.
Mechain highlights that women in advisory and management roles may now have an advantage, as women are also rising through the ranks of corporates and clients and will increasingly influence corporate decision-making.
She calls on women to support one another in order to attract more women to the field. Mechain herself has blazed many trails, and was the first woman investment banker in the Paris office to announce maternity leave, and as part of her drive to raise the visibility of women, she co-founded the Women's Network in Paris. Launching this initiative ultimately connected women across divisions and has been instrumental in increasing mentorship opportunities within the firm. She notes that she always received strong support for the network from leadership across regions and product lines.
Mechain also created an initiative called the Women in an Impactful Network (WIN), which connects women at the vice president and managing director levels with other industry leaders. "We ask women to identify three external women executives they want to brainstorm with on diversity and business issues, which has created a wonderful think tank to help raise awareness of these challenges." This group of industry professionals, which includes clients, now has approximately 50 members, who regularly meet with one another also outside of official WIN events.
"Establishing these networks has been one of my top achievements, and has provided a forum for senior women to support junior women in the workplace," Mechain says. "These organizations have been game changers."
A Team Effort at Home
Mechain credits her supportive husband and children with playing key roles in her career success. "It's a team effort," she says, adding that she received great advice when beginning her career to make sure that her life partner shares the burden of caring for children and overseeing a household.
"I run the house like a Goldman project, relying on lists and reminders," she explains. "It's an everyday effort, and while it was not natural for me to delegate at first, I've been able to prioritize effectively, both at work and at home."