Voice of Experience: Maude Lebois, Partner, International Arbitration Group, Paris, Shearman & Sterling
By Cathie Ericson
Shearman & Sterling Partner Maude Lebois finds that younger associates have a tendency to postpone developing their private lives in favor of their professional lives — but she believes it's absolutely possible to live both lives simultaneously at full speed.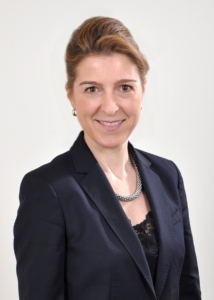 "If you focus on quality rather than quantity, you do not have to compromise," she says. "By nature attorneys are typically perfectionists, but we need to be as ambitious in our private lives as our professional lives from the start."
She believes part of this is timing: She has seen women having their first child right before or right after becoming partner, which can be the hardest years for both endeavors.
"It's a misconception that leaders don't want you to have a fulfilling private life; in fact, certainly in our group, it's a key focus," she says, noting that the two managing partners have aggressively promoted several women partners on the team, making it clear from the beginning that they supported a balanced life. In fact, she cites being named counsel while coming back from maternity leave as one of her proudest moments. "It sent a strong signal to younger associates."
Finding the Female Advantage
Lebois completed her legal education in Belgium and Harvard Law School, and began her professional career with three years at Linklaters in Brussels, a Magic Circle firm. She joined Shearman in 2005 as part of the international arbitration team and was promoted to counsel in 2013 and then partner in 2016.
She is proud to be part of this ambitious and successful team, which routinely is involved in high-profile, complex cases. Currently working on a large construction case in Africa, Lebois notes that she sits in on daily meetings with engineers where it is not unusual to be the only woman in the group due to the powerful trifecta of Africa, the oil and gas industry and the field of engineering.
She has turned that into an advantage; when there are women in the room, she finds that men tend to be more cautious than they otherwise would. "They may be quite direct, but become more polite when there is a woman in their world."
She enjoys these large-scale projects where counsel needs to not only understand how the law will be applied to the situation but also gain a full understanding of any technical issues, which requires practitioners to be curious about all types of technical skills.
"As you look at a large construction project, you have to fully understand the initial scope of work in order to determine how it evolved and whether additional work was required, so it can be a puzzle."
This reality can be a surprise to younger associates who, in addition to the practice of law, find themselves engaged substantially on conducting delay analysis, technical research and other exciting  assignments.
A Strong Team Makes the Difference 
Echoing her advice to pursue a robust private and professional life, Lebois notes that it is imperative to have a strong team supporting you, both in the firm and your private life.
"You won't succeed if you come home after a long day and have to apologize to your husband and kids," she says. "You are setting a good example by working hard, and everyone should appreciate your efforts on both fronts."
Lebois appreciated that this year Shearman invited spouses to the partner meeting which allowed them to better understand the work setting as they met colleagues and experienced the environment. In her case, she says it made her husband even more supportive and proud of her success.
That support extends to the bonds she has built at the firm, with a strong women partner team that meets regularly. She is also part of Shearman's WISER (Women's Initiative for Success, Excellence and Retention) group and has found that having mentors who supported and protected her and women in general is integral to success.
In her off-hours she enjoys backpacking with her family, including her five-year-old daughter.