Voice of Experience: Stephanie Ivy Sanford, Managing Director, Investment Management Division, Goldman Sachs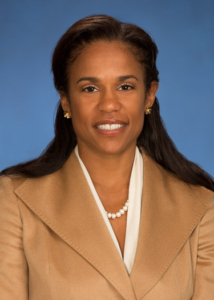 By Cathie Ericson
"One of the most important things I realized when I began my career is how crucial it is to strike the right balance of being a team player and being accommodating, but also knowing how and when to push back," says Goldman Sachs' Stephanie Ivy Sanford.
"The firm values diversity of opinion, and you have to take calculated risks, whether it's standing up for yourself or respectfully presenting a different strategy as you strive to make the work product better."
Cultivating a 20-Year Career at Goldman Sachs
According to Stephanie, she "fell into finance" when her curiosity was piqued by classes she took while pursuing a master's degree in public policy at Harvard University. She soon discovered that municipal banking might be an interesting path and began her career at what was then Fitch Investors Service through the support of a friend and mentor.
While a wonderful training ground, Stephanie was searching for a new opportunity to propel her career forward and reached out to a fellow Wesleyan alum working at Goldman Sachs. She joined the firm in 1997 and is looking forward to celebrating her 20th anniversary this year.
After two years in Goldman Sachs' Fixed Income, Currency and Commodities Division, she became curious about other opportunities, and recognized that asset management was both a growing area and a good match for her skill sets and relationship-oriented personality. She joined Goldman Sachs Asset Management (GSAM) in 2000 and eventually assumed a role in a new group created for the middle market, covering west coast institutional clients. In 2006, she transferred from New York to Los Angeles, and currently manages a team of five covering GSAM's west coast public fund client business, along with some strategic legacy corporate and endowment clients. She was promoted to Managing Director in 2012.
Lest anyone assume that the path is easy, Stephanie is quick to point out that everyone, even the most successful, have bumps along the way. "Starting out with no experience in finance, I couldn't imagine being promoted to VP let alone MD. But by taking the risk to move out west and live in my client territory, and with the guidance of my mentors in new roles, I have been able to survive and thrive at Goldman Sachs for almost 20 years," she said.
Currently, Stephanie is focused on signing a "goal" client — one they've been in discussions with for some time, and she is excited about the progress they are making. "It's a very challenging situation we are determined to complete successfully, as it would be incredibly meaningful for GSAM to work with this client."
Keeping Up in a Changing Industry
Stephanie finds that the industry today is very fee-focused, which ultimately affects her business. "It's interesting to see where we compete with other managers who are looking at passively managed strategies versus our active management," she says. "It's important for us to have a voice and a view in the increasing conversations around alternative investments and equities, since they are affecting how we do business, and the increasing client demand for customization."
Stephanie adds that she has the privilege of working on several industry boards, which allow her to gain additional insight into stakeholders' views of trends shaping the sector. In turn, this helps her understand how Goldman Sachs can adapt to address industry changes, ensuring that the firm can best serve clients.
The Role of Advocacy in Women's Careers
Stephanie has noticed that in general, women are less inclined to raise their hand and ask for an assignment if they don't feel they are perfectly equipped for every aspect of it. In contrast, men often jump at taking on new responsibilities, even if they are not fully prepared for such a role. Stephanie stresses that women need to speak out in the same manner if they want to be considered for new positions.
She has also learned how important advocacy is in advancing your career; she acknowledges it can be more difficult in a male-dominated industry for women to establish the same type of relationships that men can develop with ease over dinner or on the golf course.
Stephanie recognizes therefore that it's crucial to keep an open mind about who your mentors or sponsors might be and realize they don't have to "look like you." She references one mentor who became a close friend despite political and ethnic differences; their relationship provided insight into how she was perceived at the firm, which ultimately helped her career.
Finally, Stephanie shares one important lesson learned along the way – ask for help when you need it. She believes this is integral to the firm's culture, and is behavior that is encouraged and rewarded. She recalls one instance where she was given so much responsibility and senior client interaction as an Associate, that she felt overwhelmed, When she finally asked for assistance, her manager said, "We were waiting for you to speak up – we only give you what we think you can handle," a lesson that has stuck with her.
Seeking and Giving Feedback Are Both Crucial
An integral aspect of your career is requesting feedback and integrating that feedback into your daily processes, advises Stephanie. "This is a quality you find in the people who thrive and are given new opportunities," she notes, adding that in the workplace, men and women approach feedback differently.
"Men are more prone to give feedback to other men, partially because they may be more worried that you might be offended to receive feedback as a woman or person of color," said Stephanie. "You have to let them know you value their input. Say, 'You can hit me on the chin; I want it. I can take it because it makes me better.'" She notes you should then circle back and identify the changes you instituted to reflect their input.
Additionally, Stephanie calls on seasoned professionals to provide feedback to junior people, whether related to their work product or conduct in the workplace. "It's also not just feedback they directly receive, but junior employees should also realize how nonverbal cues can contribute to the opinions that people form of them."
She notes that she learned many of these unspoken lessons through the Goldman Sachs Firmwide Women's and Black Network, which also provided additional opportunities to work with senior women across the firm. Stephanie cites developing a close, personal mentorship relationship with a female partner who later became her boss and helped her strive for bigger roles. "She really helped me understand how the firm works and how each role leads to a new opportunity when you think about your career."
Stephanie is eager to pay it forward; she was gratified when she was recently asked, as one of the most senior woman in her region, to host Q&A sessions in the firm's Los Angeles office for junior people.
Family and Philanthropy Fill Her "Off" Hours
Active in a number of philanthropic organizations, Stephanie serves on the board of Kids in Sports, which provides sport activities for underprivileged children; she's also mentored students from Crenshaw High School; and is a former trustee of her alma mater, Wesleyan University. In addition, Stephanie is a founding member of the National Association of Securities Professionals' southern California chapter, which serves women and minorities in the industry by providing networking opportunities and ensuring that minority firms receive visibility across the sector. She has also been involved with her church, serving on the hospitality committee and participating in a girls mentoring program.
Finally, she is passionate about spending time, skiing and exploring new places with her husband and 18-month-old daughter.