Voice of Experience: Rana Yared, Managing Director, Goldman Sachs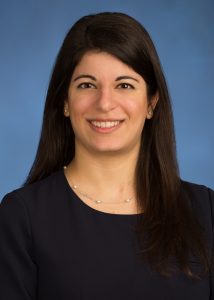 By Cathie Ericson
"Stand out by owning your own details," says Rana Yared of Goldman Sachs, offering advice she learned as an analyst. "Commit to knowing the specifics of every assignment and how they relate to the bigger picture. That's how you establish you reputation as a thinker, not just a doer," she says, noting that this advice has helped propel her career.
After earning a BS from the Wharton School at the University of Pennsylvania, a BA in International Relations from the University of Pennsylvania and an MSc from the London School of Economics, Yared believed her next step would be to earn a PhD. However, she says, "a function of luck, great mentorship, and letting opportunity come to me rather than having a pre-set plan," propelled her on an alternate path.
Never before having considered a career in finance, Yared joined Goldman Sachs as an analyst in 2006. She moved up the ranks, eventually becoming a Managing Director in 2013, and today she leads both the New York and London-based Principal Strategic Investments (PSI) teams in the Securities Division, which are responsible for market structure strategy and the firm's financial technology assets. In this capacity, she represents Goldman Sachs on the boards of several companies that PSI has invested in.
"I'm excited about the team's role in reimagining how we serve our clients as we improve both the workflow and the quality of information that we can share in this time of digital transformation," she says. Goldman Sachs is at the forefront of harnessing financial services innovation, and the transformation within the firm has been exciting. "There's been a fundamental change in our business model and how we approach capital and liquidity," she says. "It's been fascinating to think of ways to optimize these varied opportunities."
Yared is not only proud of the work the team has done for the Goldman Sachs franchise, but also that she has become a leader for the next generation. One career milestone she cited was being asked to speak at the First Year Securities Analyst Orientation. "I always remembered the female partner who spoke at my orientation upon joining the firm, and the impact her comments and advice made on me. It's an honor to be trusted with making a first impression on our newest joiners," she explains.
She also reflected on the moment she was able to tell her parents she was promoted to Managing Director. "As the child of immigrants, I was proud to share with them my accomplishments."
Work Hard, Play Well
One of the lessons Yared has learned over the years is to have more fun. "When I first joined the firm in New York, I enjoyed the work but didn't take the time to fall in love with the city," she says, noting that it was initially challenging to manage her work-life balance. When she moved to London with the firm in 2008, she placed an emphasis on maintaining a balance between work and her outside activities. Now that she has returned to New York, Yared has remained committed to establishing ties to her neighborhood and exploring the city.
Another mentor provided a different success formula that has stuck with her: Q x A = E. "This means that the quality of one's communication times its acceptance equals its effectiveness. In other words, the way that your message is delivered and heard is as important as your content," she says.
Improving on all the advice she has received is a constant work in progress, but there's another area that takes no second thought: "If there's a day that your conscience is tested, that's the day to walk away," she says with conviction. "If something is making it challenging for you to sleep easy, you're in the wrong place."
Active in Programs Inside and Outside the Firm
Yared highlights that Goldman Sachs' Women's Career Strategy Initiative, a program tailored for associates, helped her refine key attributes, such as messaging and presentation skills. She recognizes that the bar of excellence can be higher for women to meet in the workplace. "It's a tricky balance on how you should portray yourself, but it has become easier to navigate as my career progresses," she says. She strongly supports the Female Trader Initiative, where female analysts and interns who have strong quantitative skills are provided mentorship.
A devotee of philanthropic causes, particularly those related to public education, Yared is a member of the Penn Fund Executive Board at the University of Pennsylvania and sits on the advisory board of Wabash College's Democracy and Discourse program. "I was especially proud to have been asked to join the advisory board of this school, which has a long history of educating first-generation college students," she says.
In her spare time, Yared loves traveling, cooking and photography.