Are Women and Men Different When It Comes to Executive Presence?
Guest Contributed by Suzanne Bates
Novelist Stephen King once said "The fundamental difference between the sexes is this: men make assumptions, but women rarely do." That's often proven out in business. Many women have been reluctant to put up their hands for a new role until they have felt ready, while many men have assumed they are ready now.
However, new research is bucking conventional ways of thinking about the difference between women. When it comes to perceptions of women's executive presence, there are few real differences between women and men, especially their ability to engage, inspire align and drive results.
A breakthrough model based on the research into executive presence explains why it matters to both men and women. Drawing from studies in English language from around the world, in disciplines ranging from leadership and management theory to psychology, social action theory, communication, philosophy and ethics over several decades, a modern view of leadership presence has emerged. It takes includes qualities that have never been measured in other models, especially qualities of character.
It turns out there are 15 qualities that are essential, in three dimensions: Character, Substance and Style. Executive presence is about a lot more than a designer suit, or a great presentation. Perceptions of qualities like Authenticity, Concern, Confidence, Humility, Resonance, and Integrity determine our influence and impact.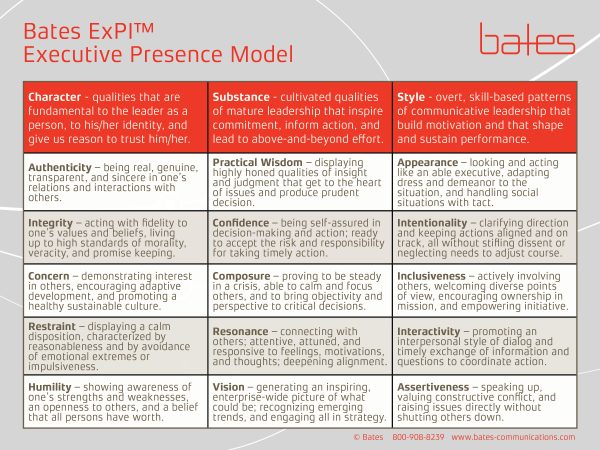 In a happy surprise, aggregate data shows differences in executive presence between men and women aren't even as significant as they are among women. Think about it. Women, like men, come from different backgrounds, cultures, and are influenced by many things, from their upbringing, to the type of job and industry they choose, and he people who have influenced them.
The question is if women are different, what does it mean to help them advance to the C-Suite? Let's look at data on how supervisors view women, since the boss's view certainly counts. It turns out there are not statistically significant differences between how supervisors rated men and women, certainly not enough to hold them back. In fact, supervisors rate women on average higher in Appearance, defined as looking the part and bringing energy and vitality into the room.
We aren't saying there aren't any differences, only that alone they aren't enough to explain what's keeping women from moving ahead in their careers. There are other factors – gender bias still exists in the workplace, though it may be abating. Women don't always feel that confident, as many popular books have documented.
However, we have some surprising news in that category. Most popular books have defined confidence as self-efficacy – the feeling inside we have that "I can do it". In our model we define it as how others view a leader's ability to make the tough calls, promote timely decision making, and hold herself and others accountable. When we look at it that way again, there is not much difference between women and men, except on one question out of six.
Still there's no denying the facts about promotions. Study after study shows women are struggling to advance to senior management. For instance, a 2014 Grant Thornton International Business Report documented that the proportion of women in senior roles globally was stuck at 24%, the same as 2013, 2009 and 2007 (the numbers were even worse in 2011 and 2012, when women were hard hit by the global economic crisis).
At the same time, during this period, Fortune 500 companies invested billions to help women advance. Why aren't these programs working? We think it's because however well-meaning, most women's programs see women as a homogenous group. What evolved were one-size-fits-all approaches that don't work.
Imagine two women, Jane and Dana, working for the same company. If both of them had the benefit of an individual assessment, the Bates Executive Presence Index (ExPI), they would have very different profiles. Jane is high in assertiveness – able to get issues on the table and make them discussable. Dana is low in this quality. The same course, on negotiation, or assertiveness, might help Dana but would waste Jane's time and potentially lead her astray, to overexert a strength instead of working on other areas, like Concern or Resonance.
What's desperately needed is a new approach to women's development. We need to look at women as individuals. Now, using assessment, we can provide women and men with accurate data and measurement, and relevant advice. They can see out the advice of coaches and mentors and take course specific to their needs. This can help them get beyond frustrating inflection points in their careers.
Our advice for women is to ask for individual assessment, and then, seek professional feedback, and be open to advice from trusted sources. We also advise many organizations on how to evolve their women's programs to take a thoughtful approach to innovation. Women and the organizations that have women's networks should not abandon them, but look at them as networking opportunities. It's time to shake up the status quo, and figure out how to help each woman become all she can be.
Author bio:
Suzanne Bates is CEO of Bates Communications, a firm that advises senior executive leaders in executive presence and communicative leadership. She's a speaker, coach and author of five books, including All the Leader You Can Be, the Science of Achieving Extraordinary Executive Presence (McGraw Hill, March 2016). To take a complimentary, pre-assessment questionnaire that will help you appreciate how the Bates Executive Model is relevant to you, go to Alltheleaderbook.com
Guest Contributions are not necessarily the opinions and views of theglasshammer.com
Save