Voice of Experience: Cristina Estrada, Head of Derivatives for the Latin America Financing Group, Investment Banking Division, Goldman Sachs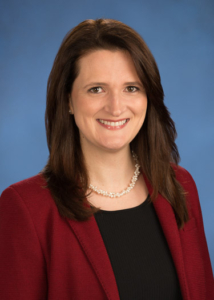 "Pursuing what you are passionate about and chasing your dreams are key to having a successful career," says Cristina Estrada of Goldman Sachs. "Being patient is important though: there are ups and downs in everybody's journey. Persistence and seeing beyond occasional difficulties pay off."
From Colombia to Goldman…and back
Estrada was born and raised in Colombia, in a time of great uncertainty for her country. She aspired to pursue a successful professional career, while at the same time help her country with its economic development needs. With this goal in mind, she applied for college in the United States, which excited but also scared her. "I had dreamed of pursuing a foreign degree, but going abroad and not being with your lifelong friends and relatives seemed like a big risk at the time. That being said, I knew that studying here would allow me to expand my professional horizons."
She was accepted to the Massachusetts Institute of Technology, where she pursued an economics degree and played varsity basketball. It was at MIT that she became aware of Goldman Sachs for the first time, as one of her closest friends praised her internship at the firm and encouraged Estrada to apply.
She became an intern at Goldman Sachs the following summer. "I worked on the trading floor and was part of the sales team, working with Latin America. Goldman provided me with an experience that was nothing like I had ever had before: a fast-paced, no-frills environment, with extremely interesting and smart people, working with highly sophisticated clients."
Estrada graduated from MIT in 2001, where she received the Malcolm G. Kispert Award for female senior scholar-athlete of the year. She started at Goldman as a full-time analyst that July as part of the Latin America FX Sales team, primarily covering Latin American corporations to serve their currency needs. "We structured derivatives for Latin American clients, allowing them to protect against currency risk. It was gratifying to stay close to my roots." Over time, that team became part of the Emerging Markets group, where Estrada still focused on Latin America but now covered a larger array of products, and early in 2016, Estrada and her team moved to the Investment Banking Division.
After working for years with clients in Mexico, Central America and other markets in Latin America, Estrada is now excited to be working on a new series of infrastructure projects in her home country. The Colombian government launched an ambitious infrastructure program, the key pillar of which is the Fourth Generation Highway Plan, or 4G. This plan aims to modernize and expand the national highway system through the concession of 11,000 km across 40 toll roads, with investments valued at an approximate $25 billion. Goldman Sachs has taken a lead role on structuring and funding three of the first nine toll roads that were awarded, with Estrada in charge of structuring risk management solutions for the projects as well as helping line up financing from international investors among her clients in Latin America.
"We have pooled resources from many different teams across divisions and geographies at Goldman to help Colombia; this is Goldman at its best. These roads will make the flow of goods cheaper and smoother throughout the country. Goldman is doing business while at the same time making Colombia a better country — proof that you can do business by doing good."
Diversity as a Constant
Beginning her career on a trading floor, Estrada highlighted that she occasionally felt like a minority, both due to her gender and ethnicity. She says that in these situations, "You have to remember that you are hired for who you truly are, for your capacity and the experience that you bring," noting that Goldman Sachs champions the importance of a diverse workforce.
Estrada is proud that she has become one of the few senior women who cover Latin American companies across the financial industry. "As a senior female executive, you have to develop your own style in a male-centric culture," she says. By becoming a technical expert in her field while also building and maintaining strong client relationships, she has earned the respect of her colleagues and clients.
She reminds women at all levels to take time to build relationships with others in order to create a network of peers and sponsors. "The only constant in our industry is change, and having a strong network will allow you to be more adaptable and prepared for what's to come," she says. "A year ago I didn't think I'd be moving to a different division, but things evolve, and your network can guide you through those types of changes."
With a trajectory that took her from interning in 2000 to becoming a managing director in 2015, Estrada has been able to reflect on her career over the years. "There have been ups and downs just as for everybody. I tended to overthink and overstress about situations when I was first starting my career, but I can now view things with perspective. What matters most is working with people with whom you are comfortable and doing a job that you enjoy. That, combined with a focus on assisting clients with their needs while challenging my skills, is what makes working at Goldman satisfying."
She participated in one of the first classes of the Women's Career Strategies Initiative (WCSI) over a decade ago and has come full circle, serving last year as a Senior Divisional Champion of the program for the Securities Division. This program is designed to provide strong-performing associate women with developmental opportunities and to teach them to proactively manage their professional advancement.
Also active in the firmwide Hispanic and Latino network, Estrada has seen it evolve over the last few years into a catalyst for Hispanics across divisions to meet each other and identify business opportunities, as well as provide access to senior leadership. The group has also steadily been sponsoring interesting events, most recently celebrating Hispanic Heritage Month.
An Active Down Time
A former basketball player as a student athlete at MIT, Estrada is now also a fan of spinning. Married to a Brazilian, she and her husband have been exploring Asia for a few years now. "Since I travel a lot for work, sometimes it's hard to head back to an airport on my free time, but we are enjoying discovering new cultures together."
Save