Voice of Experience: Rocio Lopez, IT Executive at Accenture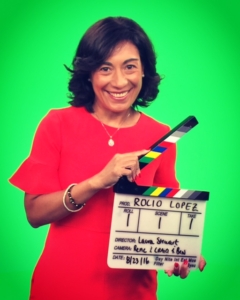 By Louise Magrath
Passionate about advancing diversity in tech, and currently leading several initiatives aimed at growing Hispanic American technology talent, Accenture's Rocio Lopez says: 'The one piece of advice I would give to anyone is to be authentic.'
As a Mexican woman-in-tech for over two decades, Lopez learnt through Accenture's Hispanic American Employee Resource Group (ERG) that she needed to be authentic about what she brought to the table as a talented Hispanic technologist.
'For the longest time, I was trying to run in a different size shoe – actually a male size 8. It wasn't until I met my ERG family that I realized I like my 7.5 size red high heels,' she comments.
Longevity in her career
Lopez has a long career at Accenture having worked for the professional services company for 22 years since leaving University. Currently leading a team that helps the company and its clients adapt the latest IT solutions and flexibilities, she connects with Accenture's business leads to understand their day to day, on the job behaviors. This helps her innovate new solutions to get them performing at their highest, delivering the best they can to clients.
'I love it when I see them adopting the latest technology and get their feedback that it's made their life easier and helped them to be more efficient. I'm excited that my job allows me to be creative and present and deliver ideas that transform the way our teams work. Being able to experiment and challenge my team to learn new technologies is the part I love the most,' comments Lopez.
Increasing Hispanic Leadership in IT
'Inclusion and diversity is an inherent part of Accenture, and as a company, we are committed to advancing diverse talent in technology,' states Lopez.
One initiative led by Lopez, of which she is particularly proud, is the Accenture sponsored, Hispanic IT Executive Council's (HITEC) Women's Program, aimed at growing Hispanic American technology talent.
'HITEC is an organization whose focus is to develop the next generation of Hispanic IT Leaders, an ethos in common with Accenture, as we share a commitment to advancing diverse talent in tech and increasing Hispanic leadership in IT around the Globe,' she comments.
She describes the program as a breakfast series and learning session, focused on developing, retaining and attracting women in tech careers by bringing them together in one place to network and establish connections. Lopez believes the key to the Accenture and HITEC mission is the structure they have in place to carry out the strategic goal to 'push up and pull up' its' workforce and members. The Accenture partnership with HITEC, including the Accenture sponsored Women's Program, demonstrates a partnership whose focus continues to be the growth of Hispanics in technology careers.
Lopez is proud and excited to lead the Women's focus with HITEC and says, 'I already see the impact the program has on inspiring women along their journey and I'm looking forward to this coming year and the technology learnings that our women will gain during the sessions.'
Support and Mentorship build success
For Lopez mentorship has played a critical role in her career, 'I could not have a career without this. You need a mentor or sponsor to keep you honest about what success means and to help you along in your career journey,' she comments.
An example where the importance of mentorship came in to play for Lopez was when she was given the opportunity to participate in the HITEC Emerging Executive Program and was assigned a C-Suite mentor, Ramon Baez. She notes,
'The relationship I built with Ramon was key to a turnaround in my career journey, as I was facing some critical career decision points at Accenture. The conversations we had, helped me gain tremendous self-confidence and inspired me to believe that I could be CIO of a company.'
As a leader at Accenture, Lopez also is a mentor to people for whom she is directly responsible for engaging, supporting and growing. She is passionate about encouraging her mentees to be authentic as she believes it generates great thinking and increases their level of engagement overall. She comments, 'My professional role model is our global inclusion and diversity lead, Nellie Borrero, an amazing, authentic woman that has managed to stay true to her values throughout her great successes.' Lopez believes that every employee at Accenture is extremely talented and that it is her obligation as a company leader to ensure that they are listened to and tended to,
'We are changing the game within the Accenture family by staying close to every single individual and focusing on their unique needs and wants. We create a place where everyone is a member of the family that is always cared for and nurtured,' she says.
Commitment to Diverse Talent Pools
Lopez's passion for advancing diversity in tech has led to her involvement in Accenture's sponsorship of teams of Cristo Rey High School students to code at Accenture. She describes Cristo Rey as the largest network of high schools in the United States whose enrolment is limited to low income youth. Its distinctive approach to education equips students with the knowledge, character and skills to transform their lives. From freshman year, Cristo Rey schools blend rigorous academics and four years of professional work experience to and through college.
'I became involved with Cristo Rey because I wanted to promote STEM jobs for these students in the Chicago area. To that end I proposed and created a program within our CIO organization that sponsors diverse students in to programming roles. This has evolved our internal IT talent strategy and has led to us identifying new talent,' states Lopez.
Her passion for inspiring Hispanic American students to continue their education and to seek a career in tech along with her overall commitment to technology careers and diversity has led to Lopez being named on the Board of Cristo Rey High School.
Family
Even outside of work, Lopez continues inspiring young people to take up careers in tech. In the fall she will travel to Leon, Mexico, where her family is from. She will use her time there to inspire her teenage nieces and nephews to consider a tech as a career choice.
She comments, 'They ask me questions about my Facebook posts during my network events, as they are excited to see me travel the world and meet so many new people. My answer is always to go in to technology! It's very cool and allows you to truly impact the world we live in!"