Voice of Experience: Sheila Patel, CEO of International Goldman Sachs Asset Management
The common thread among the successful women Sheila Patel has mentored over the years is their willingness to engage their networks, mentors, sponsors and managers in their ambitions and their journey.
"Two-way communications holds both women and their stakeholders accountable for their progress, and accountability is the key to advancement in the years ahead," she says.
Moving Around, Moving Up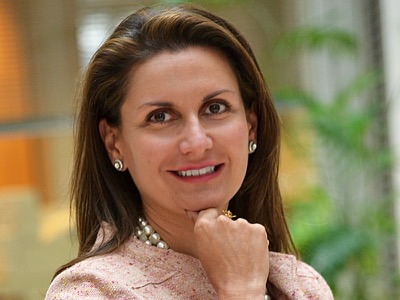 Patel has employed that strategy throughout her career. She feels fortunate that her career has taken her to three different regions, allowing her to work in multiple areas of finance throughout the last 24 years. "The constants of deep client relationships and rewarding partnerships with colleagues have paved the way for many transitions, as new opportunities emerged and Goldman Sachs has provided me with the room to grow," she says.
She began her career as an analyst in investment banking at a different firm in New York, and then took a hiatus from the industry to explore retail, where she worked for one of the few women CEOs at the time. She soon realized she missed the fast pace of finance and earned her MBA at Columbia, while simultaneously working in derivatives sales and trading.
In 2003, she joined Goldman Sachs, where she has worked in both Asia and London. Over the years, Patel held a variety of roles in the Securities Division, culminating in becoming co-head of Asia Equities Distribution, before moving to London to join the Investment Management Division in 2009.
For Patel, this internal mobility represents the professional achievement she is most proud of – the transition from the "sell-side" to the "buy-side." During this time, she moved from Singapore to London and undertook a major change in role and responsibilities following the financial crisis.
"It was a great opportunity to identify the skills I had that transcended divisions, such as strong relationships with clients, strategic management capacity and broad market experience," Patel says. "The firm empowered me to expand my business and focus on investment performance despite the difficult market conditions. That allowed me to help grow the team while retaining our culture, our client base and assets over the following years," she says.
Today, as CEO of International Goldman Sachs Asset Management, Patel works with clients across EMEA (Europe, Middle East and Africa) and Asia Pacific Ex-Japan to identify a broad range of investment opportunities around the world. Regular travel throughout Asia, the Middle East and Europe offers her an unparalleled vantage point to understand global capital flows and investor views.
New Developments Transform The Industry
Patel is particularly intrigued by recent efforts in two spaces – ESG (environmental, social, and governance) and Smart or Active Beta. "As with any new concept, part of the excitement is seeing the diverse ways our clients take and use these ideas and tools," she notes. For example, there is widespread debate on whether the purpose of ESG is to drive better returns or better societies, but success over the past few years indicates it can be both.
Active Beta, which explores factor-based investing and indexing away from traditional market cap weighted benchmarks is a concept that offers a new dimension to passive index investing and could be transformative in the years ahead.
Patel notes that the ongoing technological transformation of the industry is a fascinating trend. She highlights the advent of technologies such as artificial intelligence, algorithmic or "robo"-based advice, and blockchain transactions as new concepts that will likely dramatically change the industry.
The Skills That Define a Successful Career
As many professionals can attest, it's easy to assume early in a career that intellectual ability and business-relevant education are the main keys to success. But Patel has found that as you gain experience and insight, "you realize there are many smart people in our industry and the world, but not all of them can communicate complex ideas or develop long-term relationships."
Since her first year as an analyst, she has saved all of her reviews, which have provided enlightening reading as she progressed through her career. One of her first analyst reviews suggested she should focus on client relationships and communication abilities, as they would be the key to her success.
"I discounted that feedback in my youth, when compared with the quantitative and analytical successes I felt myself achieving, but as I matured at work I realized the truth of the advice I received. Businesses of all kinds are about people – your colleagues and your clients – and fostering those relationships and networks are the foundation of any successful career."
Success Is Built Through Curiosity and Relationships
Her advice to women is to continually focus on expanding horizons and goals and remain curious to the elements of the industry that are constantly changing, from market conditions to technology and client needs. New developments that drive the industry can also create personal opportunities, from new financial applications to technologies to evolving client bases, where women can make their mark.
"What makes finance evolve is the intersection of people, capital and ideas, and women at all stages of their careers need to drive that evolution," she says.
Patel has found her role as a partner sponsor of the Asia Women MD's Network particularly rewarding. The group focuses on providing support and advice for women aspiring to grow and advance within the firm. Many of the women MDs who are now part of the network have that group to thank for their mentoring and support to reach the MD level, she says.
In addition, she finds that the group has also had a tremendous impact on clients, who appreciate the unique panels and discussions the network organizes, especially if their own organizations don't offer a robust women's network. She finds that the geographical spread and diverse market environments of Asia make it especially important to develop a broad network, and she is proud that this group can offer a unique blend of commercial and personal empowerment for the women of the region.
A Traveler's Eye
An avid traveler, Patel appreciates that living in Europe and Asia has given her family unique opportunities to visit a wide variety of far-flung places.
"Chances are you will find our family somewhere off-the-grid, where mobile phones don't work very well," she says, adding that it is both stressful but ultimately relaxing for her type-A personality.
Patel's entire family loves safaris and remote fly fishing adventures, and she uses these adventures as an avenue to indulge her amateur photography hobby. "The great thing about my work is that my camera can always come along too, and if I get a spare minute, there is always something beautiful to capture, whether I'm in Muscat, Mumbai or Milan."