Voice of Experience: Julie Silverman, Managing Director, Goldman Sachs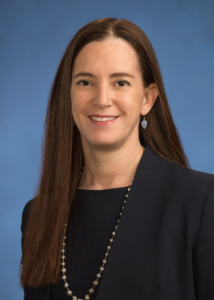 For Goldman's Julie Silverman, coming out to her colleagues was an important statement, particularly due to the small number of openly lesbian, gay, bisexual and transgender (LGBT) people working in the financial services industry at the time. She acknowledges that while support of LGBT people in the workplace has increased dramatically, the need to raise awareness is not over.
"When each person comes out, there's a meaningful trickle-down effect to everyone around them," she says. "I come out every day in regular conversation. I talk about my wife and have pictures of my kids all over my office. For me, my identity is very public, and it's important to me to be able to bring my whole self to work. Being out has allowed me to focus my energy on doing the best job I can and I hope I serve as a role model for those who might consider coming out in the workplace."
From Restaurants to Banking
Silverman's path to the financial services industry could be called unconventional. After graduating from Brown University, she began work as a manager at Pastis, a restaurant in New York City's Meatpacking District.
There, she honed skills that would prove to be highly relevant to her future banking career. "At 23, I was managing a large group of diverse people, an experience that put me on the front line solving problems, from employee dynamics to customer service," she says. Noting that restaurant staff can be transient, she took an organizational perspective on how to reduce attrition and improve the continuity of service.
She also developed problem solving skills and the ability to stay calm under pressure while working in the fast-paced restaurant environment. "The hallmark of my management style was instituting a degree of fairness throughout the restaurant, and I continue to implement that in my role today," she says. "Employees may disagree with you, but if they sense you're fair, they are more likely to respect your decisions."
After her time at Pastis, Silverman earned her MBA at Stanford with the hope of enhancing her understanding of business. She joined Goldman Sachs as a summer associate in the Investment Banking Division and returned as a full-time associate in 2006. She then served as the business unit manager for Equity Capital Markets and Leveraged Finance, and later became chief of staff for the Mergers & Acquisitions Group and the Financial Sponsors Group. Now a managing director, she is currently head of the division's junior banker program.
"I'm proud of the work we're doing to enhance the junior banker experience," she said. "This population is critical to the success of our business, and we recognize that we need to make changes that will provide these employees with development opportunities and make them excited to come to and stay at the firm." Changes Goldman Sachs announced late last year to the program include a faster promotion timeline, a rotational assignment to a new group and the help of new technology to improve execution efficiency.
Silverman wishes she realized earlier in her career that investment banking can be very entrepreneurial. She noted that she hesitated to pursue a career in financial services following the completion of her undergraduate degree because she didn't realize so many options were available. "There are opportunities in banking to develop a variety of different skill sets. You're building your own business on behalf of the firm, which allows you to be creative, thoughtful and chart your own course in many ways," she says.
She urges analysts and associates to choose a role that's intellectually stimulating, but that also allows them to achieve goals outside of work, whether spending time with family and friends or volunteering.
Growing Acceptance of LGBT Issues
In the 10 years Silverman has worked at Goldman Sachs, she says the firm's continual evolution supporting LGBT issues has experienced a "large shift in a relatively short time." She notes that while there were previously only two or three people who were out in the Investment Banking Division, these numbers have risen.
She is particularly pleased with the growth of the firm's Ally program, where senior people across the organization publicly indicate their support for their LGBT colleagues by placing "Ally" signs on their doors, as a way to show employees that this is a place where they can be out and be comfortable.
Although Silverman came out many years ago, she notes that having children requires LGBT people to come out on a continual basis. "When you tell people that you have children, there is still an assumption that you are straight. If you correct that assumption, then the questions start about how you had your children," she says. "It can put you in the awkward position of deciding how much detail is appropriate to share with a client or new colleague. These are issues we continue to face every day." Still, she says, it's important to be able to bring your whole self to work and find an organization like Goldman that is supportive of that.
Giving Back Within and Outside the Firm
Silverman believes that giving back is critically important, and she has been pleased that the firm has given her the ability to balance volunteer work and her career. Giving back helps to keep her grounded. "It offers a great perspective when you can leave your work and do something to help others," she says.
Internally, she has served on Goldman's LGBT steering committee and has organized Pride Month activities. She also works with junior women in informal mentoring relationships. "It's important for senior women to realize that we've all benefited from mentorship and now it's our turn to give it back to those who are coming up at the firm," she says. "We have to help each other and avoid competition."
Outside of work she is equally busy with philanthropic efforts, serving as a member of the Junior Advisory Board of the Innocence Project and as vice chairman of the board for the Hope Project, a non-profit work readiness organization in Brooklyn that trains people in poverty to help find sustainable employment. She admires the work of the Hope Project, as the organization not only provides skills training but also teaches mindfulness and the ability to cope with workplace challenges. "It's intensive, but the results are some of the best in the country," she says.
And of course, her main priority is being a present and primary parent to her two children, ages six and four, alongside her wife.
Save