Female Leaders Share Their Strategies On Creating Change at theglasshammer.com's 5th Annual Navigating your Career Event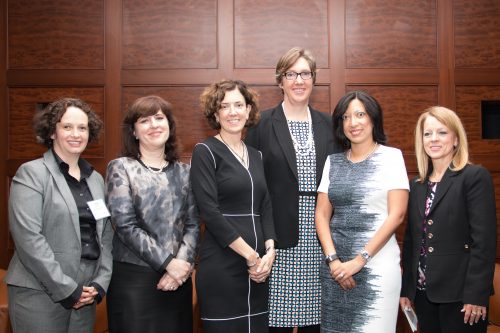 By Melissa Anderson
Women leaders from the financial and professional services industries, shared their advice on how women can be agents of change at The Glass Hammer's fifth annual career navigation event at PwC's headquarters last Wednesday, sponsored by PwC, TIAA and Voya Investment Management.
"Change leadership starts with people who want to do better," said The Glass Hammer's CEO Nicki Gilmour as she opened the event, encouraging the audience to probe the speakers with difficult questions.
"We're here to talk about how we can lift as we climb."
The panel was moderated by Mary McDowell, an Executive Partner at Siris Capital Group and was a panelist at theglasshammer.com's women in technology event last Fall.
Panelists included Christine Hurtsellers, Chief Investment Officer of Fixed Income at Voya Investment Management; Liz Diep, Assurance Partner for Alternative Investments at PwC; Pam Dunsky, Managing Director of Client Services Technology at TIAA; and Deborah Lorenzen, Managing Director and Chief Operating Officer for Global Product and Marketing at State Street Global Advisors.
While the panelists' careers varied significantly and were spread across different industries, one factor emerged that all of them seemed to have in common: intention. Whether describing their career paths, discussing their experience mentoring, sponsoring and networking, or talking about the ways in which they lead change toward workforce diversity at their companies, it was clear that the women went about their business with purpose.
For example, in discussing how she chooses junior staffers to mentor or sponsor, Diep says,
"You have to seek out those people you want to mentor and sponsor – you can't be a passive participant if you want to see change," she said. Mentoring someone means serving as their sounding board and offering advice on career advancement, while sponsorship involves putting forward one's personal capital behind closed doors to expand their career opportunities.
Diep mentioned that a motivating factor to grow in her own career is to see more junior colleagues progress along with her and how walking the walk on "lifting as we climb" strategy is important to her When discussing how she keeps her network fresh, Diep described how she blocks time on her calendar months in advance for networking coffees and lunches, and fills in the "who" later on.
Hurtsellers described how she tries to proactively work with other leaders in her company to develop a business plan that increases diversity.
"Being a female business leader in a very male-dominated industry can be quite a lonely spot," she said. Clients are beginning to require asset managers to disclose their numbers on staff diversity during the RFP process; but Hurtsellers said that's not enough.
"We need more than a check-the-box mentality around diversity to effectively tackle the issue. I try to challenge a bit of the establishment thinking," she said. "I ask the elephant-in-the-room-type questions like 'How do you get women into financial services if they don't think that the industry matches their values?'".
Hurtsellers further stated that she felt being a woman in a male-dominated industry can also be a competitive advantage if you've worked to build a personal brand, like authenticity.
"But it has to come back to who you are – be true to yourself," she said.
Similarly, Dunsky shared how she had established a brand for herself earlier in her career, only to revise it later on.
"Earlier, my brand was being really hard working – but, I realized, you don't just want to be known as a hard worker," she said. "After taking a step back, I realized it's not the only thing I want people to say about me."
Dunsky said she started thinking more critically about what she wanted to be known for: leadership, the ability to execute, being able to guide and direct and grow her team.
"You have to be conscious of what your strength is," she said. Sometimes a strength can be a weakness if it bars advancement to the next level, she explained. That's why it's important to always be thinking of your strengths and what you can build upon to help get to the next level.
"You want your brand to be natural – so people can conceive of you doing it," she said.
Lorenzen added that being true to yourself is critical to advancement. Trying to 'be one of the guys' to blend in can ultimately hold you back, and so will shying away from big opportunities. She advised to take calculated risks early and often.
"Show up and say yes when you are asked, even if you only have 50% [of the qualifications], because the men will say yes if they only have 25%," she said.
Finally, during the question and answer segment, one audience member asked a question that must have been top of mind for many of the guests.
Being head of a business unit or a partner at a firm comes with a lot of power that enables women at the top to open difficult conversations about diversity, she reasoned so the question is 'How can someone be a change agent earlier in her career when there is a greater risk of retaliation for speaking up?'
To get to the top as a woman in a male-dominated industry, you have to stand up for those conversations throughout your career, said Lorenzen.
"If you fail to raise your voice on matters of ethics and therefore accept a status quo at odds with your beliefs, you won't be happy," she said. Of course, she continued, there is a measure of balance to find. It's important to choose the right battles to fight.
Lorenzen continued "You have to choose when to speak up. It never gets any easier, and opportunities arise throughout your career to do the right thing. It is about leading from where you are."
Summing up the evening's discussion, McDowell said, "Be of good courage, build great relationships, don't forget your peers and be true to yourself."