Thought Leader: Elizabeth Diep, Partner, Asset and Wealth Management Practice, PricewaterhouseCoopers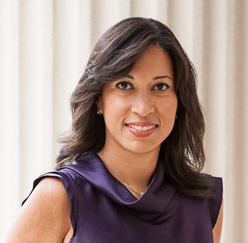 By Cathie Ericson
Don't be afraid to pursue the big assignment or job even if you think you don't meet 100 percent of the qualifications," says PwC's Elizabeth Diep. She urges women not to limit themselves because although you won't always hit it out of the park, you learn from every experience, and often even more from the ones that don't succeed. "Big jobs are scary but the only way you learn is by practicing."
And, she cautions, if you say no too many times, people will start assuming you're not interested and you'll no longer be on the list for consideration. "Along the way you have to take calculated risks."
As an assurance partner in the audit practice, Diep focuses on alternative investment clients, which include endowments, hedge funds and private equity clients, ranging from highly complex, multi-national companies to smaller, locally based equity funds. As Diep puts it, that is her "day job," as she is also involved in other firm business, including assisting with people initiatives as a Human Capital (human resources) partner, where she focuses on helping a group of about 150 more junior colleagues navigate the firm, providing guidance on their development, education and experience.
A Changing Industry Full of Challenges
Because the asset management world within the financial services industry is still fairly male dominated, Diep sees it as one ripe with opportunity. "If someone wants to thrive and be challenged every day, this is the field for them," she says, noting that in an ever-changing industry, there are constantly new financial instruments being created. "As the world gets more complex, the industry gets more complex," she says.
The industry also is appealing to anyone with an international mindset. "The opportunities that lie abroad push you to be more open to the world because we're interacting in a global society every day."
The industry also calls for flexibility since your day can change with every phone call or email articulating a new client need. "I might have a client interested in investing in transportation out of Greece and Panama so I need to see what resources PwC has to support those needs," she says. And that's why success lies in delivering relationships before you need them.
"You're not just working with people in your office, but other partners and members of the global network. You have to be resourceful and know who can help you find the answer you need. Those connectors become critical to your success."
She says that today's workforce is different from generations past when people were expected to have all the answers. Today, it's more important to know which expert can help you get the answer rather than being expected to know everything personally.
Flexibility Remains a Challenge
Diep cites a recent PwC survey of millennials that explores the importance of flexibility, and unfortunately, she finds that while many firms promote work/life balance, employees still worry that taking advantage of these programs could have a negative impact. And that translates into a pervasive feeling among many women, especially working moms at the mid-career level, that the industry is too demanding if they want to perform well and also have a family.
One program designed to help is the "He for She" program, of which PwC is a sponsor with a goal of having 80 percent of the men join. "At the end of the day it's primarily men sitting around the table so we have to get them involved in this conversation and advance women's causes," Diep says. "When we move away from just women talking about the challenges but have men supporting them, it will be a game changer."
She says that she has been bolstered in her own career by mentors and sponsors who served as role models with a balance that she has learned to emulate. "It's not always equal," she says, noting that sometimes they were working late hours but then they still always made time to disconnect on vacation or take off for their kids' birthdays. "They gave me an example of how you can use the day how it works best for you, to balance all your key life relationships, while always completing high-quality work."