Change Leader: A Q&A with Christine Hurtsellers, CIO Fixed Income, Voya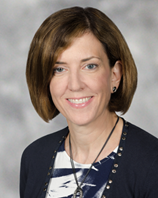 We caught up with Christine Hurtsellers, Chief Investment Officer of Fixed Income for Voya Investment Management (IM), to talk about the future of the financial services industry.
Christine: I still have the same role, however, following our IPO in May 2013 and separation from ING Group, we rebranded as Voya. It's been an exciting process to define Voya's values and recalibrate our investment policies. In 2015, Pensions & Investments Magazine named Voya IM one of its "2015 Best Places to Work in Money Management" list for the first time. The firm also recently received distinction as one of the World's Most Ethical Companies® by the Ethisphere Institute for the third year in a row.
Nicki: Why do you think it is so important to help advance good talent, including more women in the industry?
Christine: I am passionate about making the investment industry better. I want to help rising stars in the industry that are women and provide them with a toolkit. I believe that women can be phenomenal investors, and I want to challenge and speak with them to help them grow as thoughtful investors. People entering this industry are looking for more than a paycheck. They value experience and want to work for places that are more values-based. I think it is great that millennials are thinking way more about linking their values to their workplace experience than previous generations.
Nicki: What is your advice to someone entering the industry or who is in the early stages of her career?
Christine: The cost of doing business is increasing and as a result we will see some consolidation. Some products are becoming more commoditized with ETFs showing up more for retail investors on that side of the business. It is an interesting time to be in the industry as institutional clients look for unique, customized approaches for their portfolio. The road is becoming more and more bifurcated. For people entering the industry, there is a temptation to become specialized early at a boutique firm. I believe it is critical to stay flexible to learn a variety of skills for the first 8-9 years of your career. My advice is to look for companies with multi-dimensional businesses to give yourself that opportunity.
Nicki: You recounted to me how one time a woman said you were an unrealistic role model. How did that make you feel?
Christine: I don't want to be the poster child for women at work because I have five kids and I run marathons, that isn't everyone's version of life. How do we lift as we climb? That is the bigger question, and I think the answer is to share with people my failures and some of the decisions I have made. I try to be real and make sure my advice is very content oriented about the markets and investing. By challenging and teaching people, I can be a better role model. Lastly, if I can use my network to help women and make appropriate introductions, then I know I am walking the talk.
I try to hire women and I use my network because a long time ago a woman did the same for me and she was instrumental in helping me get my next job. She was in fixed income sales and she introduced me to many clients and people in the industry. This was crucial in me securing my next role at what is now Alliance Bernstein
Looking out for each other in times of trials is so important. To have someone put her credibility on the line and say "hey, talk to this person" is incredible, and this woman did that for me, so I want to pay it forward.
Nicki: How do we ensure other leaders are as accountable as they think they are for real change?
Christine: I think the best way to engage leaders in the discussion of having diversity in their teams is to challenge them to think about what they do to shape the culture.
Sometimes it isn't obvious to other leaders that they need to create pathways and a culture for success for women that goes beyond mentioning their women's network and other HR policies.
I want to see accountability for diversity, and if I start with the numbers – literally asking how many women are in senior roles – then it usually opens up an honest conversation with most male leaders to think more about how they can approach hiring and developing more women.
Nicki: How have you successfully built relationships in the industry – both within your firm and with people in other firms?
Christine: Networking can be such an implicit action; it's just something we do. You meet interesting people along the way and share relevant insights with them – add value to the other person and they will reciprocate – like in a marriage you have to love and you have to love first.
I joined the Treasury Borrowing Advisory Committee in 2014 and I am enjoying working with really talented and intelligent people on a very interesting subject that has real consequences. I work at leaning in with them. Sending an article to a small group who share common interests, dropping them a note from time to time. It is about contributing as best as you can to further the task and mission. Building relationships is ongoing, and it is an honor to work with such great people providing recommendations to Treasury on a variety of debt management issues.
Nicki: Do women help other women at work?
Christine: I would go as far as saying that I believe that women help women in tough situations, more than men help other men. It is also important to look for your advocates in male and female leaders as I have great examples of how men have believed in me. Rob Leary, now CEO at TIAA Asset Management, was the person who gave me the job at Voya. I wasn't the most obvious candidate, and he took a risk on me. He knew I was great with people and an exceptional investor, and I delivered for him.
Nicki: What is the one thing you know now that you wish you had known when you were first starting your career?
Christine: I went it alone for a long time. The power of networking peers and mentoring is something I wish I had considered when I started my career. I wish I had focused more on the quality of management, their values and ethics, and the culture they create at the company.
In life, you take every opportunity and you learn – in careers, as long as you maximize learning, you are on the right path. I ended up fine tuning my experience in mortgage derivatives when I made a move to Freddie Mac. Many advised me against it, but I knew it was important for me to spend more time with my family as previously I wasn't seeing them from Sunday night to Friday afternoon. I learned so much. It meant I could come to Voya due to my deep knowledge, and for my life at that time it meant my family and I could be happy, which is of course really important.
It's about making the best out of any experience.
Christine is also a panelist at our upcoming event – theglasshammer.com's 5th Annual Navigating your career event on May 4th 2016.