5 Myths about Working in Financial Services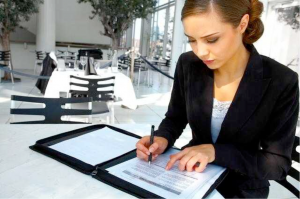 The past twenty-five years have been a time of great expansion and diversification for the financial services industry. And that's good news for professional women. Few industries offer workers the opportunity for exposure to senior decision makers and a wide array of responsibility at such an early age.
But as many of you already know, working in financial services can be a tough slog regardless of your gender but don't be afraid of the industry's reputation. Financial services can be a great launching pad for one's career.
Relatively speaking, women in the industry are still underrepresented in numbers as PWC's study titled "Mending the Gender Gap" reports from collected data that shows that only 19% of women hold senior positions in the industry.
Here are some myths we want to bust (as provided by interviewed women in the trenches) and I am sure many of you will agree with!
Myth #1: You have to have a degree in finance.
Success in finance is often about gaining an edge. Some of the most successful people come from non-finance backgrounds. Much of finance consists of distilling down complex subjects and conveying that information to others – so a background in teaching can be an asset. A study cohort said, "Finance is just math. You'll figure it out."
If you do have or do acquire financial skills, you then have the ability to transfer those skills to a broad number of roles and settings – and many professionals change their roles and goals over the course of their careers as their needs and desires change.
Myth #2: You have to have a network going into the industry.
Networks can be built and sponsors found once inside a firm.
Elle Kaplan, Co-founder and CEO of LexION Capital Management, a 100% women owned and managed investment firm, notes, "Many people will tell you that to get by in finance, you have to play the game. Although having mentors is incredibly important, and although you should most certainly network with your peers, no one can advocate for yourself like you do. You have to be your own cheerleader and get out there and make things happen, because no one else will do it for you."
Myth #3: Financial services means working for a bank or on Wall Street.
Andrea Gellert is senior vice president of marketing for OnDeck, a financial company that makes loans to small businesses. She joined OnDeck after a career at several large finance companies including American Express. She notes, "Fin-tech is bigger than just a bank. The industry includes start-ups and early stage disrupters, mid-sized companies and larger corporations, and the businesses themselves range from tech lenders like OnDeck to payments companies like Square or Apple Pay."
Myth # 4: You get paid better on the sell-side.
A retired buy-side professional turned sell-side participant comments,
"Compensation has increased dramatically on the buyside in the past twenty years, but most of that stems from the growth of hedge funds. At the same time, compensation on the sell-side has skewed away from research and banking towards trading. Either way, there is plenty of money to be made.
Myth #5: It's a Meritocracy – Pay for Performance.
A number of women we spoke with questioned the general perception that finance is a meritocracy. A former institutional money manager, who left the big firm world to start her own investment management firm comments, "I think the biggest myths about working on Wall Street/financial services is that you are actually judged on your quantitative performance. Male or female, alike, you are not. I like my performance and it's good enough, but I don't think that's why I was hired/fired over the years at bigger shops and I don't think that's why I'm hired/fired today."
The myth extends to pay – especially bonuses. "Your bonus is largely dependent on what the firm thinks they need to pay you to stay – or leave. If you pick the best stocks in a sector where clients have little or no interest, your bonus will be lower than it would be if your sector was hot," notes one analyst.
By Beth Senko