Voice of Experience: Margaret Anadu, Managing Director, Goldman Sachs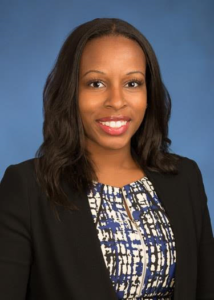 Patience. That's a word that Margaret Anadu, managing director at Goldman Sachs, would recommend to others in the industry, especially her millennial cohorts. "There is some truth to the millennial stereotype that we want everything in business right away," she says. "But I've found that the hard work you put in during your early years will really bear fruit later on. Whether it was changing roles or working on a tough transaction, everything I went through along the way made something else in the future easier. Tenure is something that I encourage my generation to respect and place value on."
Anadu joined Goldman Sachs' analyst program directly after graduating from Harvard in 2003. She says that the program was the ideal entrée to both the firm and the industry as it allowed her to learn all facets of the business and form a close-knit group of colleagues whom she relies on to this day. She spent her analyst years in the firm's Securities Division, delving into the markets and helping to serve the firm's clients. Taking advantage of the firm's opportunities for mobility, she spent her final year as an analyst in the Urban Investment Group, where she climbed the ladder to eventually become a managing director. "I loved it when I started, and I love it today," she says.
Impactful Work
Goldman's Urban Investment Group deploys the firm's capital by making investments and loans that benefit urban communities, largely in underserved neighborhoods. When she first started, investments were in the $2 million range; in 2014, the group committed $300 million in its biggest commitment for a project to date – the Essex Crossing project on the Lower East side.
"That illustrates the growth of the firm's appetite in terms of these transactions," she says. The capital is being used to transform a moderate-income community on the Lower East side [C1] to create a new multifaceted neighborhood that includes affordable housing, market rate housing, a community center, a senior center, new retail and more.
Along with the increased transaction size, interest in the sector has grown from all sides – from other corporations, institutional funds and even business schools which now offer classes in impact investing. "The more types of entities that get involved, the better for our work," she says, adding that it's been extremely rewarding to watch the next generation of impact investors develop, including her team of 30 "incredibly smart, ambitious people," as she describes them.
Putting Stock in Early Career Advice
Anadu says she wishes she'd recognized that all the advice she got early in her career would end up being so pertinent along the way. "People at our firm take a lot of time to sit down and mentor you, and I've realized that along the way, the advice I've used the most is what I heard back when I started. If I'd known how relevant it would all be, I would have captured it in a notebook," a practice she uses these days, which she recommends as a way to reflect and invest time in thinking about your career intentionally.
She also advises women who are starting out to realize that their network and mentors should be comprised of people at all levels. "A mentor is traditionally thought of as someone senior who will lift you up, but peers and even those who are junior can be impactful," she says, adding that those she began with at Goldman as analysts have been helpful all along the way, giving advice on projects or how to view a client issue differently.
She says that the industry is continuing to evolve with more senior women, and the ranks will continue to grow, offering more opportunity to mine their examples of success and how to balance work and family. "All the efforts we are making today will have impact on the senior level landscape 10 or 15 years from now."
Anadu says she grew her own mentoring network through her involvement with Goldman's Emerging Leaders Program, designed for high-performing vice presidents. In addition to gaining a senior sponsor, she was able to build a network across the firm through the panels and informal events, developing useful contacts and mentors who have helped as she advanced.
Hobbies Then and Now
As a new mom, Anadu notes that she now spends most of her free time with her six-month-old daughter but she still makes time for her favorite hobby, walking, which dovetails well with her work. "I love to walk the streets of New York and learn about new neighborhoods," she says.