Men Who Get It: Bill Brucella, Senior Managing Director/Divisional Chief Information Officer, TIAA-CREF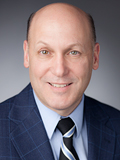 "Take ownership of your career by identifying key influencers and mentors who can help you," says TIAA-CREF's Bill Brucella, who believes that women should develop their own brand, which can include advocating to get visible opportunities and taking on stretch assignments.
Brucella started his own career as a software developer more than 30 years ago. "I did that for five years before I figured out that there were more talented people in that space," he says with a laugh, "but then I realized that maybe I could lead them." He transferred into project management and quickly grew into other management roles all while staying in the tech space. Along the way, Brucella held a variety of positions that covered a breadth of IT roles – data center management, networking, systems administration and managing software development teams. Prior to joining TIAA-CREF, he was a senior vice president for a major software development firm. With 150 reports, Brucella managed consulting sales, delivery and data warehouse development for firms in the banking and brokerage industry.
Brucella's move to TIAA-CREF was deliberate: having worked for technology vendors his entire career he made a quest to work for the end-user side and enjoy a better work/life balance. His new role as a development manager with a staff of 30 may have seemed like a step back, but it removed the travel and very long hours that had been so pervasive.
"I had a young family at the time, and I figured if I have to work 50 to 60 hours a week, I could at least be close to home" he says. In addition, he saw the career move as an interesting opportunity to become a subject matter expert in the fields of trading and portfolio management technologies.
Seventeen years later, he knows he made the right decision. He has since advanced into leadership roles with added responsibilities and is affiliated with a company that he is proud of.
"TIAA-CREF had a great reputation then, and it's even better now in terms of how it treats its employees. It has always valued diversity and there have been so many cultural elements that are appealing. I knew it was a place where I could grow my career in a reasonable manner." He mentions the company's emphasis not just on results but how they are achieving them, ensuring that they have strong, positive relationships with both customers and employees, for example.
For Him, Diversity is Personal
Having worked primarily for women, Brucella has had excellent experiences, one of the many reason he cites diversity as being extremely important. He has also seen firsthand the fallout when gender diversity is not supported: Earlier in her career, his wife experienced sexual discrimination on the job, and he saw how damaging such a situation could be on one's career when the incident was not resolved satisfactorily. Additionally, with a daughter about to graduate from college, he wants her to be acknowledged in the workplace for the skills that she will bring to the table. Diversity also dovetails with his religious faith, which is founded in treating everyone with fairness and respect and also acknowledges women with leadership roles.
Of course he also sees the benefits of diversity from a business case perspective. "I have always had women on my leadership team, and I find that you get a better thought process, more opinions and innovative ideas with diverse candidates and coworkers."
That's why he insists on a diverse slate of candidates, even extending a search if need be, and assigns high-visibility projects deliberately. "I am gender-neutral when it comes to projects and assignments and make sure everyone has an equal chance at these opportunities to build skills and relationships."
Another area that he keeps in mind is flexibility, and recognizing that sometimes the majority of the work load at home falls on women. "I want them to know they are not disqualified because they have extra family responsibilities. It's about focusing on the outcomes and not just the hours and the process."
Advocating for Women
Brucella takes his roles as mentor and sponsor seriously, serving as executive sponsor to the company's IT Leadership Council for Women and actively advocating for qualified women to be considered when leadership opportunities arise. He recently heard from a woman that he'd been mentoring and had worked with for several years. She wanted to be considered for a leadership role on an IT team, but couldn't get an interview although Brucella was certain that she had the skills needed. He was able to reach out and urge the hiring manager to consider her as a candidate, and she ultimately got the job.
Another time he worked with a woman who wanted more public speaking opportunities, so he encouraged her to take a Toastmaster's public speaking class and then placed her in situations where she could present to leaders.
"We need to be visible advocates for promoting women and diversity in leadership roles. I am committed to develop my team, and so I am available on an ongoing basis. Mentors have to be active."
But most importantly, Brucella believes that encouraging diversity through mentoring is a two-way street. "It's rewarding to see someone move up in their career, and climb that ladder when they realize that they can and they want to."
Rooting Out Unconscious Bias
One of Brucella's goals is to make it safe for people to challenge him; that if they feel they're not being treated fairly, he has an open door and will accept criticism without being defensive.
"I want someone to ask me if there's a reason they didn't get an opportunity. The best way to counteract any unconscious biases that you or others have is to seek feedback."
For example, recently, he distributed an article he'd seen on bias in the technology industry, and someone who worked for him said it resonated. He responded by sending the article to the larger team, and asked a women leader to gather feedback and help raise awareness by speaking up if they encountered any bias.
Brucella believes that at the end of the day, women should feel empowered to take ownership of their careers, build their personal brand and identify key influencers and mentors who can help them, while continuing to challenge leaders and peers to actively address bias in the workplace.