Voice of Experience: Laura Martinez, PwC US Assurance Diversity Leader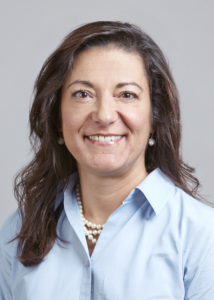 One of the best pieces of advice that PwC Partner Laura Martinez heard early on has carried throughout her career: how important it is to engage with as many people as possible. "Early in your career those people are peers, managers, mentors and coaches, and you need to build relationships and be open to their coaching and guidance," she says. "You'd be surprised how many people are willing to help you if you just reach out."
Martinez has spent 25 years at PwC, specializing in serving registered investment companies, investment partnerships, hedge funds and private investment advisors. Most recently she served as the San Francisco Financial Services market team leader. When she first started her career there, becoming a partner wasn't yet on her radar. "I've had great mentors during my whole career, and as my seniority has increased, so have my goals. When I first started, most of my mentors were managers and senior managers, but as they became partners, I was able to hear more about that track and my interest developed."
Named partner in 2004, she credits that as her most important professional achievement, but adds that now she has the opportunity to help support others through the process, which she finds extremely rewarding. She encourages senior women never to underestimate the important role of serving as a mentor and support for younger women.
Diversity Always a Focus
Involved in diversity initiatives from the beginning of her career, Martinez was recently named as the diversity leader for PWCs US Assurance practice, the largest audit and risk assurance practice in the United States. She's proud of this new role where she can devote time to thinking about diversity inclusion and how she can help shape and lead diversity initiatives. "It's key to engage all levels in the firm, from our partners down to our youngest professionals, to get them interested and involved in driving sustainable impact."
She sees her role in talent management and cultivating a diverse workforce at all levels as vital to the firm's overall strategy, as well as being an area in which she and PwC can provide guidance to clients who are also dealing with similar issues.
Reminiscent of her advice to build a network is her belief that it should include people who are not exactly like you. "We often search for mentors who are just like us or what we think we want to be, but that means we can miss out on learning from some great individuals who may appear to be very different," she says. "That's the beauty of a diverse and inclusive work force – valuing the differences will make you a better professional."
Women as Part of Diversity Initiatives
Martinez is proud of PwC's culture that supports women and diverse professionals and helps them succeed.
In fact, she believes that some of the challenges women face are about trade-offs. "Every professional has to make sacrifices, but women have a harder time reconciling those choices," she says. "We struggle with them and place a bigger burden on ourselves, especially when women explore having a family and a meaningful career," Martinez says, adding that women can overthink opportunities and worry about failure and the impact of our trade-offs first.
And that's why she encourages women to realize that they have limitless opportunities and they must be fearless about looking for them and taking advantage of resources firms offer to help them develop the skills and the network that will further a career. Whether women are at a junior or senior level, she sees that there is always an opportunity to grow and improve.
She attributes much of her success to the fact that she has always taken advantage of the resources offered, including those for gender and ethnic diversity, which have enhanced her skills and helped her develop into a better professional.
Over the years she has seen the offerings evolve to be more relevant to women's needs as they also evolve, mirroring the changes in Corporate America through Lean In initiatives and other conversations about developing more diverse and female leaders, as well as gender equality. "We're highly focused now on sponsorship, enabling early career success and career flexibility, all the while working to come to a better understanding for why such a gap exists among women leaders in Corporate America."
She cites the "He for She campaign," which supports PwC's drive to not only be visible out in the marketplace but encourages people internally to support these causes.
Multi-Tasking in Her Free Time
To make the most of her off hours, Martinez participates in hobbies she enjoys that her whole family can do together – whether it's golf, movies or travel.
Philanthropy is important to her – she has led PwC's national recruiting efforts at her alma mater, University of California at Berkeley. And, even in her charitable endeavors she does double duty. "I love to partner on community service efforts with my team and my clients," she says. "I can engage with my colleagues while giving back to the community and having a whole lot of fun in the process."