Intrepid Woman: Star Jones, President, Professional Diversity Network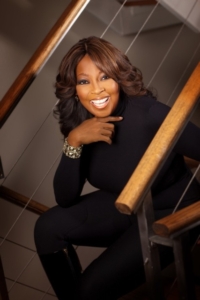 Though she's widely known as a high-profile lawyer and former host of ABC's The View, Star Jones doesn't consider those her most important roles. Rather, she is proudest of the changes she is helping affect by serving as president of the Professional Diversity Network, Inc., which merged with the National Association of Professional Women in September 2014.
"As I have forged my career path, it was always with an eye toward a profound sense of service – knowing it would be about helping people," says Jones.
As a young woman, Jones always wanted to be a big-city prosecutor and got what she considers her dream job straight out of law school. She rose to the level of senior prosecutor in the Kings County District Attorney's Office in Brooklyn, New York, when she was invited to start her career in media at NBC News. At the age of 30, she became the youngest person to be named the network's Legal Correspondent. "It was such a compliment from the then-president of NBC News, who said I had the ability to make the law user-friendly," she recalls.
She became an admired legal talk show host and then national talk show host on ABC's The View, where she relished her ability to give voice to women and speak about issues that matter to her gender and community at large. Joining PDN/NAPW was the perfect next step allowing her to advocate on behalf of women, minorities, veterans and the disabled to put them to work. "We are changing lives one job at a time."
Jones says that though her career has taken multiple twists and unexpected turns, she has stayed on the path intended for her by making the most of each opportunity. "Luck doesn't just happen," she says. "It's the result of preparation meeting opportunity, and I have been prepared each step of the way."
"Doesn't Get the Attention it Deserves"
Jones' overall top mission is to bring attention to diversity, inclusion and gender inequality. "It doesn't get the amount of attention it deserves," she says, citing the statistic that, on average, a women working full-time earns .78 to the dollar compared to a man in an equivalent job. Wage disparities are even greater among Black and Hispanic women.
"This is the biggest challenge to women, and the No. 1 problem I'm trying to address is equal pay for equal work."
The business case is there, of course – research shows that when women executives run a company, they lead the business to increased revenue, making it not just right thing to do, but the smart thing to do.
Rising Tides Lift All Boats
Her passion stems from her upbringing in the projects of Trenton, New Jersey. Her close-knit family always encouraged her to be anything that she wanted. However, they didn't focus on the fact that she was the most beautiful or most talented, but rather that she had everything she needed to do what she wanted.
Applying for every grant and scholarship that was available, she started college. When she realized that the work/study program only paid $3.55 an hour, she applied at the Brookings Institute as a second-semester freshman. A 90 word-per-minute typist, she earned a data input position at $10 an hour, which she held throughout college.
"I had acquired a skill, and that's one of my mantras to young people: I feel strongly that I want to empower young people to achieve their dreams, but they have to have the skills necessary to do so," Jones says. "I always had a voice telling me I could succeed, and I want to give that voice to other women."
PDN was founded on two premises: empowering people and networking, which Jones says are the foundation of her successful career. "Women do need to help other women. Rising tides lift all boats, and when women help each other professionally — especially women at the top — everyone benefits," she says, advocating that women who can, should focus on recommending other women for positions and act as mentors.
When NAPW and PDN merged, Jones was tasked with nominating new board members. She proudly boasts that with four women on the nine-member board, it is now one of the most diverse among publicly traded companies in the United States, second only to Macy's. "Achieving women leadership at the board level allows it to trickle down to all levels," she says.
Success Doesn't Come Easy
Jones is the first to admit that fulfilling your dreams is hard work; even once you earn your success, you have to work even harder to maintain it.
"I've heard 'no,' but I've been patient and persistent and never gave up," she says. In fact, she is proud that the song played for her at the recent "Go Red for Women Red Dress Fashion Show" was I'm a Survivor by Destiny's Child.
"I've heard 'no,' but I've been patient and persistent and never gave up,"
Says Jones, "You can't step on people to get ahead but you can get around them if they're in your way. Each time you hear a 'no' or encounter a stumbling block, you have to figure out what you need to do to be ready for the next opportunity."
Role Modeling Begins at Home
Often called a role model herself, Jones recommends that people seek role models in their own communities, where they can be touched every day. Her grandma and her mom are her role models – her grandma who is 96 years old, still "dresses" every day. And she says her mom filled her with just the right amount of attitude to make sure that no one takes advantage of her.
Jones remembers a guidance counselor who advised her not to rock the boat. "My mom told me that if you're in the boat, you better turn it over," says Jones. "My grandma's ladylike qualities and my mom's 'vinegar' have made me who I am today."
Jones also cites as role models Donna Brazile, Vice Chairwoman of the Democratic National Committee, one of PDN's board members and a friend since she was 17; and Barbara Jordan, American politician and a leader of the Civil Rights movement.
She adds that she has the deepest respect and admiration for Hillary Clinton, who she says has the uncanny ability to find common ground, a skill she tries to mirror on a daily basis.
Feeding Her Passion
As a community advocate, Jones says her passion and purpose is with the American Heart Association. "My pastor told me that you often don't know your purpose until you're walking in it, and now I am."
Five years ago, Jones had open heart surgery and due to this second chance at life, she has a new mission to educate the world about this disease that is the No. 1 killer of African Americans and women, but is 80 percent preventable with simple lifestyle changes.
"As a survivor I have an obligation to raise awareness," she says, which is what inspired her to start the NAPW Foundation, the charitable arm of NAPW which now has more than 200 chapters. She knows that women love to network over causes they believe in, so she selected four philanthropic organizations that touch all aspects of women's lives: the American Heart Association, The Breast Cancer Research Foundation, Girls Inc. and Dress For Success.
And what does she do for fun? "Everything I am doing is fun," she says. "My version of 'play' is feeding my passion."
By Cathie Ericson