Business Travel to China: Dos and Don'ts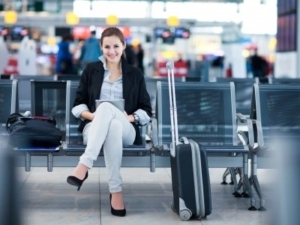 By Gina Scanlon
China has proven itself to be a leading economic giant that continues to grow exponential sources of revenue for companies in the United States. VP of research for the Global Business Travel Association, Joe Bates, states that China is expected to surpass the U.S. as the world's most dominant business travel market by 2016. Which is why learning more about their business culture may prove fruitful for managers and executives traveling to the Asian continent.
Westerners traveling to China on business sometimes have an unsettling feeling that they'll do or say something potentially embarrassing or offensive without even realizing it.
It happened to management consultant Scott Margolis while making a video presentation to a room of Chinese credit card executives in Shanghai. "As I hooked up my laptop to the projector, a desktop photo of my three children went on the screen for 20 to 30 seconds while I was looking for something in my computer bag," he recalls about the 2007 incident. "The room got very quiet."
This is something that would go without a second thought in the western world, but displaying a family of multiple children in a country that only allows one child per family came off insensitive, and even worse, possibly insulting. The country has since begun to loosen this particular rule, but nonetheless, situations like this should be avoided at all costs.
Here are a few pointers to keep in mind before you arrive.
Business Etiquette Tips
Punctuality is extremely important. Being late in Chinese business culture is an insult.
When either handing or receiving something to another, it is customary to do so with both hands, and with a slight bow.
Patience and politeness is important, and it is customary for Chinese executives to make business decisions slowly. So be prepared for a bit of possibly long-winded pomp and circumstance at the beginning of your business talks. You may be asked to give a short speech as well, so go prepared. Do not interrupt a fellow business partner during conversation, as it can be seen as pushy and impatient.
Refrain from touching anyone's head at any time, as the head is considered sacred.
Learn how to use chopsticks correctly. When putting them down, do not put them parallel on top of the bowl, or inside the bowl. Placing them in the bowl is considered insensitive as they resemble joss sticks (incense), which are used in religious ceremonies.
It is customary to try a piece of every dish if you do not have any allergies. Failure to do so will come off rude. But make sure you don't take the last piece of anything as this can come off greedy.
Remove your shoes when entering private homes and temples.
If you are handed a gift, it is customary to show appreciation, but save opening it for later to show good taste. And if giving a gift, avoid clocks or books. 'To give a clock' in Mandarin sounds like 'attend a funeral' and to 'give a book' sounds like 'delivering defeat.'
Don't write anything in red ink, as it is used for letters of protest.
Transportation and Traveling Tips
For translation help, Pieco is a popular free app, and only costs $14.95 to purchase the optical character recognition function for your iPhone. For example, you can use your phone to get an instant translation of a Chinese menu item with this feature.
This one may come as a surprise, but toilet tissue is rarely available in public places in China, so make sure to bring your own.
Pack a multi-device charger, like a Chargepod, for your journey.
If you hold a U.S. passport, you won't need a visa to enter Hong Kong if your trip is under 30 days. But you will need a visa for mainland China. You may need a multiple-entry visa depending on your travel plans.
According to CNN.com, taxi drivers in Shanghai are burdened with small bills. They prefer the jingle of coins, which seems to be the opposite sentiment from the United States. However, in northern in western China, market vendors prefer paper money and may reject coins.
If you are required to leave the major cities, be advised that there will be limited signs in English.
It is advised to take a business card from your hotel's front desk upon arrival, which will have the hotel's address in both English and Chinese, which can help with cab rides.
Your usual health products can be challenging to find in China, as they are mostly in Chinese, so you may want to ask your GP to prescribe an infection-fighting drug in case you may need one. Imodium may also prove helpful due to the difference in ingredients in the cuisine you may be used to.
Hopefully these tips will help make your time in China successful and stress-free. Knowledge is power!