Update: Professional Women in South Korea and the Landscape for Working Women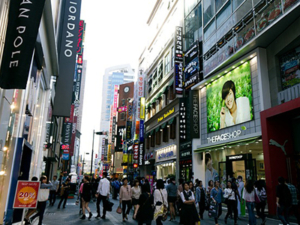 This article is part of theglasshammer.com's annual Spotlight on Asia feature running throughout the month of August.
How easy is it for South Korean woman to climb the corporate ladder in modern day South Korea? Today's South Korea is undeniably behind the rest of the world in its prevalence of women in professional positions. Most of Korea's female workforce finds employment as secretaries or in low paid blue collar work. Compared with a worldwide average of 10.5%, Korean women hold only 1.9% of director level positions in Korea. This systematic inequality at corporate and managerial levels of Korean society resulted in South Korea scoring the lowest of all industrialized nations on The Economist's glass ceiling index. But with the election of Park Geun-hye as president in 2012, change is on the horizon for South Korea's career oriented women. Through Korea's rapid development, women today have opportunities their mothers could only dream of at the same age.
Top Korean Women in Business
Theglasshammer.com highlights some of the top women in the country in business and finance.
Lee Myung-Hee
Myung-Hee is the daughter of Samsung Group founder, Lee Byung-Chul. Her business empire of over 100 Starbucks and her position as the Chairwoman of the Shinsegae Group made her the richest woman in South Korea. Her net worth is estimated at 1.7 billion USD at the age of 71. Recently she was accused of preventing her employees from unionizing and her son was forced to step down from his position as Vice-Chairman
Lee Boo-Jin
Boo-Jin is another heiress, the daughter of Lee Kun-Hee the current chairman of Samsung Group. Boo-Jin is the first female president of a Samsung Group company. Worth an estimated 1.4 billion USD she has recently been noted for buying the rights to numerous duty free shops in particular at Singapore's coveted Changi Airport. She also runs the Shilla Hotel Chain and is famous for her harder than nails demeanour.
Lee Seo-Hyun
The younger sister of Lee Boo-Jin, Lee Seo-Hyun was made Samsung Group Divisional President in 2013. She also acts at the Vice President of Cheil Worldwide, the largest advertising firm in all of South Korea. She is currently expanding her fashion industry and is worth an estimated 1.03 billion USD.
Lee Hwa-Kyung
Lee Hwa Kyung was hit hard in 2013 as a third of her fortune was lost and failed to rebound after sales in the Orion Corporation plummeted. She was the Vice-President of the company in 2000 but is now a massive stockholder. In 2013 Hwa-Kyung's husband was sent to prison for embezzlement but this hasn't stopped her or her children from drawing massive dividends. Hwa Kyung Lee also serves as the Inside Director at Mediaplex Inc a film corporation and as the Director of On Media Corp. She is now estimated at an unsteady 1.2 billion USD.
Chey Ki-Won
Ki-Won is the often times secretive little sister of SK Group Chairman Chey Tae-Won. SK is a South Korean computer services giant. She is purported to be heavily involved in various philanthropic efforts. Currently holding 10.5% she is the second biggest shareholder of SK's holding companies, SK C&C. She is worth 735 million USD.
The present reality and the future of progress
Women in South Korea are now attending universities at nearly the same rates as men. This has led to South Korean women entering 35.6% of bar examinations in 2013 which foretells a bright future for women in law. And thanks to a current push by the federal government women now occupy 46.7% of government jobs and 48.8% of mid-level diplomatic jobs in South Korea.
But despite these advances the female employment rate has been stagnant for over 20 years at a low 55%. This is even lower than the more popularized 62% within Japan. The gender gap for wages is at an unacceptable 39% making is the lowest of all members of the OECD (Organisation for Economic Co-operation and Development). According to McKinsey and the Wall Street Journal female representation among corporate boards is currently at 1% with only 13 female CEOs within 1787 listed South Korean companies. Making these statistics even more alarming is the fact that many of these women are the daughters or grandchildren of the founders of their companies. Of the 13 female CEOs, only 9 are not directly related to the founding families.
Contributing to these inequalities is a situation much like Japan's but amplified by some of the world's most rigid gender roles. South Korea has the highest female workforce drop-out rate in the entire developed world. Indeed the standard M shaped graph displaying women's participation in the work force over age is more pronounced than any other nation in the OECD. And although many typically return to the workforce in their 40's they rarely reappear in the same corporate jobs which they left in their 20's before marriage.
But today in South Korea there is also a new generation of women who refuse to adapt to these rigid gender roles. The number of women choosing to not marry at all has risen from 9% in 2000 to 15% in 2013. This has caused worry around South Korea's rapidly declining birthrate. But a growing number of others blame South Korea's young men, not its women for the problem. Jisoo Hwang, a PhD candidate at Harvard University says, "There are not enough modern men for the newly educated women to marry." This has led to the concept of herbivore men and carnivore women among South Korea's young people which is gaining traction and empowering young professional women.
The gender battle between tradition and progress is felt most by women trying to succeed in the workplace. In a survey by Heidrick and Struggles, a global executive advisory firm 83% of South Korean women surveyed felt an invisible barrier blocking them from positions in top management. More revealing, 60% said there is a general view that women lack professional competence in South Korea. Mrs Oh, now a middle aged house wife who used to work for a major telecommunications company seems to sum up the situation; "I had to fight hard to get one year of maternity leave, which was quite exceptional, but the lowest performance review was waiting for me after that. My boss said I contributed too little to the company." It seems the South Korea is rapidly changing but needs to go much further to reach any semblance of equality.
By Ben Rozon