Rising Star: Betsy Wille, Senior Director, IT Risk & Information Security at TIAA-CREF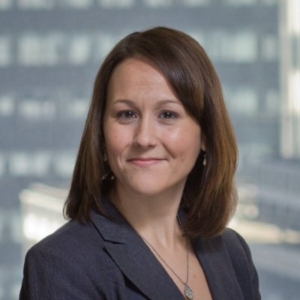 "I was raised with a strong work ethic, so I was well aware of the need to work hard and earn the respect of your colleagues," says Betsy Wille, who learned throughout her career that it's not enough to just put your head down and count on that to take care of your progression. "Ultimately everyone is responsible for their own career, and building relationships will matter."
Wille spent the first two years of her career at a big accounting firm in the IT audit area, which provided a great foundational start, allowing her to see a variety of companies and technology models. Her exposure to all the options led to her decision to help build solutions in a company, and she started with an engagement at Bank One just before it became JP Morgan Chase.
Within six months her boss was asked to build a new infrastructure within the company, and she said she'd be delighted to be involved. She spent almost 14 years there, and says she had the good fortune of spending time working in a wide variety of areas of information security because the company's culture encouraged changing jobs and roles every year or two. That meant she was able to sample everything from operations to strategy, practice development and management.
One of her favorite opportunities was in 2009 when JP Morgan Chase entered into a unique partnership with Syracuse University. Wille helped es
tablish operations at the new JPMC Technology Center on Syracuse University campus as part of a larger collaboration focused on academic internships, curriculum development, applied research and community engagement.
For two years, she helped open the site and partnered with the existing corporate development program to help bring in talent as early as their junior year to intern with them.
"I was able to work with impressive young people early in their careers and it was so refreshing to see the stars in their eyes," she said, adding that it proved to be a successful model for building talent in the IT field. The job center proved that skills could be developed, despite the historic reputation that successful candidates needed experience and subject matter expertise.
She spent several more years at JMPC, until she decided in 2014 it was time for both a change and a new challenge. A former colleague had previously left to become Chief Information Security Officer at
TIAA-CREF
and soon called Wille to consider a position in the information tech and informational security department.
An Exciting Time in the Industry
"The fact that I landed in information security and cyber security is so fortunate because I find it so interesting; it literally changes daily," Wille said. With the amount of financial fraud and security breaches increasing, she knows it will continue to be a fast-moving industry.
"As a financial institution we have an even more critical role in protecting our customers' data and money," she said, adding that they take seriously their role as a company that has a focus on providing financial services for those who serve others, such as teachers, non-profit workers and professors.
She has found that women and people of color are underrepresented in the field, particularly looking upwards in the management hierarchy and leadership roles. And she believes it could get worse, since the numbers of women and people of color pursuing IT fields are declining rather than growing. Therefore recruitment has to remain an ongoing goal.
She works to stay engaged with colleagues through a relatively new program, the IT Women's Council, a program designed to bring together women and allow them to explore different topics related to career growth.
Sponsorship has played a major role in Wille's career ascension and she looks forward to returning the favor. She says she was very fortunate to have advocates, typically people for whom she worked closely, such as managers or colleagues, whom had experienced her work product.
For her part, she hasn't found formal mentors to be as impactful or organic, but she has enjoyed both the insight and camaraderie from a tight group of girlfriends who are in the same stage of their careers. "We struggle with the same transitions so our get togethers are a perfect blend of social and work talk," she says. "They know me better than anyone and give me honest and transparent feedback."
An avid runner, Wille has completed 13 marathons and her first triathlon. "I love being outside and being active, and it's a release when I can get lost in my own thoughts."
She is currently the president of the Junior Board for Youth Guidance, a school-based program that has had a major impact on Chicago youth, particularly those in high poverty or at-risk neighborhoods.
Though she has wrestled with the idea of working for a non-profit, she recalls talking to someone who reminded her that she had a whole career ahead of her and plenty of time to pursue that path in her later years, after first creating some financial stability. "That was a freeing moment for me, and allowed me to take a breath and pursue my career, knowing I will still have the chance to do something different at a certain point."
Wille's family is still in Chicago and she appreciates being close with them, as "each one brings a different element to my life," she noted.
By Cathie Ericson