Men Who Get It: Roger Mitchell, Managing Director, TIAA-CREF, IT Business and Resource Management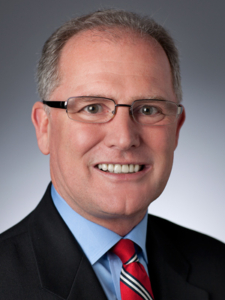 "Increasing diversity is not the responsibility of women or the minority group alone," says Roger Mitchell. "What is often overlooked is that everybody benefits from diversity, because there is a clear impact on the bottom line, and strong correlation to increased performance, engagement and innovation."
On his journey to becoming a strong champion of diversity, Mitchell began his career in the UK with Ford Motor Company in a series of human resources roles.Ford eventually offered him the opportunity to move to Detroit, where he lived for 15 years. After a stint as head of HR for Ford's global IT group, Mitchell segued into a position leading the global IT strategy team. He later joined Fidelity as a member of the HR leadership team. Mitchell subsequently came to TIAA-CREF as the managing director of IT business and resource management, and as a member of the IT leadership team.
Throughout his career, Mitchell has identified the need to expand roles for women as a business imperative. "In IT specifically there's already a shortage of talent, and it's tightening even more," he says. "There's a necessity to attract and retain both talented women and men, because we are under a tremendous amount of pressure for those skills."
The Light Bulb Moment
Mitchell first became a diversity champion during his time at Ford when he ended up in a significant disagreement with his boss over missing a meeting to take his kids to the doctor. "When he asked me why my wife couldn't do it, I had to explain that she worked too, and she had an important meeting at that time and couldn't miss it," Mitchell recounts, adding that was when he realized that everyone benefits from flexibility.
He recalls that earlier in his career it was expected that men would put in unlimited numbers of hours as the breadwinner, and he found there were times he didn't get to spend the time he wanted to with his own family.
Part of changing this traditional mindset is challenging premises such as "Men are from Mars, Women are from Venus," as espoused by John Gray in his best-selling book.
"I don't believe that our differences are so extreme, that we might as well be from different planets. I frame it more as men are from earth, and women are from earth too."
While he agrees that there may be some differences in communication styles, he points out that there are differences even among people of the same gender or across different cultures. "I find it more productive to spend my time focusing on similarities between men and women and any other groups," he said emphasizing how focusing on differences is divisive and can be the catalyst for unconscious bias.
Identifying and Managing Unconscious Bias
Mitchell is sensitive to unconscious bias, and one example he has seen is how women are judged more on performance than on their potential. He also finds that they are remembered for their mistakes more than their achievements, and that they continually walk a tightrope between being too masculine or too feminine.
"You are either not liked or not respected when you get on the wrong side of the tightrope," he says.
In Mitchell's view, systemic change is what will count. He sees his role as impacting those systems to advocate for diversity and inclusion — whether that's in the areas of employee development or compensation.
"Early in my career we would look at numbers and targets and make symbolic appointments but if they were the wrong appointments, that would set everything back," he said.
One systemic change he is working on is reviewing job descriptions to check for unconscious bias. He has found implied hours of work or exaggerated amounts of travel that might deter women when in fact they might not really be necessary. To help solve the problem, he says he asks his team to really think about whether the targets they are offering are typical or an extreme example.
Other areas ripe for diversity opportunities are talent review meetings where high potential females are identified. Mitchell says he has challenged his peers in those meetings to validate their selections and compare them to the female candidates.
"We have to look at all of our processes and make sure that there are no unconscious biases," Mitchell said. "My role as an advocate is to remind people to make sure we're not missing those who might not be getting the attention and exposure they deserve."
He also knows that you have to interrupt unconscious bias as it is happening – maybe when you notice that someone is not being heard in a meeting, try to stop the flow of conversation and help them get the floor to make their point.
Spending Political Capital Wisely
Throughout his career, Mitchell has often acted as a sponsor, and in doing so realized that it requires him to use some of his own political capital. He also appreciates that his own sponsors, who value his judgment, help him lobby for those whom he is sponsoring. "It is crucial to focus on talent and use your political capital wisely or you lose the trust of your peers and your own sponsors." He tries to maximize female opportunities by looking for talented women and putting them on key projects that allow them to exhibit their best capabilities. He also says that as a strong advocate for expanding talent, he tries to hire people who are better than himself and to not feel threatened but to see this as an opportunity to challenge himself. A crucial part of identifying and developing top talent is providing them support and placing them in challenging stretch assignments.
"It is crucial to focus on talent and use your political capital wisely or you lose the trust of your peers and your own sponsors."
Mitchell admits that his blind spot earlier in his career was to pick people who were just like him, assuming that if he was successful and chose people close to his profile, that they would be too.
"I know now that is flawed logic, and that you need employees with different perspectives and backgrounds," he says. "I learned that hiring those in my own image wasn't giving me as successful a team as I could have had. You need spirited conversation and push back to arrive at the right viewpoint."
Advice for Leaders
Mitchell says that having two daughters of his own in the workforce gives him a unique perspective since he's heard their stories. He advises others to listen to the experiences of female colleagues and never assume you understand how they feel.
"When you're speaking, all you're doing is repeating what you already know. When you're listening, you're potentially learning something new."
He also believes that women have a role to play – notably by making sure that they state their needs rather than letting someone make an assumption. For example, a woman back from maternity leave or one with a young family needs to tell her boss if she's willing to travel. If she has a partner who will follow and therefore is mobile, say so. People will make assumptions based on stereotypes so you have tell them what you are thinking.
And that includes being specific about career aspirations. He finds that women tend to be more modest and talk about growth and development, whereas men are more likely to be specific and state that they want to be CTO in three years.
A key component to success will be establishing a strong network which is how you create connections that may lead to opportunities, whether it's volunteering to be engaged in high-priority projects or finding an empathetic sponsor.
"With men still holding many of the senior corporate roles, we must make sure that they in turn become sponsors for women, and help move them into senior roles, "says Mitchell.He views his role in mobilizing other men behind this cause as crucial to the success of any firm's diversity and inclusion effort.
By Cathie Ericson