Voice of Experience: Betty Ng, Senior Vice President, Corporate Development, Moody's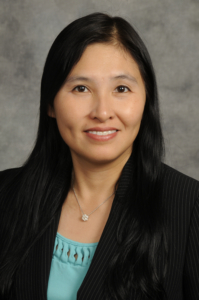 Fulfilling careers may evolve as a lattice rather than a ladder, believes Betty Ng, senior vice president for the corporate development team at Moody's. "You have to be open to different opportunities while still being true to yourself. Your career success is often heavily attributed to the efforts of others, so in turn, I believe you have a responsibility to help others."
Ng's high school career vision was to pursue the field of international corporate law, which combined a variety of elements that interested her. Though she ultimately chose a different journey, she was able to create a career that still mirrored those interests through seeking challenging, fulfilling leadership roles at international firms.
After earning a B.A. in Economics with a focus on international relations from Stanford University, she began her career with Arthur Andersen in the San Francisco and Beijing offices. Though she earned her CPA license, she didn't want to devote her career to accounting, so she attended Harvard Business School for an MBA to enhance her general management and leadership skills, and then worked at Amex managing product and international program office initiatives.
Career Success through Networking
In 2004, a friend referred her to Citigroup where her interview catapulted her into an M&A execution role. This was an early lesson in being open to any opportunity, since although she had never thought about a career in mergers and acquisitions, the hiring manager convinced her that she had all the skills and experience she needed to be successful, including finance, international business, leadership, project management and foreign language. In fact, Ng found it to be the perfect role to leverage her skills and interests.
After a brief hiatus to be with her children, a former colleague at Citigroup hired her into Moody's where she is now a senior vice president for corporate development, leading M&A and other strategic initiatives.
This experience leads her to offer the advice to women toalways be at your best since you never know who's watching you and when your paths will cross again.And that means that in addition to delivering great work products, you have to focus on building relationships and expanding your networks.
"You want to be the first person someone thinks of for that job or assignment that can help you advance your career," Ng says. She believes a crucial element of that is executive presence, a skill she believes can be learned and developed. "Have an open mind about enhancements that can impact your personal brand and success," she says.
"Paying it forward"
Diversity is very important to Ng, who appreciates that Moody's has a wide variety of programs and initiatives to support a diverse workplace, from women to LGBTA to multiple cultures to veterans.
Ng devotes time to two important groups: she is co-chair of Moody's Women's Employee Resource Group in New York and is concurrently working with other Asian professionals to develop an initiative to further develop the Asian talent pipeline in the company.
Her focus as co-chair of the Women's ERG is to deliver strong content in the areas of networking and professional development, which involves collaborating with her co-chair and subcommittees to develop programs that cover a spectrum from Lean In circles to fantasy football groups.
Ng also highlighted Moody's leadership programs for women, including a Senior Women's Leadership Forum, which she will participate in later this year, and other programs which help participants refine their skills and gain visibility across the company.
Ng is grateful that Moody's sponsored her attendance at the Stanford Business School Advanced Leadership Program for Asian American Executives in 2013, which she describes as an incredible professional development experience that inspired her desire to focus on developing the pipeline of Asian talent at Moody's. While the effort is still in its early stages, its goals are to reach out to Asian talent and help senior professionals impart their experience and "pay it forward" as role models. They have held a pilot speed mentoring program and look forward to other initiatives as the group grows.
She feels that it is important for organizations to raise awareness of unconscious biases and overcome leaders' tendencies to hire and advance people who are more like themselves rather than gaining the benefits of a more diverse pool of candidates. "Also, a lack of role models can create a psychological barrier for women, who may feel that achieving higher ranks is too difficult."
In fact, she cites her ability to meaningfully "pay it forward" by co-chairing these groups, while still performing well at her demanding position, as the professional achievement of which she's most proud.
Family First
Ng credits much of her success to her mother, who has served as an impressive role model by balancing family with an impactful career. A widow at 32 with four young children, she has devoted decades of her life to her career as a social worker and was recently recognized as a pioneer by the Chinese American Planning Council (CPC) for her contributions to the community. Ng had the honor of speaking at the awards event.
Having benefited greatly from CPC's programs, Ng sought and received a grant from Harvard Business School in 2001 that allowed her to establish a sustainable youth employment program for CPC. "It was an incredible experience to help impact the lives of underprivileged youth," she says.
Ng treasures her time with her seven-year-old daughter and five-year-old son, particularly relishing morning drop-off time and evening reading time. "My goal is to focus on my job during the day and have real quality time focusing on them when I am home."
By Cathie Ericsson