Mover and Shaker Stephanie Curulewski: Partnership and Trading Manager, BP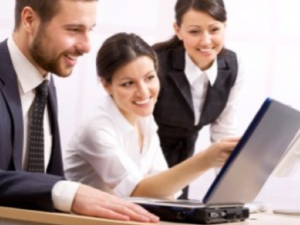 "Most people are good people, and they're trying to do the right thing. If you assume that everyone has a good reason for what they're doing, you can make progress by coming at issues from the positive side," says Stephanie Curulewski.
That philosophy has anchored her career and helped her ascend the ladder, even as she created a part-time position that has given her the best of both worlds.
Curulewski began her career at a consulting firm working with Fortune 1000 companies straight out of college. "I got my passport and went all over the place. And then I realized that the glamour of travel had worn off."
After four years she moved to BP, eager to expand the broad perspective she'd gained as a consultant and pair it with more depth. Her first role was as a financial analyst; she soon moved to commercial development, where she evaluated new business opportunities. She became leader of that team and then moved into the role she has now, interacting with BP's refining and marketing businesses while overseeing a trading book that reports to her.
Curulewski is working to grow that business by fostering a global commodity linking across other regions. "We see a lot of potential to make a much bigger business by developing this. It's going to be a lot of fun to see it progress."
Standing up for your Results
Earlier in her career, she found what many women soon realize — the work world doesn't reward them on the basis of merit alone. "I know now that when I first came out of school, I assumed that if I was really diligent and worked hard, someone would notice. It wasn't long until I realized that despite working hard and staying late, I was passed over by others who didn't appear to work nearly as hard. And worse, I'd have to hear how dedicated they were!" she says, soon learning the value of speaking up.
This was underscored by another experience — she knew she wanted to work in Chicago, and was waiting for someone to offer her the position. To her surprise, someone else asked for the transfer and got it, and Curulewski had to wait an extra few months for her turn. "It really brought home the importance of not only speaking up, but networking to position yourself for those opportunities."
Relationships Matter
Curulewski knows that reverting to part-time work doesn't always coincide with an ambitious career, and feels fortunate that she has nonetheless been surrounded by colleagues who knew her value. In particular she cites one mentor who saw something in her and really pushed her. "He told me I wasn't open to the possibilities and wasn't reaching for what I want. He had a vision for me that I didn't have, and his encouragement meant that for the first time, I felt like I had potential to have the career I wanted to have while maintaining a balance for family that I had made a priority."
She says that he told her that she was good at what she was doing, but it was time to make the leap forward. And even though she didn't have all the qualifications for the job she has, she could do it if she agreed to get out of her comfort zone. "He put his neck out, and said 'I know she can do it.' I have learned a ton and it has paid off."
With her boss' support, she has realized how important it is to keep challenging herself. As what she calls a "classic oldest child/Type A," she says she can be hesitant if she's not 100% certain she can do something. "I would never have grown if I hadn't been pushed. I've learned that I can't let fear make decisions for me."
On that note, she also learned the hard way what happens when you're working with people who are not supportive. Early in her career she chose an assignment with a tough boss because she was looking forward to what she might learn. "I figured out quickly that you should never intentionally surround yourself with people who are going to make you unhappy," she says, adding that she feels lucky to have learned the lesson at only 22, but that it would have been nice not to have chosen to learn it the hard way.
She has also been fortunate to have experienced the opposite situation by working with a boss who was committed to making people feel special and looked after, who focused on being a team builder.
"I have learned that the boss is as important as the job, and my goal is to in turn help build the confidence of others," she says.
The Balancing Act
For Curulewski, working part-time is the professional achievement of which she's most proud, as her status has not prevented her from "doing cool jobs," and moving up. She has utilized a wide variety of part-time configurations; from job sharing to her current set up where she works in the office three days a week and home one. This schedule has been perfect for her organizational capabilities.
"I am cognizant of shaping the job around what works best – knowing what I need to be in the office for, and balancing that with tasks that I can accomplish working a solid afternoon at home," she says. "I am constantly focused on prioritizing and making smart decisions about deciding what to do."
At BP, Curulewski is committed to helping other women balance a demanding career with home life. Three years ago she started, and still currently leads, the Front Office Women's Network, which her boss suggested she create, as a safe space where women can discuss challenges and learn from each other in what can be a male-dominated environment. She has also been active in a working parent's network, which she joined as a way to find others who prioritize work/life balance, and where she was fortunate to form the relationship with her previous boss.
And that work/life balance is what keeps her going. Her family includes two sons, ages 10 and six, and an eight-year-old daughter. "I shuttle them around to all their activities, we have dance parties, we play games, we watch The Voice," she says. "Our goal is just to enjoy daily life."
As mother to two sons, ages ten and six, and an eight year old daughter, Curulewski has her hands full and yet she has been successful at finding a way to make home and office blend in an "everybody wins" combination. And that work / life balance is what keeps her going.
By Cathie Ericson