Voice of Experience: Karen Fang, Managing Director and Head of Cross Asset Solutions & Strategies, Global Banking & Markets Division, Bank of America Merrill Lynch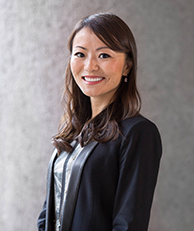 Welcome to The Glass Hammer's Celebration of Asian Heritage Month! All month long we will be profiling successful women here in the US who have Asian heritage as well as spotlighting some amazing women in Asia and discussing what it means to work there.
"I have been very lucky in my sixteen-year career to have always been involved with the things that I am passionate about," said Karen Fang, Managing Director and Head of Cross Asset Solutions & Strategies, Bank of America Merrill Lynch.
Career in Banking
Originally from China, Fang attended college at the University of Tokyo in Japan, where she gained a lot of exposure to the world of Investment Banking and Capital Markets as an Economics major. "My fascination with Finance began when I was a sophomore in college and had multiple internships at different investment banks." said Fang. She spent the majority of her time interning at Merrill Lynch, and ultimately decided to accept an offer as a derivatives structurer from Merrill Lynch in Tokyo after graduating in 1998.
"Because I was trilingual, I was fortunate enough to be transferred to the London office to work on our cross-border structured products business and then eventually relocated to New York," explained Fang. She worked for a couple of different firms including Goldman Sachs before returning to Bank of America Merrill Lynch in New York where she is now the Head of Cross Asset Solutions & Strategies in the Global Banking & Markets division. According to Fang, learning as much as possible about every single asset class, whether it is fixed income, equities, or commodities, as well as the various client industries, to be able to truly understand clients' strategic issues before responding with effective solutions, is one of the most challenging and rewarding aspects of her role.
"Using technical knowledge to provide C-Suite clients with a complex set of solutions, help them navigate our firm, and deliver the firm's strengths is very fulfilling," explained Fang. "I am proud of running a business –and managing a team –that is truly cross asset and cross industry. Given that the banking industry is going through a major transformation as a result of the new regulatory environment post financial crisis, our business model is changing very rapidly," said Fang, "and a major focus for our team right now is to figure out how to optimize our balance sheet in a way that creates a win-win situation for the clients and our firm."
This creates a lot of opportunities for Fang and her team to think outside the box and get innovative. "We shine when the problems are complex and the solutions require collaboration of multiple divisions and teams," she said.
Women in Banking: Embrace Being Different
One of the biggest obstacles that Fang identified for women in banking is the limited amount of networking opportunities that can help foster relationship building and career development. "We need more senior level women leaders in sales and trading, and banking," said Fang. She applauded the efforts of the industry as a whole to become more diverse, she cited many efforts that Bank of America Merrill Lynch put in over the years to increase Diversity & Inclusion and noted the positive changes that she has witnessed throughout her career in the industry. "Things are very different now, not just in policy, but on people's minds and in their day to day behavior. More diversity is good for our business."
"You don't have to act like a man in order to thrive in a male-dominated industry," she advised. This is something that Fang wishes she had realized earlier on in her career. "Many women that I coach and mentor have this notion that emulating the behavior of a man will help them go farther in their career, when in fact, that may not be true," said Fang.
She encourages women to embrace the fact that they are different. "Take advantage of the fact that you are unique," she said. "Recognize that it is not a bad thing when you walk into a board room or a meeting room and you are the only woman because you will stand out, especially when you have the confidence in your technical knowledge and skills."
"Be proud of being a woman. Be proud of being a woman leader," Fang stated.
The Power of Mentoring
To other senior female leaders, Fang urges everyone to mentor more and guide the next generation of leaders. She spoke about Bank of America's partnership with the Vital Voices program, which provides one-on-one mentoring opportunities for female entrepreneurs from all over the world. Fang was one of the global ambassadors from the bank to be sent to Latin America where she taught women about balance sheets, earnings statements, managing currency risks and doing strategic planning, among other things.
"I was blown away by the power of mentoring in that environment," said Fang, who is also an active mentor within her firm. "This is stuff we talk about with Fortune 500 companies and large institutional investors. Being able to share this knowledge with them is an amazing feeling."
"They will pay it forward," she added, "and the impact will be felt throughout their own communities."
Outside the Office
An avid traveler, Fang has visited 65 countries, and the list continues, she said. "I was a ballerina for 12 years, so I still make time to dance recreationally. I will always be a dancer at heart." Fang also enjoys many other activities such as cooking, photography and yoga.
By Michelle Hendelman