Movers and Shakers: Maya Venkatraman, Vice President, Senior Research Analyst of ING U.S. Investment Management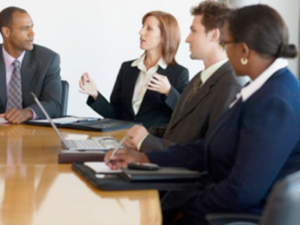 When Maya Venkatraman, Vice President and Senior Research Analyst at ING U.S. Investment Management graduated from college with a degree in Painting & Fine Arts, she never envisioned a career path that would lead her toward financial services. "There is no road map in the arts the way there is in many other fields," she said "and I was fortunate enough to recognize this as I was finishing up my undergraduate degree."
Being raised in a family of entrepreneurs, Maya developed an interest in how businesses run very early on. When she realized a career in the Arts was not her calling, Maya decided to attend business school at Cornell where earned her MBA with a concentration in finance. She explained, "Finance seemed like a really natural fit for me since I love numbers, the story they tell, and the picture they paint about a business."
Career Path
Although she was ready to begin her career in finance, Maya realized that securing a job in the industry might be more difficult because she lacked the job experience that many other MBA graduates have. She persevered, however, and continued to network until she found the perfect opportunity to get her foot in the door. "I was lucky enough to meet some senior executives from ABN Amro during a trip to Holland in my first year of business school and I was offered a summer internship," said Maya.
When she completed her MBA, Maya started working for ABN where she had the opportunity to work with great mentors who were willing to guide her as she established herself in finance. "When you come out of business school with no work experience, there is definitely a hurdle that you have to overcome, even if you are extremely passionate about what you do," she noted.
Maya moved to Citigroup where they had built a major global asset management platform. She recalled, "At Citi I was able to work very collaboratively with people all over the world and I viewed this as a great chance to learn a lot from a very smart and savvy team."
From here, Maya went to work at Mackay Shields who was building out an international product, albeit on a smaller scale than Citigroup. "In this role, I had the opportunity to implement tools and processes that would be used as a template going forward. This allowed me to really hone my business development skills in addition to doing my regular job of picking stocks," said Maya.
She added, "I learned very early on that you can do what your job description says or you can go above and beyond by rolling up your sleeves and doing whatever needs to be done, regardless of whether or not it falls within the scope of your job. If you give more of yourself, you will broaden your horizons and get more out of every experience."
Currently, Maya enjoys her dynamic role as Vice President and Senior Research Analyst at ING. "It keeps me on my toes," she said, "and there is a constant feedback mechanism from the equity markets indicating whether or not you are going down the right path. There is always something keeping me engaged."
According to Maya, one aspect of her career that she has enjoyed and takes pride in is the process of building a track record with a team and developing a product into something that is sustainable and successful.
Advice for Professional Women
"If you have passion for what you do, your chances of being successful are exponentially higher," said Maya. "We do our best when we love what we do," she added. However, there is more to career advancement than simply being passionate about your work. "Sometimes you have to put yourself in the spotlight and highlight your own accomplishments and achievements," advised Maya. "Ask for help, take risks, be grateful for the support you receive, love what you do and never stop learning from people around you."
She also emphasized the importance of having self-awareness at every point in your career. "If you know what your strengths and weaknesses are, you will be able to put all of the great advice you receive from your mentors into context," said Maya, "and this ability to guide yourself will improve over time."
Maya sees a lot of opportunities for women in asset management. "There is more active female participation in asset management and being a good analyst or portfolio manager requires a lot of patience and introspection, which are characteristics that are suited to the female psyche," said Maya.
Furthermore, Maya noted that asset management is not a winner-takes-all environment. "There is a lot of collaboration required in asset management which generally plays inherently into women's strengths," she added.
According to Maya, the formal and informal mentoring programs at ING are extremely valuable resources that everyone can benefit from, regardless of their career level. Senior management is very accessible setting that tone for the rest of the organization. "The equity platform is set up to be very collaborative and very sharing, which helps everyone continue to learn and grow," she said.
Outside the Office
In her spare time, Maya enjoys painting, playing her violin and guitar. She also loves to travel with her family. She is also very active in her community as a board member of her co-op and in raising awareness and funding for projects in India where organizations are on the ground helping to foster education and health programs for girls and women.
This week we are profiling amazing women in investment management ahead of our annual career panel event on the 5th November for women in the industry who want to make it to the top.
By Michelle Hendelman