Movers and Shakers: Karen Catlin, Developing powerful women leaders in the tech industry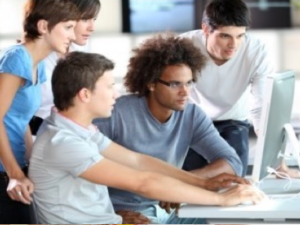 In college, Karen Catlin chose to major in computer science at Brown University, despite the fact that she was not extremely familiar with computers. But as it turned out, Catlin discovered early on that she enjoyed the challenge presented to her through her computer science studies. "I enjoyed solving problems and I loved math, so it was a nice combination that allowed me to explore problem solving techniques based on mathematics," said Catlin.
After a successful career working as a senior executive in the technology industry, Catlin is now focused on making sure women working in tech today have the resources to be successful. "I want to make sure women in tech are not opting out of the industry for the wrong reasons," explained Catlin. "I want women to feel empowered, educated, and encouraged to have the career that they aspire to."
Highlights in Catlin's Career
After graduating, Catlin accepted a job at Brown researching hypertext, which was an innovative function at the time. "This was a great opportunity for me get involved with this research that was growing at the time," explained Catlin.
Catlin moved to London with her husband, who is originally from England. Here she had the opportunity to work at a Hitachi Research Lab that was based in the UK. "It was a great experience not only working in the UK, but also working for a Japanese firm," Catlin said. "I highly recommend that everyone gains some international experience if they can. It teaches you the skills that you need in order to be effective in different environments and different cultures."
Although her experience working abroad allowed Catlin to gain valuable knowledge and add essential skills to her toolkit, she and her husband, who is a software developer, both felt like if they were going to work seriously in the technology industry, there was only one place for them to be. So, they packed their bags and headed back to the US with their sights set on Silicon Valley.
Catlin immediately found a job working for Go Corporation, a company that was working on tablet technology long before anyone else. She recalled being intimidated at the time even though she had a great technical background and education in technology. "If I knew the term 'Impostor Syndrome' at the time, I would have definitely said that I had it," said Catlin. "I wasn't sure I was up to getting an engineering job, so instead I got a job writing software and documentation that would teach other engineers how to write code."
While she loved teaching other engineers, Catlin also discovered that she also enjoyed the challenge of getting things organized. She explained, "At the time Go was experiencing a lot of changes to their software specs, and they needed someone to guide the development team through this process. So I become involved in technical project management. I transitioned from being a software engineer to a manager at that point."
Reinventing Herself in Her Career
Go Corporation eventually closed its doors and Catlin moved on to work for a small company called Macromedia, which had just gone through its first IPO. "They needed a localization project manager," said Catlin, "Which involved translating the software into different languages. Again this task of organizing projects and people was right up my alley."
When Catlin and her husband decided to start a family, she began to explore what options would be available to her so she could continue along in her career path without experiencing a major interruption. She decided that she would follow the advice of good friends and colleagues who had already started families by working part-time after she returned from maternity leave.
At the same time Catlin spoke to her manager about her pregnancy, he presented her with a career-changing promotion to the Director level. Catlin recalled, "He asked me to run all of Quality Assurance for the software line, with the challenges being that in three months I would be expected to split up the department and reorganize it." She continued, "Before I left on maternity leave, I tackled the project and figured out how to reorganize the team in a way that made sense for our objectives. And when I returned, I started working part-time."
Catlin worked part-time for ten years, during which she was promoted to vice president at Macromedia. "During this period of my career, I started the program management discipline at the company. In the tech field, program management really entails getting the software release identified, figuring out how it will take place, and how to put repeatable processes in place." She continued, "I implemented this on a product called Dreamweaver, which was extremely successful."
During the acquisition period when Adobe was taking over Macromedia, Catlin was involved in a planning committee with her new colleagues to see how Macromedia's applications would fit into the bigger picture once the acquisition was completed. Once the merger was completed, Catlin was offered a larger role at Adobe, but the caveat was that she would have to increase her time commitment to full-time in order to be effective in the role.
Catlin nearly talked herself out of accepting this new role at Adobe, but after some supportive encouragement from her husband, Catlin put her hesitations aside and decided to accept the job that was offered to her. "Professionally and personally, it was so rewarding to be working for a larger company like Adobe," said Catlin. She added that while she was at Adobe, she started the women's networking group, which was not previously established at the company.
Leadership Development for Women in Tech
After six years at Adobe, Catlin left her position about a year and a half ago to focus more on helping other women be successful in the tech field. "I left Adobe to start blogging and do leadership coaching to help women. I knew I had this passion, and I wanted to do it on a larger scale and have a broader impact," said Catlin.
"My primary blog is about the intersection of leadership and parenting," explained Catlin. "There are so many strategies and skills that are transferable between those two things. How you communicate and listen to people, for example."
Catlin had the opportunity to connect with a fellow woman in tech who started a blog many years ago called Femgineer, which recently evolved into a business that is dedicated to providing resources for women in tech. "We realized we were compatible, as well as complementary, with experience ranging from start-ups to executive leadership. I was brought on as co-founder of Femgineer, and we are delivering talks and workshops, organizing monthly meet-ups, and advising companies on hiring and retaining female engineers," Catlin said.
Advice for Women in Tech
Catlin noted that one of the biggest barriers for professional women is the fear of making a mistake when taking on new tasks and challenges at work. Through her consulting and leadership development work, she helps women harness their confidence, knowledge, and skills to progress their career advancement. "I help women feel confident about what they have accomplished and the transferable skills they bring to the table," Catlin said.
Networking is one of the most valuable tools women can use in the workplace, according to Catlin. She said, "If you aren't networking, you will miss out on the buzz that is going on about your company, the industry, and potential opportunities." Catlin also emphasized the importance of getting involved with women's networking groups.
"There is a different conversation happening now than there was a few years ago about women in the tech field," Catlin noted. "Companies are starting to see the value of having a diverse team, and they are really going above and beyond to recruit and retain female engineers. I think this will have a ripple effect through the industry."
Outside the Office
In her spare time, Catlin enjoys knitting. "I love making things," she said, "and there is something very logical about knitting." Catlin also has her own knitting blog where she publishes her original patterns for her fellow knitting enthusiasts.
By Michelle Hendelman, Editor-in-Chief