The Glass Hammer's 4th Annual Women in Technology Event: How to Be a Leader!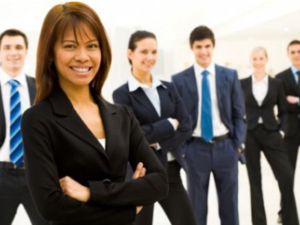 Do you need to be collaborative, innovative and decisive, above all else, to become a leader? These are the traits attributed to current leaders according to almost 300 women surveyed by us in a recent research report [PDF].
This is what over 200 women in technology wanted to know at The Glass Hammer's 4th Annual Women in Technology career event sponsored by Goldman Sachs, Thomson Reuters, American Express and SunGard last Wednesday.
Do successful women in technology have all of these qualities to ensure a path to the top?
The keynote, delivered by Nicki Gilmour, CEO of The Glass Hammer, set the stage for the evening's intriguing conversation by revealing highlights from our research stating that women in technology have above average ambition levels. Also, women who want senior management jobs tend to have role models, sponsors, be in a network and actively attend leadership or career development sessions.
Determine Your Leadership Style
"You can learn traits," said Jane Moran, CIO of Thomson Reuters, "You can do little things to challenge yourself."
In response to the finding that women in technology identify more strongly with being honest and goal-orientated, rather than decisive, according to the survey, our panelists provided the audience with their insights and interpretations of the results.
Mary Byron, Head of Technology for the Federation at Goldman Sachs, commented, "I think women value honesty in the workplace and want to see integrity in their workplace."
Debra Danielson, SVP of M&A Strategy and Distinguished Engineer at CA Technologies, added, "I have taken many psychometric tests in my career and being trustworthy has always been a prevalent trait for me. People want to trust their leaders."
When discussing different leadership traits that garner success, all of the panelists agreed that each leader can effectively portray their unique skills in their own fashion. "You may never have all the leadership traits you admire," said Susan Lawson, Vice President at American Express Digital Technologies, "but you can build your own team with people who have complementary traits, you don't have to do it all."
"There are different types of leaders," added Danielson. She continued, "It has to be in your style for it to be effective. The women surveyed for the study did not say that they believed the identified leadership traits to be optimal."
The Difference Between Mentors and Sponsors
The moderator, Suzanne Penavic, Director of Employee Engagement at SunGard, opened the discussion with the topic of role models and the important function they play into one's career when it comes to motivating women to go further.
"You don't need to actually know your role model personally," said Jane Moran. "It can be someone you look up to and aspire to be." When looking for a role model, it's simply a matter of looking for those traits in someone whose path has been successful.
"I didn't think the gender of a role model mattered, at the time, but reflectively I now think there is great value in being able to see a woman leader, and I was fortunate to have that experience," said Mary Byron. It was more uncommon in the early 90's to find senior leaders in technology and Byron found some great role models also in her male managers. "As long as the person you found had a skill that you want to develop," she said.
The conversation moved from having role models to finding a sponsor, which Jane Moran clarified, is different from a mentor. "Sponsors advocate for you in meetings that you are not in, they put their credibility on the line for you and so they expect you to deliver"
"Finding a sponsor is kind of like dating. You have to have chemistry," added Moran. Your sponsor is someone who should be able to help you see the future of your career path. Susan Lawson added that often one's peers can act as important sponsors; they can be very effective at recommending you to their leadership. She advised, "Always make your best effort, be honest and maintain those peer connections."
Mentors often help you throughout your career with advice but don't necessarily play the role of securing projects and experience that you need when advancing in your organization.
"Be strategic when thinking about a sponsor; think about where you want to go and who can help you get there," said Debra Danielson. She continued, "Find key people who can get you there."
The panelists all agreed that your direct manager may not necessarily be your sponsor for various reasons. In fact, one question from the audience was around ensuring your manager is on your side when it comes to important promotions.
Mary Byron advised women to explore with your manager the perceived gaps in experience in order to ensure that you can round out your resume and secure the next level position. Susan Lawson reiterated the power of peer sponsors. She advised, "In a good sponsor relationship, a sponsor can help open a new network for you, a different one than your own, and can recommend you for projects that enhance your career."
When it comes to what the companies can do to champion women in technology, Jane Moran commented that diversity is the right thing to do but beyond that, companies should support the principle that everyone is valued for their different traits and should establish global heads of diversity to oversee this effort.
"We should ask the question, what can your company do for you to create an open environment for women?" said Byron. "Challenge your organization, as good companies are responding."
Closing out the night, our panelists offered up their best advice to the audience, especially women who are attempting to take a leap in their career.
"Get in the game and take your place at the table," said Moran. "Think about it when you sit in a conference room, be visible." Susan Lawson added, "If you take the seat at the table, contribute and be active." She continued, "You are more capable, so give yourself some credit."
Finally, Moran advised the audience to "interchange 'we' for 'I' once in a while."
The Glass Hammer would like to thank our moderator, panelists, sponsors and guests for an amazing event!
By Natalie Sabia (New York City)