Movers and Shakers: Dina Powell, President, Goldman Sachs Foundation and Global Head of Corporate Engagement, Goldman Sachs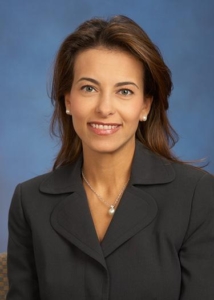 According to Dina Powell, President of the Goldman Sachs Foundation and Global Head of Corporate Engagement for the firm, it's important to be open to new and different opportunities throughout your life.
"One of the things I often say is be careful not to overplan your life. Because the less you are open to opportunities as they come along, the less you have the advantage of a diversity of experience," she advised.
Powell has spent time in both the public and private sectors, having worked in the White House and for the Department of State before joining Goldman Sachs. She believes this has served her well throughout her career path. "I think having experience in both is key," she said. "When I think of the many opportunities we have now to work together to solve problems – I think it's vital to understand how the other side works."
That breadth of experience is also invaluable when approaching complex challenges in the developing and emerging markets. She said, "When I think of solving global challenges, it's about making sure all three legs of the stool are represented – the public sector, the private sector, and the non-profit sector."
"I've had the privilege of working with so many women around the world and it's given me so much faith in women. Women in many parts of the world – Afghanistan, India, Egypt – are faced with so many challenges. Yet they are determined to do everything they can to invest in their communities and their children. When we give women the chance to reach their full potential, it makes a huge difference."
She added, "Having women as full members of societies really does lead to more peaceful and prosperous communities and a more peaceful and prosperous world."
Paying it Forward and Back
Powell was born in Egypt and immigrated to the United States with her family when she was young. "My parents believed in the American dream and they wanted their daughters to have every opportunity," she said.
Before joining Goldman, Powell spent 15 years on Capitol Hill at the White House and State Department, eventually becoming Assistant Secretary of State for Educational and Cultural Affairs and Deputy Undersecretary of State for Public Diplomacy and Public Affairs. "After 9/11, when our relationship with the Middle East came into greater focus, the ability to understand the culture and the language gave me the opportunity to play a more meaningful role," she recalled.
"Serving our country and the White House and State Department, working on issues that empower women around the world, was a huge privilege."
When she left the White House, Powell felt it was time to bring her skills to the private sector. "I had long admired Goldman Sachs, and the firm's work in corporate engagement. But I was especially struck by the interest in women in the economy globally."
She explained, "Empowering women leads to GDP growth around the world and a boost to local economies. And it has a major impact in ensuring communities around the world are more peaceful."
"Women are always paying it forward and paying it back," she added, pointing out how educating and empowering women leads to job creation, healthier families, and more educated children. "We've seen that in our 10,000 Women program."
10,000 Women
Goldman's 10,000 Women program provides business and management education to women in the developing world, with the goal of creating economic growth and spurring on better healthcare and education in those communities. Powell said she was particularly proud of a recent independent report by the International Center for Research on Women.
According to the report, half of the graduates of 10,000 Women polled saw their revenues double over an 18-month period and they also increased their number of employees. "And," Powell added, "Nine out of ten pay it forward by mentoring new women."
"We're seeing that in the US with our 10,000 Small Businesses program too. Small business owners are improving entire communities around them."
She continued, "All of us at Goldman Sachs are very proud of 10,000 Women and 10,000 Small Businesses. It's not just a product of a few people but the entire firm is behind it. We actually have a waiting list of people who want to serve as mentors for the program. It's really impactful when the entire firm is saying, 'What is it we can do to make a meaningful difference, especially during a recession?' These programs have a multiplier effect."
Powell believes 10,000 Women and 10,000 Small Businesses have filled a void. "I'm proud of what has been achieved. We're building a model that has filled a white space, and we've built great relationships with our partners. I hope these programs will be seen as a model that can be scaled dramatically in the next few years."
Mentoring and Networking
"There are a number of things that I've learned during my career," Powell said, "like the importance of having a mentor and networking. The impact that a good mentor has on someone is really invaluable."
She continued, "Find someone you can trust, who can tell you when you're off course. I think that's also why it's important to have a personal board of directors, people who are willing to be extremely honest with you. There's nothing as invaluable as constructive criticism."
Networking was equally important, she said. "Having a network of peers, people who are in your shoes and have the same challenges, and being able to draw on their advice and support is a game changer."
Powell believes that women are becoming more prevalent in the financial services. "There's an incredible focus on the role of women in finance," she said. "Many studies we see at the firm are about the importance of mentoring women and thinking about the next generation."
"Mentoring and networking will help bring many females into the industry and help grow their careers," she added.
Powell advised senior women to be open to others' viewpoints. "Humility is a very important trait in leadership – to be able to ask a lot of the right questions. Ask for feedback – it can be empowering."
She continued, "At Goldman Sachs, women are focused on helping the next generation. A lot of times we think we haven't gotten far enough to be really helpful to them, but, remember, at any stage you have a lot of talent and information that can be helpful to the next generation coming along, and that's something I've personally experienced with the senior women here."
Corporate Engagement programs can help the firm attract and retain diverse talent, she said. "One of the most important things that Goldman Sachs leadership strives for is to retain the best talent. And the chance to participate in corporate engagement programs makes people proud to work here," Powell explained.
"One of our cultural values is finding opportunities to help make a difference, not just in peoples' day jobs," she said. While 10,000 Women and 10,000 Small Businesses are relatively new corporate engagement programs, she explained, "this set of values has been consistent for a long time."
In Her Personal Time
Powell is married with two young daughters. "They're my greatest source of pride," she said. "It makes me very proud that they are interested in learning more about the work that we do."
She explained, "For women, you're your daughters' first role model and that's a huge privilege. It's the most important part of my job."
By Melissa J. Anderson (New York City)