Voice of Experience: Corinne Heyes, HR Director for the Americas at Barclays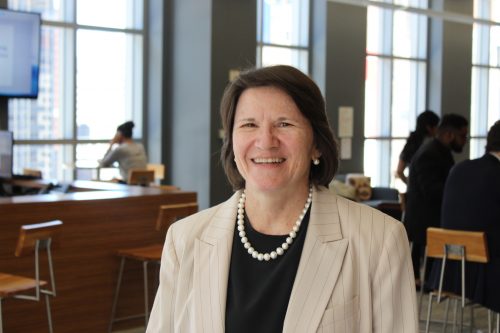 By Cathie Ericson
Taking a risk is worth the reward, says Corinne Heyes, who knows firsthand the benefits.
In fact, as a naturally risk-averse person, she has nonetheless managed her career that way successfully, in a manner she terms "opportunistic, but safe."
When she recently took a risk late in her career by changing firms after 16 years and assuming a much larger role, she says it was the best decision of her career. "My 19 months at Barclays have been challenging, energizing and stimulating — I'm having fun working with a team of smart, dedicated and motivated HR professionals," she says.
The Road That Led Her There
Heyes graduated from Dartmouth College with a BA in Psychology in 1982 and started her professional career as a financial underwriter for Aetna Life and Casualty. The work entailed using claim experience and actuarial formulas to price group insurance products, such as employee benefits plans for large clients that included corporations like American Express and trade associations like the Securities Industry Association (SIA).
After a couple of years in Aetna's Hartford home office, she asked to be transferred to the sales and servicing office in New York City, where she would keep her same accounts but move into a direct client service role. The largest member of the SIA was Wertheim & Co., a small, privately held investment bank and after serving as its account representative for two years, Wertheim asked her to join the firm to launch its benefits department.
Over the subsequent 11 years, she received an MBA in Finance from NYU's Stern School and picked up the compensation function to complement her benefits role. The firm had changed names several times — from Wertheim to Wertheim Schroder to Schroders, and in 2000, Citigroup acquired Schroders, and Heyes joined the investment bank to manage the compensation team.
Over 16 years at Citi, she acquired additional businesses in her compensation management portfolio and for the last six years ran the compensation practice for the entire institutional side of Citi. She joined Barclays in October 2016 as the Director of HR and Rewards, Americas, where she now oversees the delivery of the full suite of HR services, including compensation and benefits.
In addition to that role, Heyes is a member of the U.S. Executive Committee for the Bank Holding Company Barclays has established in the United States, which has its own independent board and relationship with U.S. regulators like the Fed.
Culture as a Driver of Firm Success
For Heyes, one of the best parts of her job is helping define and promote the firm culture. "The challenge starts with defining your desired culture in words," she says, noting that at Barclays, the culture is underpinned by its five values — respect, integrity, service, excellence and stewardship. But to drive the desired culture, firms need to be able to measure evolution in a consistent, replicable way. To that end, Barclays has developed a culture dashboard that includes qualitative and quantitative metrics that they measure quarterly, which enables them to track the culture over time and design strategies to address any area of opportunity.
This type of action is very topical in the financial services industry, she says, with firms focused on defining, measuring and driving culture. But that's not all. "Our regulators are keenly interested in culture as an asset which mitigates misconduct risk," she points out, adding that the Fed published a white paper which advanced the concept of "cultural capital" as an asset that can act as a loss mitigator by influencing decisions, behaviors and outcomes over time. And even though it is an intangible asset, the fact that its impact can be measured, assessed and influenced means it is an important one.
Firms must invest in cultural capital in the same way they invest in other forms of capital, like physical, human or reputational capital, or they will deteriorate over time and adversely impact a firm's productivity, adding that Barclays shares this sentiment regarding cultural capital.
And the commitment to cultural capital extends throughout the organization down to programs that promote diversity and inclusiveness. Tone from the top is critical in establishing D&I as a central tenet to a firm's mission, but the words are only given credence through real actions and programs. For example, at Barclays they have introduced gender-neutral paid child care leave and have championed dynamic working, which encourages employees to define the individual work arrangement that best integrates their professional and personal lives.
Heyes also has experienced the firm's inclusiveness with no hesitation in being out at work. "You often hear the phrase 'bring your whole self to work,' which underscores the concept that authenticity frees up discretionary energy, enabling you to engage more powerfully," she says.
"For those in the LBGT+ community who are in the closet at work, it's not simply that they are choosing to leave behind certain discretionary aspects of their lives, but rather they are actively hiding this very elemental aspect of their personhood." And while that puts up barriers to being able to connect fully with one's colleagues, even more critically, it is intellectually, emotionally and spiritually exhausting to maintain a facade every minute of the workday.
And she knows this exhaustion firsthand, because she was not out for the 11 years she worked at Schroders. It wasn't until she moved to Citi and decided that to be open with her colleagues that she realized how liberating it was not to be guarded in her daily interactions. She found her colleagues to be very supportive, and in fact, it quickly became unremarkable.
When she and her wife married in November 2013 after DOMA was overturned — on their 23rd "anniversary!" – her team threw them a surprise wedding shower. And she adds, she believes it is important to be seen as a senior LGBT role model.
A Fulfilling Personal Life That Includes Giving Back to Others
Despite her many professional achievements, the accomplishment Heyes is most proud of so far is much more personal. Through a firm program, Heyes mentored a high school student for her junior and senior years — the pair went to museums, plays and sporting events and spent countless hours discussing everything from current events, to their respective families and how to conduct a college search.
"While on paper we seemed quite different, we developed an easy-going relationship and discovered our commonalities," Heyes says. "I feel very strongly that we have an obligation to the next generation, particularly those from disadvantaged backgrounds." In fact, at Barclays, she has also engaged with Cristo Rey, a high school in East Harlem that offers students the chance to work with corporate partners as a core experiential learning component. Last year they contracted for one student one day a week, and are looking to expand their commitment to five for the upcoming school year.
Heyes also sits on the board of "Find the Courage," a nonprofit that runs youth programs designed to inspire, educate and empower young people to be positive leaders by promoting respect, kindness, inclusion and resiliency in their communities. And for fun she enjoys reading, gardening, photography and travel, and as she says, "I'm a total sports junkie."