Jobs for the Girls? Management Jobs, Gendered Roles and the Wage Gap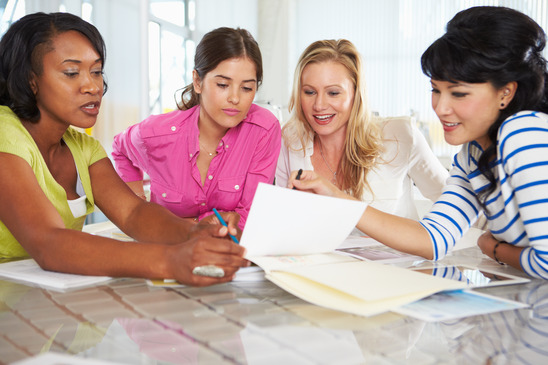 By Cindy Goodman
Women's representation in management is higher than it's ever been, but advancement it seems appears to happen more in certain professions than others.
As women make up most of the new management jobs created from 1980 to 2010, but they do so in fields that are female dominated and have the largest gender wage gap.
By using data on full-time managers from the U.S. Census and American Community Survey for the years 1980 and 2010, researcher William Scarborough found of the nearly 4.5 million new jobs in management created since 1980, women have obtained the majority of them. In 1980, not a single management occupation was majority women. By 2010, some occupations are female-dominated while others are male-dominated.
The research shows women have high representation in management in fields such as health services, education administration, and human resources and low representation in management in professions such as computer information, transportation, architecture and engineering. In addition, women still make up less than one-quarter of chief executives and public administrators.
Scarborough told The Glass Hammer what he found surprising was the positive advancement women have made into management positions in the field of finance. "Culturally, finance has been seen as more of a masculinized profession, but the research shows 54 percent of management jobs in finance are held by women," he said.
Scarborough said he also found it surprising that only 23 percent of CEOs of companies of all sizes in the U.S. are women, according to the Census. The percentage is unchanged since 1980, he noted.
At a recent Women's Leadership Summit, KPMG Chairman & CEO Lynne Doughtie shared her thoughts on female representation in management. "We still have a lot of work to do to advance women in leadership roles and into roles that have been traditional been held by men. We need more role models to give women confidence to pursue those unconventional careers."
Striking, though not surprising, Scarborough's research found women are paid less than men as managers across all occupations. He also found the more women managers in a profession, the higher the gender wage gap.
For example, women have made big advancements in management in the medical administration and health services field, according to Scarborough. In that profession, 70 percent of managers are women, up from 47 percent in 1980. "It's one of the fastest-growing fields in the country, which is good news for women in management. However, the bad news is that there is a 20 percent gender wage gap in management positions in that field, which means the women in management are underpaid," he told The Glass Hammer.
On April 10, Equal Pay Day, LeanIn.org president Rachel Thomas, discussed the organization's fight to educate people and companies about the gender pay gap, including the even larger gap for women of color. "No matter how you slice it, women are paid less than men," she told CNBC.com. "The more educated women are, the larger the gap is." Thomas said one in three men don't believe the pay gap exists. Her organization encourages employers to conduct pay audits and be aware of bias in performance reviews. She also encourages women to aggressively negotiate their salaries.
Some companies are setting organization-wide goals around gender parity, recognizing that when women rise, their representation in management lifts the entire organization. In a report titled Getting to Equal, Accenture, a global consulting and professional services firm, found women are three times more likely to rise in organizations with women already in leadership and where there is a women's network. Accenture found when women rise, men do, too.
Now, the consulting firm has set bold goals of achieving a gender-balanced workforce by 2025 and ensuring 25 percent of its managing directors are women by 2020. Globally, 32 percent of Accenture's newly promoted managing directors are women. "There are companies that talk about gender parity, and companies that do something about it," said Pierre Nanterme, Accenture Chairman & CEO on a video that accompanied the Getting to Equal report. "Companies should have equal numbers of men and women. It means pay and access to leadership opportunities should be equal. My pledge is to continue to drive this at agenda at Accenture and to evaluate and accelerate opportunities to bring more women into leadership roles."
Of course, it's not as easy as merely setting goals. In a dialogue prepared for International Women's Day, Meggy Chung, co-lead for Citi Women Affinity in Singapore, stated to create an inclusive culture, managers need to be educated on unconscious bias and the importance of inclusive behavior, and organizations need to create opportunities to involve women in franchise-wide networks or initiatives. They also need to offer a mentoring platform that is accessible, she said, and noted that career progression for women is generally more difficult than men because of several factors, including how women's identity is perceived in a corporate environment. A different support system to help women goes a long way in pressing for progress in this space, she said.
To move toward gender equality: Scarborough sees several steps that can make a difference. He believes diversity training is a start, along with setting goals as Accenture has done, and holding managers accountable for diversity on their staff. "It's really about thinking about your environment and what strategy will be most successful in creating gender parity in your organization," he said.