Voice of Experience: Kimberly Hendry, Director of Global Operations, Corporate Payments at WEX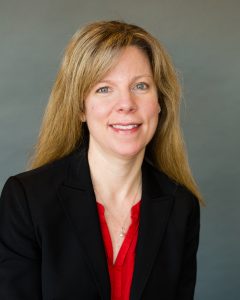 By Cathie Ericson
"I wish I had learned earlier in my career not to take things personally as it can create obstacles in your day-to-day interactions and detracts from your overall work experience," says WEX' Kimberly Hendry.
"I have realized I wasted a lot of energy getting frustrated by things that weren't being done to offend me. I have come to learn it is just business."
Over the past few years she has concentrated on honing her skills in initiating difficult conversations, whether it's letting someone go or helping to address team conflict. "You have to be willing to push through, and it's important to remember that it's probably not going to be as hard as you think it is, and ultimately you'll be glad you had the conversation when it's over."
That attitude and acumen for tackling tough situations has propelled her through her upward rise in the fields of risk management and payments.
Setting the Groundwork for the International Stage
After graduating from college, Hendry held a variety of roles, primarily in management and operations, in industries ranging from banking to investments to public utilities. While her work took her from Boston to Phoenix, her home state of Maine called her back in 2007, and she returned there through a job at WEX. She started in risk management roles when the company was small – just the bank with no international subsidiaries – and her career has grown exponentially as WEX has.
Along the way she has managed a variety of components of risk. For the past two years, she has overseen a direct line of business' global operations, rather than working across lines of businesses, a different role in that her teams are responsible for the day-to-day functions of client relationships. Now, she manages far-flung teams in London, Melbourne and Singapore, among other global locales.
"My career at WEX has been amazing in that I can grow globally and manage teams outside the United States with all the challenge and opportunities that presents," she says. Coincidentally, it's a position she had intended to hold even as a teen: As she perused her high school yearbook recently, she noticed that she had listed "international business" as one of her goals. "I can truly say, 'mission accomplished,'" she says, given WEX' international reach.
One of the achievements she is most proud of so far is also internationally related: In 2014 she worked in the U.K. for seven months setting up a joint venture between WEX Europe Services and Radius Payment Solutions Ltd. Highlights were taking over the European ExxonMobil card program and setting up a risk management division.
Currently, Hendry is immersed with integrating a family-owned business WEX acquired in the fall. While she's "built and fixed a lot of things" over the years, she notes how different it is to help move staff into her organization – tapping into a different range of skill sets in order to address divergent operational cultures and the impact it has on the new staff to be brought onboard. "We have to focus on the success of both the financial product and the people piece simultaneously," she says.
Looking more broadly at industry trends, another constant goal is working to help WEX address how to increasingly move to a closed loop network, improving margins by reducing the number of middle men.
Taking a Moment to Appreciate Success as Part of an Integrated Life
While the highly technical field of risk and payments can sometimes be intimidating to women, she has found it to be an excellent place to build a career, provided you are comfortable knowing you will largely operate in a male-dominated environment. For example, she says it's not uncommon to be the only woman at a group of 30 people at a business dinner. "You will often be outnumbered, but that's ok; you just have to be confident in who you are and what you bring to the table."
On that note, she urges women in her position to never neglect to appreciate their accomplishments. She reminds herself often, in fact, to stop and enjoy where she is, the fruits of her labor and the road it took to get there.
"Women are frequently so focused on what's next – how to advance and where you need to develop – that we don't take the time to enjoy what we have accomplished," Hendry points out. "While the next steps may be important, we shouldn't become fixated on them at the expense of what we've already accomplished. We put a lot of pressure on ourselves."
As a wife and mom to two boys, ages 15 and 12, she relishes family time and being outside – whether it's hiking with her dog in the woods, skiing or running marathons and half marathons. They cherish their travel time together and she integrates history whenever possible, for example, sneaking in an event called "Tea with Eleanor" last summer when the family visited Campobello Island, where Franklin Delano Roosevelt used to spend time with his family. As Hendry says, "my boys may not appreciate the history lessons now but hopefully some day they will."