Voice of Experience: SoVonna Day-Goins, Managing Director at Credit Suisse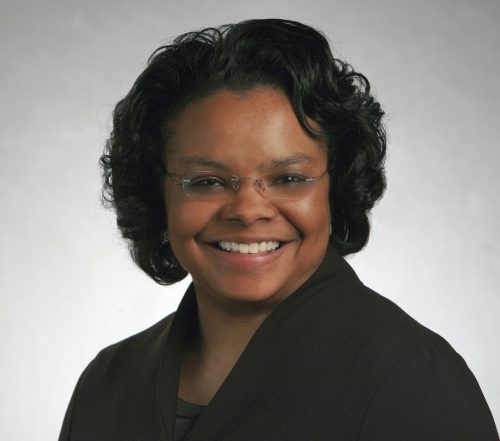 By Cathie Ericson
Find your voice, and know when and how to use it, says SoVonna Day-Goins.
"Sometimes we tend to put our heads down and do the work, but it's important to look around and notice who's being successful and why. You have to make your specific aspirations known early and follow through, not only to survive the system, but also to thrive in what can be a very competitive environment."
Earlier in her career, Day-Goins says she took to heart the idea that working hard and being prepared would lead to success, but over the years she has seen that is not enough. "Thoughtfulness, humility and authenticity are the ever-lasting qualities that transcend your professional and personal life," she points out.
When talking to newer professionals, she offers simple advice: "Be the person that you want someone to be to you." In fact, she credits her children with some truths she has realized over the years. "Be someone who teaches with patience. Give feedback with a constructive tone. Treat others with respect. Consistently set the bar pretty high, and instill the belief in people they can achieve anything with the right tools," she says. "It's very rewarding when you empower others and help them be their own best advocates."
Finding Success in the Hard-Charging Industry
While many investment banking careers follow a similar, linear path, Day-Goins' was bolstered by a relatively non-traditional start in sales and marketing, which she credits for her ability to be creative with her approach to clients' needs. "Every day is a learning experience, which to me is what differentiates a career from a mere job."
Currently leading the firm's efforts on the investment grade bridge financing front, she considers this professional achievement the one she's most proud of so far, given it started as a "moonlighting job." She was able to turn this venture into a new business opportunity over the past several years and has found it rewarding to shepherd the effort to become an important complement to the firm's M&A practice.
Viewing M&A financing from this perspective, she has observed a recent trend toward sizable and scalable acquisitions. "The deals we are seeing are stretching everyone's imagination about the art of the possible, and the terms at which investors will still have an appetite," she says. "This requires a lot of discipline around structuring and pricing to make sure they clear the market, but for the right transaction, the market is wide open, which is very exciting."
Spending Time Helping to Build The Careers of Others
While she appreciates the important role she plays in contributing to the business, she relishes even more her efforts on the talent management front. People of color are underrepresented across banking, but especially at the senior level, she notes, which is why she is particularly excited to be one of the champions of several new initiatives to help identify and promote black professionals into leadership positions. These initiatives will include advocacy, sponsorship and succession planning.
Her passion for helping others succeed started early: In 2001 when she was relatively new at Credit Suisse, she founded one of the firm's first black professional networks. She appreciates the opportunity that all affinity networks offer to support a sense of empowerment and provide an overall inclusive and safe environment to deal with diversity issues.
Day-Goins was also a part of a joint venture between Human Resources and Global Markets Business where they collected best practices used by both teams, and provided recommendations on many issues including diversity. The benefits were reciprocal, as the group was able to provide rare insight via a glimpse into how employees are thinking about the business, as they offered feedback to the senior management team.
While women in all industries face issues that can often be described as a "cap" on opportunities or a glass ceiling, she says that emerging research points to a separate issue faced by women of color — a "concrete ceiling," which can seem even more impenetrable than shattering the glass.
She has found that the racial gap and increased unconscious bias can be more profound among black professionals, given the lack of fellow black role models, as well as the "sheer societal intolerance for making mistakes that allow us to learn."
The only way to combat these issues is to acknowledge they exist and that the hurdles are different for different populations. "We have to be open to having the dialogue that can help us change and ultimately lead to better opportunities for all women," she says. Indeed, she sees this as a time when women leaders from differing backgrounds need to support one another and provide a platform to discuss the issues and work together to succeed despite the barriers.
On that note, she often reminds her peers not to forget to reach back by figuring out how you can pull people along with you as you rise in your career. "Observe what is going on with others behind and alongside you, and be an advocate and champion when they are facing unique challenges – while they might be different from yours, empathize and be supportive in helping them come along."
She herself felt that support though participation in programs targeted to high-potential women, giving her and her cohort visibility and access to the executive board.
Outside Interests Both a Challenge and a Necessity
In an industry not known for "9 to 5" hours, Day-Goins knows she must make time for other pursuits.
Recently she has immersed herself in non-profit board service involving children's issues, which she has found to be a new passion. "Volunteer work provides the opportunity to change my pace and offers a different perspective and a renewed sense of purpose," she says.
But the most important thing to her is her family — two daughters, ages 21 and 15, and her husband. "Home is everything," she says.
Over the years, she has learned to take full advantage of down time to spend as much as she can with family and friends. "Whether at home, at the beach or on other travels, we relax and eat well and recharge," she says, adding that she highly recommends that anyone who picks a demanding career take time to relax for their mental and physical well-being.