7 Tips All Businesswomen Need to Conquer the Fear of Public Speaking
Guest contributed by Fiona Cutts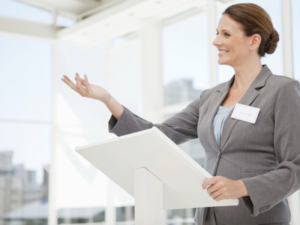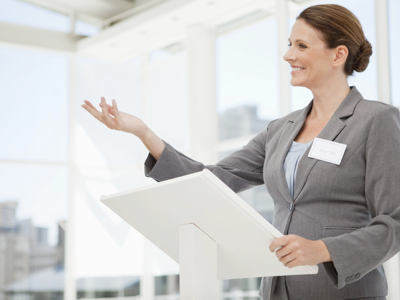 Being able to speak confidently and well in public is essential for any ambitious woman looking to advance her position and career prospects. And yet, statistics show that 74% of people are afraid of public speaking and so, unlikely to perform at their best.
Here are some proven strategies for overcoming this fear, and allowing public speaking to be one of your strengths for excelling in your career.
Deal with nerves
You may feel overpowered by these sensations: sweaty palms, sickness in your stomach and even shaking hands, legs, and voice that your audience may notice. These are familiar feelings that even the most successful, powerful businesswomen will experience, and like them, it is something you can learn to combat strategically.
Whilst standing in front of your audience, plant your feet firmly on the ground, quite far apart, and breathe deeply into your abdomen. This allows you to be present and stable.
At the same time expand your awareness outwards so that you are aware of what is going on beyond the audience and the room you are in. Doing this will help to prevent you feeling overwhelmed.
Appear confident
Even though you may feel afraid and nervous, your audience does not need to know that. Choose clothes that a confident woman giving this presentation would wear, even if that feels a bit of a stretch for you. 'Practise' wearing these clothes outside of your work environment, whether you're out with girlfriends or spending time with family, so that you become at ease in them. As you become comfortable wearing them, you become the confident woman you envisaged giving the talk.
Be the leader in the room
Undermining your abilities and shying away from any show of strength is a detrimental stereotype for women that is often hard to navigate. Remember that you are the one who is up front. So, you need to be the authority in the room and not be afraid to take control. Of course, you will be well prepared, that goes without saying. But beyond that, you need to be willing to be an authority on your subject, whilst including and empowering people in the audience.
Great female leaders are clear about what they know, whilst not feeling threatened by other people contributing what they know. Women looking to advance their career should seek advice from female colleagues or friends on ways they were able to take charge and assert their authority while delivering a speech – it's vital to remember that looking to other women, particularly those in a higher position to that of yourself, for support and guidance can help you on your journey to advancing your career.
Connect with your audience
Often when people are nervous speaking, it is hard for the audience to engage with them, and sometimes even hard for the audience to hear them.
Sometimes, in an effort to avoid this, you can come across 'pushy', literally pushing the words and information at the audience. This tends to make the audience resistant and maybe even 'zone out'.
An effective alternative to this is to 'pull energy'. Many great female speakers and performers do this naturally. You can imagine a thread of energy coming from your audience, through your audience, through you and to behind you. This helps your audience feel connected to you and drawn into what you are saying. It also tends to mean they feel awake, alert and enthusiastic – which of course is what you would like them to be experiencing during your presentation or speech.
Keep it short and sweet
There is no need to tell your audience everything about your topic. Give them a base level of information, enough that they can understand what you are talking about but also so they are intrigued and wanting to know more. This provides you with an opportunity to shine even more and opens a dialogue between you and your audience, ensuring they are more engaged and interested in what you are talking about.
You can also ask a simple question to allow you to know what information to include and what to leave out: "What can I say that would enthuse this audience?" When you ask this, you start to get pointers as to what is appropriate for your intended audience.
Be you
This may at first sound strange and yet a lot of people stop being themselves when they give a presentation. They may find that they start to sound dry and boring, a bit like a textbook or that they suddenly have some mannerisms and habits of their mother or father.
If you notice this happening, simply ask yourself: "Who am I being?" It will bring you back to you and let the confident woman you know you are, shine.
Don't be afraid of judgement
If you give a good talk, you are likely to be judged by a certain proportion of people in the room. As women, we've certainly experienced judgement, and even been guilty of judging others, at some point or another. Women can also often be judged when they excel in industries dominated by men. Your ability to receive this judgement will determine whether you continue to excel or choose to limit your success to provoke less judgement!
Judgement is always about the other person and never about you. It often means that the other person is not achieving what they desire, and is jealous of you and your great presentation.
So, know that the more successful you are, the more likely you are to be judged. You can even make the choice to view judgement as a motivator to fuel a decision to challenge your position and traditional dynamics in a male-dominated workplace, ask for that raise or promotion you know you deserve, or take charge during meetings and presentations more.
Putting these simple tips into practice will help you tackle the fear that many women assume is an integral part of public speaking, and be the successful businesswoman you desire and deserve to be.
About Fiona Cutts
Fiona Cutts is a communications coach, linguist and facilitator for Right Voice for You, a special program by Access Consciousness. An extremely shy and dreamy child, Fiona found herself drawn to languages and travel from a very young age. As well as her native English, she speaks German and French, and has lived in, or travelled through, countries all over the world. During her career as an accountant and auditor, Fiona struggled with an intense fear of public speaking and presentation delivery. As a Right Voice for You facilitator, she draws upon that experience to help others liberate themselves from fear and judgment, and unleash their confident and authentic voice. www.fionacutts.com
Disclaimer: The opinions and views of Guest contributors are not necessarily those of theglasshammer.com